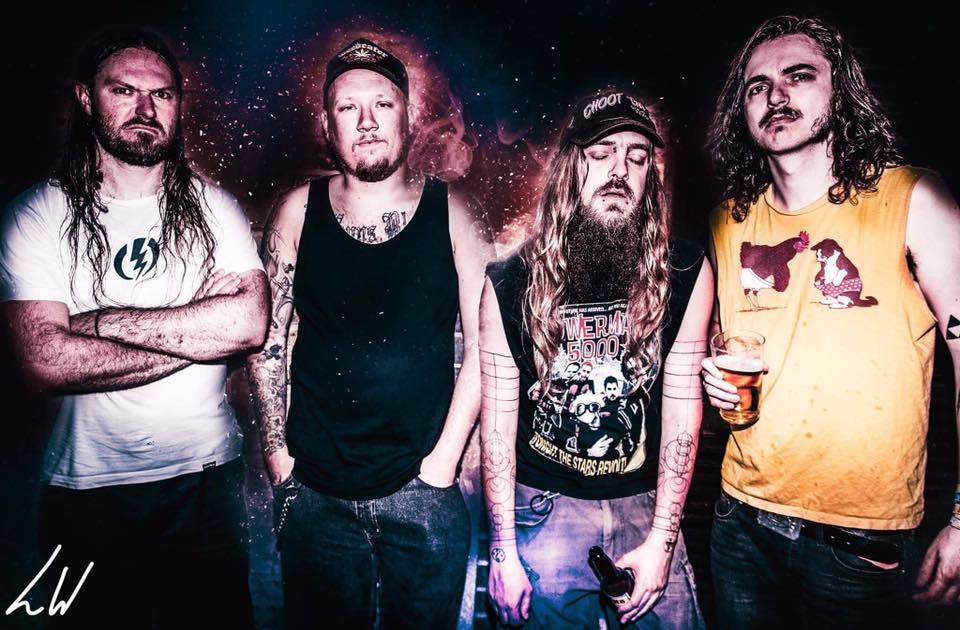 London party doomers GURT unveil ferocious new video and details for upcoming album 'Bongs Of Praise', out Sept. 6 on When Planets Collide
UK sludge purveyors GURT present their brand new video for 'Rolling Stoned' via Cvlt Nation today! They band also unveils the artwork and details for their upcoming third Album 'Bongs of Praise', due out on September 6th via When Planets Collide.
New track 'Rolling Stoned' plays to GURT's fun attitude, and combines massive riffs and stomping beats to create a guaranteed future fan favorite, which has already been road-tested and going down well at recent live shows.
Watch GURT's weed-infused new video via Cvlt Nation
GURT frontman Gareth Kelly comments: « The decision was made to release on our own label as a way of maximising the amount of exciting bundle options that fans have come to expect from GURT, and we are sure you will agree when you set eyes on the Ultimate Edition bundle of the album! Alongside this announcement we are over the moon to reveal the album artwork and exciting lyric video for 'Rolling Stoned', which features the awesome artwork produced by California based artist Mark Williams of Heavy Hand Illustration.

Having worked on the previous 'Battlepants' illustration for the last album, Mark has also worked alongside well known bands like Pig Destroyer and adds his unique spin and detailed style to this epic Bong Organ cathedral that also features heavily in our new video created by French artist Clem Colt. We hope you love the new song, love the new video and get exited for the new release and preorder one of the many different variations of formats or bundles available!« 
New album 'Bongs Of Praise' will be available on September 6th in the following formats: 
– Limited Ultimate Edition bundle with smoking pack (10 copies only)
– Vinyl (three different colored versions)
– CD, cassette and digital
New album 'Bongs Of Praise'
Out September 6th on When Planets Collide
Preorder at this location
 TRACK LISTING:
1. Dr Strangeleaf
2. Weed It and Weep
3. Rolling Stoned
4. Squidgy Black Slide
5. One Hit Wonder
6. The Joint of No Return
7. Gauze and Effect
8. Jazz Cabbage
9. Marijuarmchair
10. Bongs Of Praise
Artwork by Mark Williams
They take the blues and groove of 70s rock and drag it backwards through the swamps of Louisiana. The drums are thunderous, the vocals demonic and the guitars down-tuned, down-tempo and down right sexy. This is not doom, this is not sludge: this is GURT. The UK foursome's wicked sense of humour bubbles at the surface of their latest release 'Bongs of Praise'. 
Since their genesis in 2010, the band have laced up their boots and stomped over everything you thought you might have known about them and the beloved conventions of metal. GURT collide their barbaric sound with lines of funk and tongue in cheek lyricism to mould what has been hailed as "party doom". In 2014, they unleashed their debut album 'Horrendosaurus' through independent label When Planets Collide, and which they promoted through a three week European tour with Dopethrone, as well returning home to a packed out audience to open Bloodstock's second stage.
Released in 2017, their sophomore album 'Skullossus'explores darker and more menacing shades of sludge doom. Through a theatrical performance, their sound swelled in size as they toyed with their repertoire; adding rip-roaring, guttural vocals, psychedelic rhythms and classic rock'n'roll-worshipping riffs. On top of their two full-lengths and seven EPs, GURT have been relentlessly touring the UK and Europe, sharing the stage with the likes of Weedeater, Red Fang, Eyehategod, Black Tusk, Valient Thorr, Cough. In their own right way, they have cast their hypnotic savagery to the crowds of Bloodstock, Desertfest, Riffolution (UK) as well as Stonerhead (Salzburg) and 2019's Monospace Fest (Paris)
GURT are:
Gareth Kelly – Vocals
Bill Jacobs – Drums
David Blakemore – Bass
Rich Williams – Guitar
GURT LINKS
Facebook⎪Twitter⎪Bandcamp⎪Website