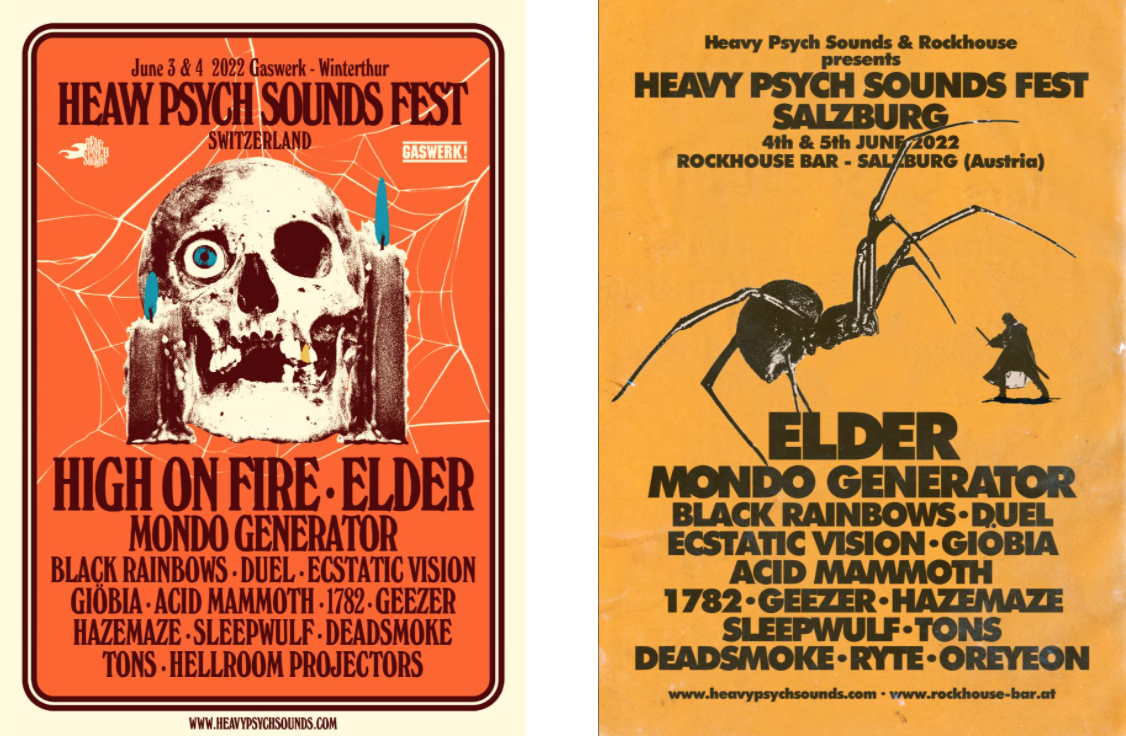 Heavy Psych Sounds reveal lineup for HPS Fest Switzerland and Salzburg editions 2022!
Heavy Psych Sounds reveal the full lineups for their HPS Fest Switzerland and HPS Fest Salzburg editions, to take place in early June 2022 with Elder, High On Fire, Mondo Generator, Black Rainbows, Acid Mammoth, Duel and many more. Early bird tickets are on sale now!

Rajko Dolhar of Heavy Psych Sounds comments: "We are so stoked to finally get back on the road with our Heavy Psych Sounds Fests. After bringing our heavy psych vibes to many parts of Europe and the USA in recent years, we wanted to take on Switzerland and now Salzburg. The lineups are one of the best so far with High On Fire, Elder, Mondo Generator, Duel and so many more, so grab your tickets and see you soon in front of the stage again! »

Almost two years without live shows, today Heavy Psych Sounds announced the timetables for the HPS Fest Switzerland as well as the full and exciting line-up to take over the beautiful town of Salzburg in Austria. Better act quick, as the first 50 early bird tickets are now online, while 50 more early-bird passes to be sold at the Rockhouse's Dome of Rock event on December 2-4!
?? BUY TICKETS for HPS Fest Salzburg ??
Meanwhile, the Swiss edition of the HPS Fest series will make every psych, stoner, sludge and doom heart beat faster when high-class acts such as the iconic High On Fire, and many more of the best names within the heavy music scene will play Winterthur's Gaswerk next summer.
?? BUY TICKETS for HPS Fest Switzerland ??
---
Headquartered in Rome, Italy, Heavy Psych Sounds specializes in introducing the best artists of the international heavy psych, doom, stoner, sludge and space rock scene such as Brant Bjork, Bongzilla, Nebula, Nick Oliveri, Yawning Man, Stöner, Black Rainbows, Acid Mammoth, Belzebong and more. While the first HPS Fests were held in Italy, the label has since extended its reach to the UK, Belgium, Germany, France, the Netherlands, Austria and the United States. The underground cult label is not only the place for all heavy rock record collectors, but it has also become an essential part of the live scene with brisk participation from heavy music fans all over the world.

HEAVY PSYCH SOUNDS RECORDS links
Website⎜Facebook⎜Bandcamp⎜Instagram⎜Twitter