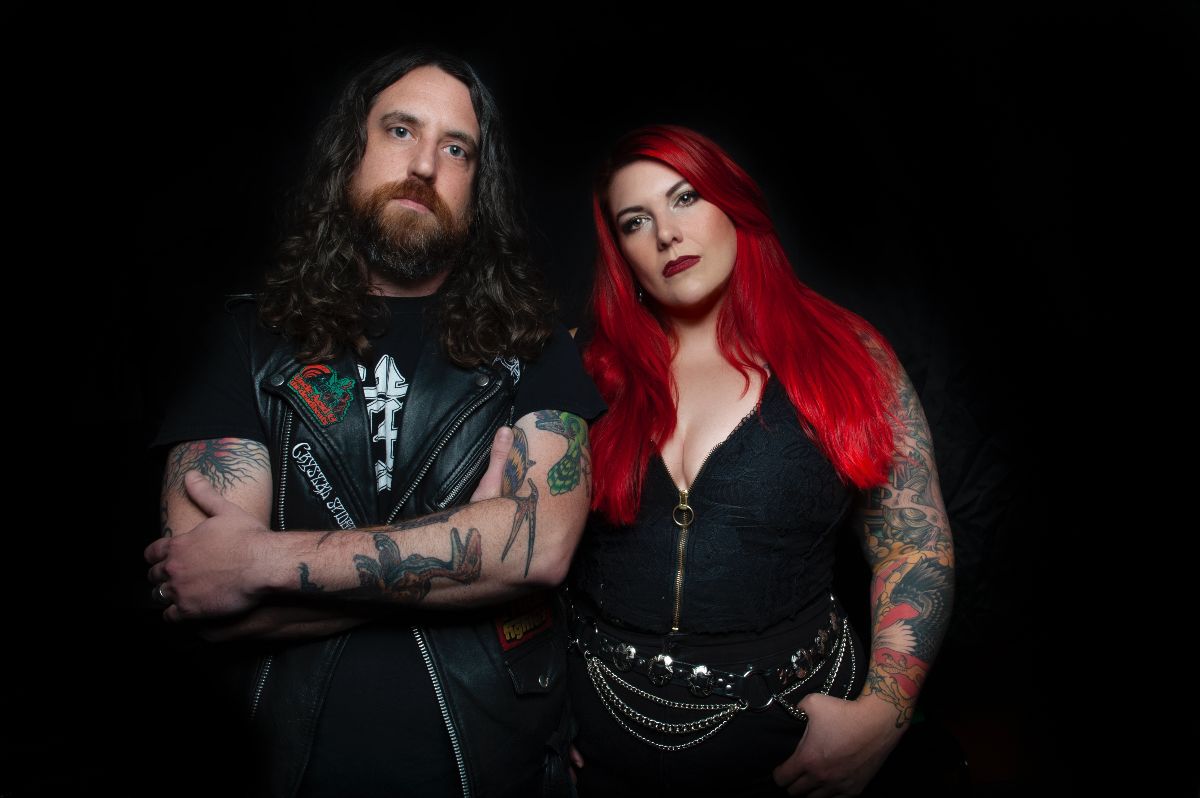 US doom rock duo CRYSTAL SPIDERS stream new album 'Morieris' (feat. Mike Dean of Corrosion Of Conformity) via Cvlt Nation.
Acclaimed North Carolina doom rock duo CRYSTAL SPIDERS team up with Cvlt Nation to premiere their new album 'Morieris' in its thunderous entirety today! The album features a stellar performance from Corrosion Of Conformity's Mike Dean on lead guitar, and will be released worldwide this Friday 1st October on Ripple Music.
"Unafraid of its rough and nastier edges, there's no amplifier worship or tacky occult worship to be found here: just heavy music meant to rattle the bones." Invisible Oranges
"Wonderful, hypnotic, and thunderous." The Sleeping Shaman
"If you're a fan of thunderous and captivating doom rock, look no further than Crystal Spiders!" Cvlt Nation
?Listen to Crystal Spiders new album 'Morieris' via Cvlt Nation ?
For the follow-up to their acclaimed debut 'Molt' (2020), the duo formed by bassist Brenna Leath and drummer Tradd Yancey invited their friend and producer Mike Dean (Corrosion of Conformity, Lightning Born) to record lead guitar parts in the studio. With 'Morieris', CRYSTAL SPIDERSkeep their whiplash intensity and experiment further with intricate harmonies, thundering breakdowns, and the subtle addition of classical instruments. 'Morieris' will be released on October 1st through Ripple Music on limited edition and black vinyl, CD and digital.Watch their latest videos for « Morieris » and « Maelstrom« . 
CRYSTAL SPIDERS New album 'Morieris' out October 1st on Ripple Music
Dripping with fuzzed-out guitars, soaring vocals, and swaggering groove, North Carolina duo CRYSTAL SPIDERS' debut album 'Molt' (2020) quickly won the hearts of stoner metal fans and critics alike. Now for their eagerly anticipated follow up 'Morieris', bassist Brenna Leath (Lightning Born, The Hell No) and drummer Tradd Yancey (Doomsday Profit) take a lead guitar assist from Mike Dean — Corrosion of Conformity bassist and Leath's bandmate in fellow Ripple Music labelmates Lightning Born — for a rollercoaster ride of doomy atmospherics, razor-sharp riffs, and infectious rhythms.
CRYSTAL SPIDERS fits within the lineage of Sabbath-bred influences ranging from Fu Manchu to Kyuss, from Weedeater to Uncle Acid and the Deadbeats. But their broad scope — which pulls eagerly from classic rock dynamics and hardcore punk intensity, psychedelic texture and bluesy swing — pulls the band closer to contemporaries like Year of the Cobra and The Well.
CRYSTAL SPIDERS is:Brenna Leath – Bass/Vocals
Tradd Yancey – Drums/Vocals
Mike Dean – Guitar (studio only)
CRYSTAL SPIDERS links
Facebook | Bandcamp | Instagram | Spotify
RIPPLE MUSIC links
Website⎪Facebook⎪Bandcamp⎪Instagram