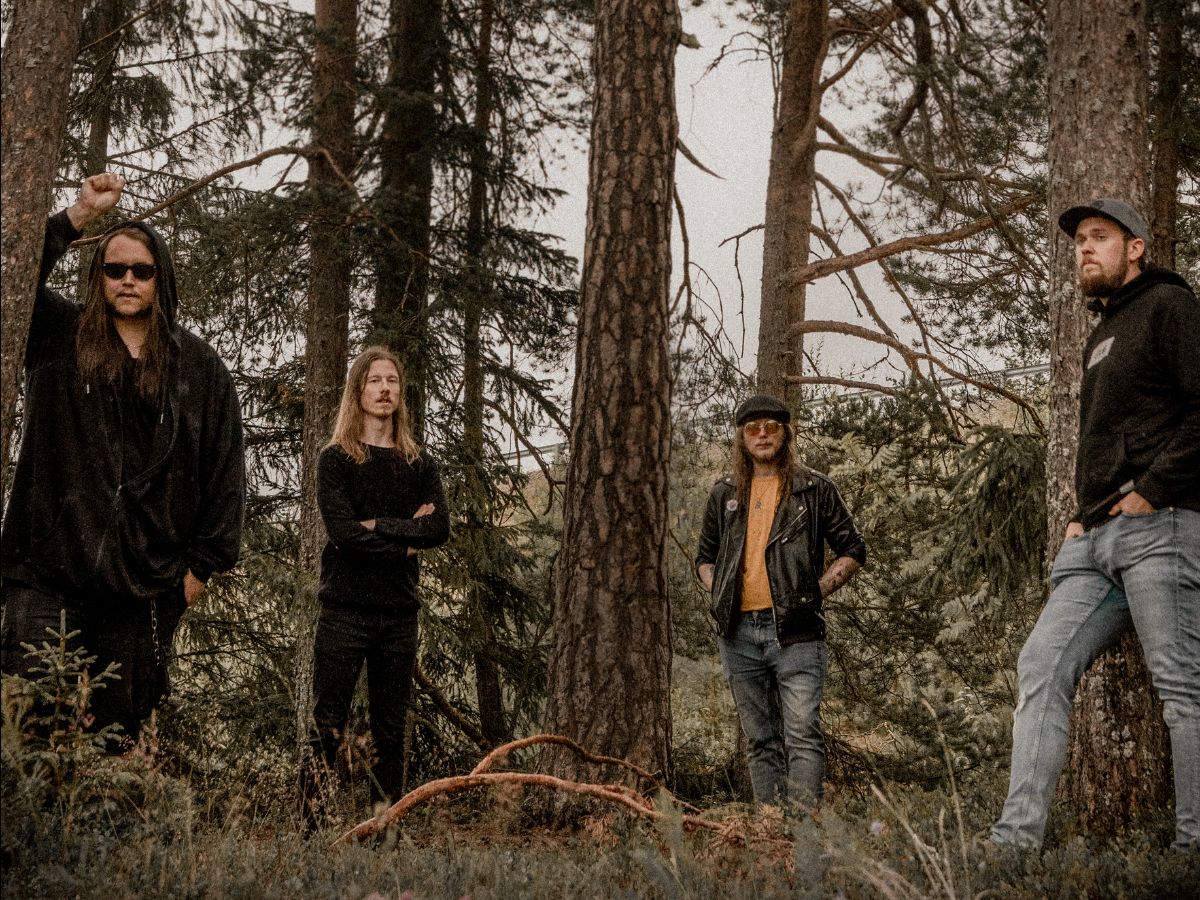 Swedish heavy rockers TIDAL WAVE present « Pentagram » video; new album « The Lord Knows » out this week on Ripple Music.
Swedish up-and-coming stoner rockers TIDAL WAVE team up with Invisible Oranges to present their black metal-inspired new video for « Pentagram » today! This epic and über-heavy new single is taken from their new album « The Lord Knows », to be released this January 20th on Ripple Music.
About filming a black metal-themed video, drummer Rasmus Sundberg explains: « In Sweden, we have organizations called « studieförbund » that help bands with funding, rehearsal spaces and gigs. We were part of one of them, who had booked a lecture tour with members of Dimmu Borgir where they would simply talk about life as touring musicians. When the organization funders — who are super Christian — found out about this, they canceled the entire operation as they thought Dimmu Borgir would recruit young people into satanism. Some bookers, promoters and bands then started boycotting the 'studieförbund'. And as a protest, we decided to write a song about Satan, dedicated to the funders and their orthodox and catholic churches.« 
Watch fun and satanic « Pentagram » video at this location
Sundsvall-based stoner rock merchants TIDAL WAVE are about to hit all households in spectacular fashion with their deluge of raucous fuzz-laden anthems! As they left their stamp on the Swedish stoner rock scene with their 2019 debut album « Blueberry Muffin », the talented four-piece returns with an impressive and memorable collection of songs that aims to fill each air particle with fire, fuzz and power. From the cathartic rip-roaring power of « Robbero Bobbero » to the stadium-worthy flavor of « Purple Bird », Tidal Wave deliver the ultimate blend of in-your-face stoner rock and classic heavy metal bravura with epic riffs for ages, unstoppable dynamics and absolutely face-melting vocals from Alexander 'Sunkan' Sundqvist. Fans of Grand Magus, Mustasch, Truckfighters or 1000mods should love this!
« The Lord Knows » will be issued in various vinyl editions, CD digipack and digital on January 20th through Ripple Music. ► Listen to previous singles « End Of The Line » and « Robbero Bobbero« 
New album « The Lord Knows »
Out January 20th on Ripple Music
US preorder – European preorder – Bandcamp

Tidal Wave is a Swedish heavy rock band that revels in the power of the riff. They've been crafting music together since 2019, drawing from a fertile wellspring of influences including classic bands like Black Sabbath, Nirvana, and Audioslave. Their raucous and finely crafted brand of stoner rock has garnered hundreds of thousands of Spotify streams and now a deal with Ripple Music promises to push them to the next level. The band is gearing up for the follow-up to their 2019 debut album « Blueberry Muffin », to be issued in early 2023. 

TIDAL WAVE is:
Alexander 'Sunkan' Sundqvist – Vocals
Jesper 'Jerpo' Sjödin – Guitar
Adam 'Aden' Nordin – Bass
Rasmus 'Raz' Sundberg – Drums

TIDAL WAVE links
Facebook⎪Bandcamp⎪Instagram⎪Spotify
RIPPLE MUSIC links
Website⎪Facebook⎪Bandcamp⎪Instagram