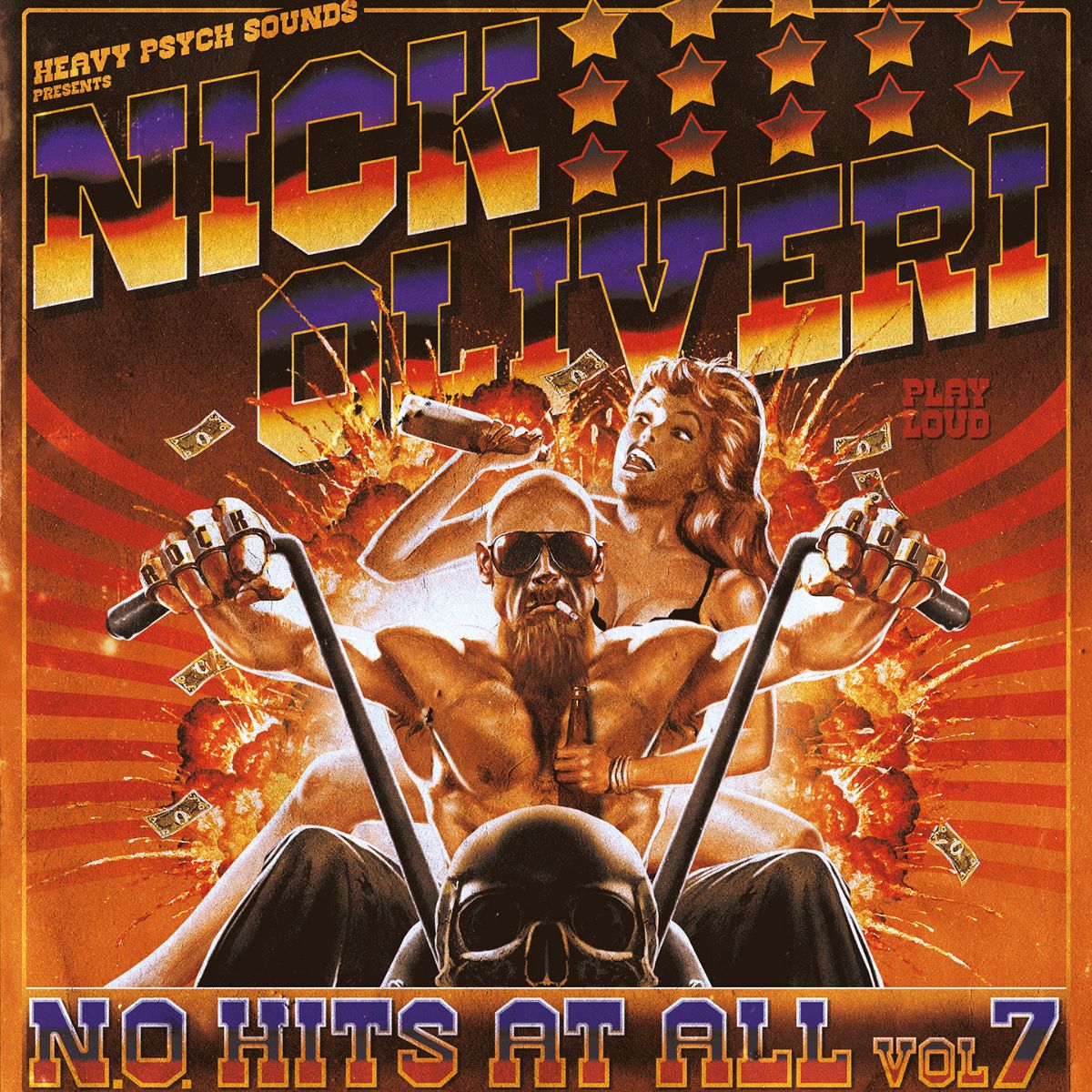 NICK OLIVERI to release final chapter of 'N.O. Hits At All' series on Heavy Psych Sounds; first single available now!
Desert punk legend NICK OLIVERI is set to release the seventh and final chapter of his 'N.O. Hits At All' compilations on Heavy Psych Sounds, featuring some previously unreleased and fresh new songs from his past and current projects. Listen to his band Death Machine II's rad new single « I Am Your Sun » now!

NICK OLIVERI about new single « I Am Your Sun »: "This track was fun to record because I put so much into it as far as instrumentation I played lap steel, electric piano, drums, bass, and vocals along with my friend and bandmate Michelle Balderrama who played guitar and sang with me. If Covid has brought anything positive in this past year for me, is I taught myself to play drums, and I've started a new band. I'm trying to stay positive and put to rest a negative past year. Now everyone together, scream FUCK 2020!"
?Check out Nick Oliveri's DEATH MACHINE II new song « I am Your Sun » ?
The 'N.O. Hits At All Vol.7' compilation will be issued on July 2nd, 2021 and can be preordered now through Heavy Psych Sounds as:
– 3-colored stripe red/yellow/transparent purple vinyl
– Pink vinyl
– Black vinyl
– CD and digital
NICK OLIVERI 'N.O. Hits At All Vol. 7'
Out July 2nd on Heavy Psych Sounds



TRACKLISTING:
1. Bram Stalker (Bram Stalker)
2. I Am Your Sun (Death Machine 2)
3. Up And Down Under (Nick Oliveri & The Black Armada)
4. ME 262 (Captain Dick & The Seamen)
5. Infected (Death Acoustic)
6. Without A Sound (Full Tone Generator feat. Nick Oliveri)
7. Predators (Gunash feat Nick Oliveri)
8. Disease With No Control (Uncontrollable)
9. Warning (Death Acoustic)
10. I Want You / She's So Heavy (Mondo Generator)
NICK OLIVERI is an American musician from Palm Desert, California. He plays bass guitar, acoustic guitar, electric guitar, and is a vocalist. He is most widely known for playing bass in Kyuss, Queens of the Stone Age, and Dwarves, and has also performed with the reunited Kyuss under the names Kyuss Lives! and Vista Chino. As a bandleader, his main project is Mondo Generator, a punk/metal hybrid that he formed in 1997. Born in Los Angeles, Oliveri began his career in 1987 with John Garcia, Brant Bjork, Josh Homme, and Chris Cockrell under the band name Katzenjammer. In early 1989, after Oliveri's departure, the band would change its name to Sons of Kyuss, later shortening the name to Kyuss. He later rejoined the band, playing on the albums « Wretch » and « Blues for the Red Sun ». Oliveri would leave Kyuss again in early 1992, shortly after his father died in a car accident.
Following this, he joined The Dwarves as a bassist under the moniker Rex Everything. However, he is perhaps best known as a member of Queens of the Stone Age from 1998 to 2004. Oliveri is also a solo artist and frequent contributor to his friends' albums and tours, including Winnebago Deal, Mark Lanegan Band, Masters of Reality, Turbonegro, Moistboyz aka Dickie Moist and the O.T.C., and The Knives. In the past, he has been involved with « The Desert Sessions » Vol. 4 and Vol. 6. He is also one-half of the acoustic duo The Uncontrollable, with The Dwarves frontman Blag Dahlia.
NICK OLIVERI LINKS
Facebook⎜Instagram⎜Twitter
HEAVY PSYCH SOUNDS LINKS
Website⎜Facebook⎜Bandcamp⎜Instagram⎜Youtube