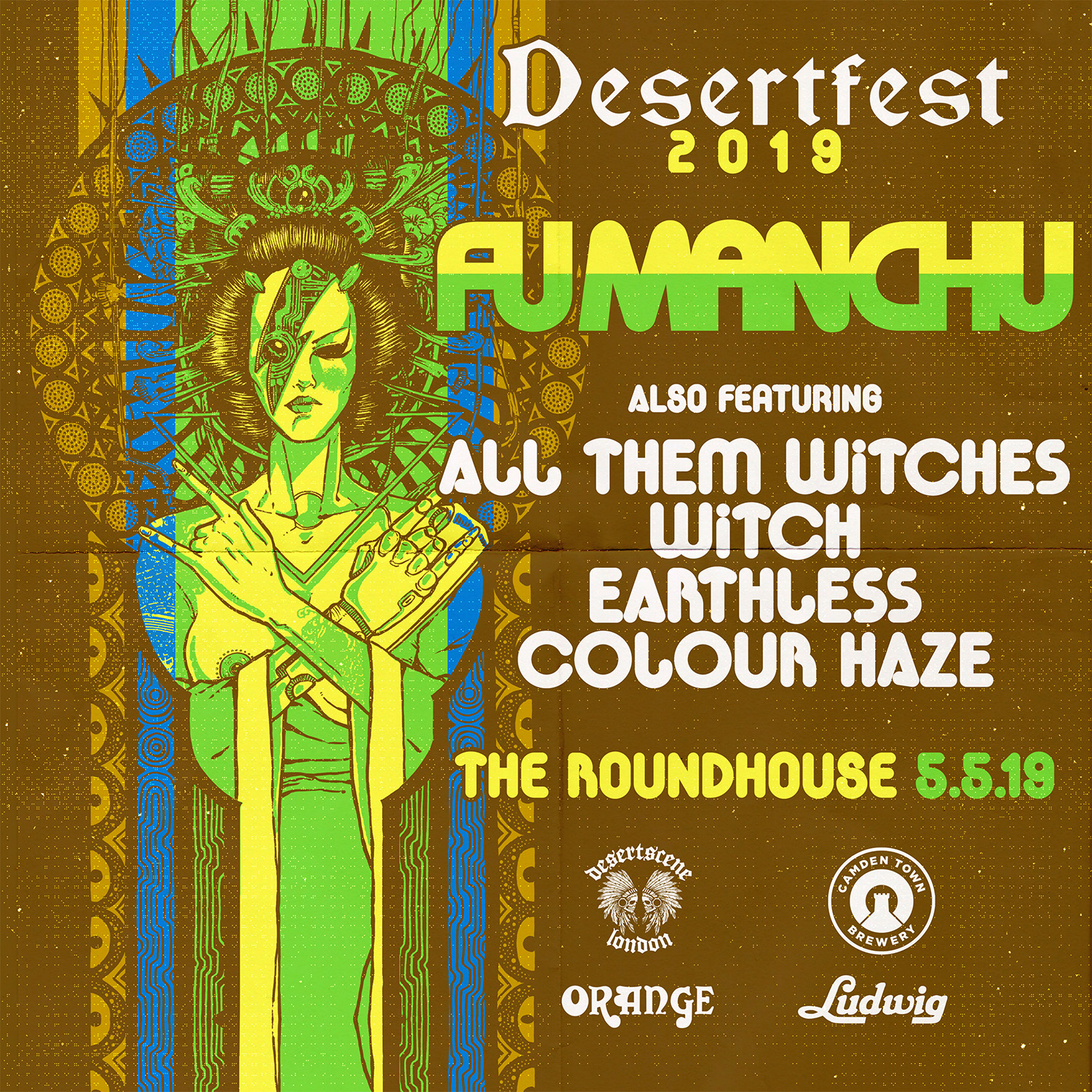 Stoner rock titans FU MANCHU to headline the Sunday at DESERTFEST LONDON this May!
Over the past seven years of 

DESERTFEST LONDON

, we've had a lot of incredible memories of otherworldly performances from many of the notable bands this humble scene has to offer. Today, we finally cross another huge name off our bucket list, as we reveal that kings of the road Fu Manchu will headline Roundhouse on the Sunday at Desertfest 2019. Not only that, but we can also reveal that joining them on May 5th's mammoth Roundhouse Stage are the previously announced All Them Witches, Witch, Earthless and Colour Haze.
Southern California's boogie-rocking titans were born out of the hardcore punk scene of '85 as Virulence, but quickly switched up their super-speed, underground angst for more of a drawlin', skateboard rampin', hard-rockin' vibe and so 
FU MANCHU
 was born. Throughout the next thirty years or so they'd come to be known to many as the AC/DC of the now global desert rock scene: always consistent, always on trend, always ready to rock; any time, any venue, anywhere. Recently Fu Manchu have gone through a phase of touring albums in their entirety, and from the rising asphalt of 
In Search Of…
, to the laserblastin' 
The Action Is Go 
and right through the true hell on wheels that is 
King On The Road
 and beyond, we've all got a favourite Fu Manchu moment. If not, then there's never been a better time to get familiar with the hardest rockin', hotdoggin' back catalogue in history.
Fu frontman Scott Hill is clearly as excited as we are for the boogie van to roll into Camden Town: 
"
We're so stoked to be a part of Desertfest and to play the legendary Roundhouse in London. It's hard to believe that we will be playing the same spot as some of our heroes like Hendrix, Pink Floyd, Led Zeppelin, The Clash, Ramones and Motörhead. » 
We couldn't agree more.
Joining them on what we believe is our biggest Roundhouse stage yet on Sunday May 5th, are four must-see masters of the underground who have already been announced for Desertfest 2019. 
ALL THEM WITCHES 
bring an approach to the modern wave of bluesy psychedelia that is all their own, hot off the heels of their recently released and truly impeccable 
ATW
. After releasing a few of the noughties' most bad ass albums, 
WITCH
 return from their slumber to provide a doomed out kind of psych to the Sunday. Riffs for days are guaranteed when 
EARTHLESS 
show up; with an ultimate jam band approach which both rips and shreds, faces will melt into a gooey pile of mush. Last but not least, European underground heroes 
COLOUR HAZE 
will open up the Roundhouse with their scene defining slice of heavy psych.
We couldn't ask for a better way to round out what we're sure will be a killer Desertfest 2019 than this lineup at The Roundhouse. Be sure not to miss out, book your tickets today.
DESERTFEST LONDON /// 3-5th May, 2019 in London
All tickets on sale at this location
Previously announced bands + Friday headliner are the following:
Official website⎜Facebook⎜Twitter⎜Instagram