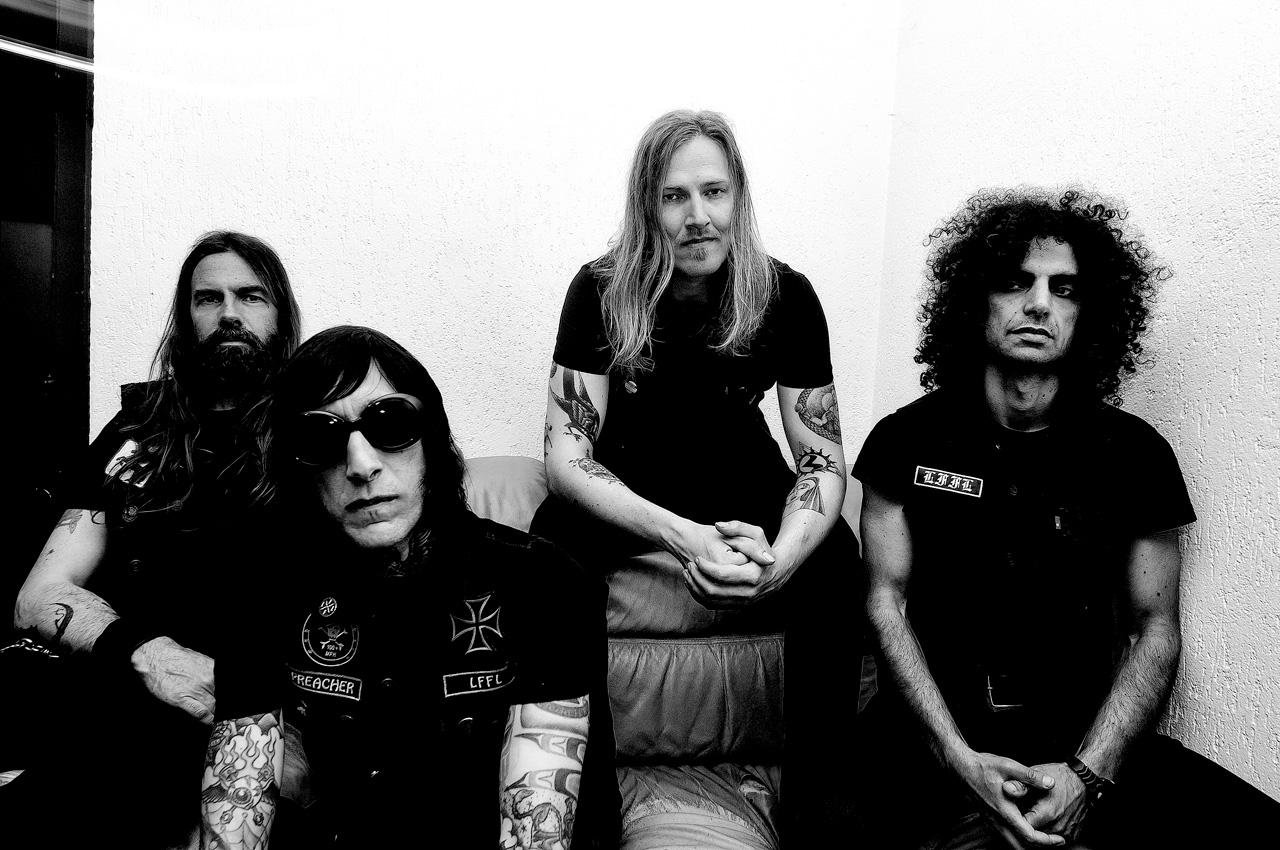 Garage rockers THE LORDS OF ALTAMONT share new single « Levitation Mind »; new album out July 9th on Heavy Psych Sounds.
Californian garage rock spearhead THE LORDS OF ALTAMONT team up with Shindig Magazine to present the second single taken from their upcoming seventh studio album 'Tune In, Turn On, Electrify!' on Heavy Psych Sounds. Strap up and get trippy with « Levitation Mind »! 

This 7th chapter of THE LORDS OF ALTAMONT's body of work strikes with an unapologetic conviction built up from 22 years of soul seasoning and nonstop rock action, fine tuning their iconic fuel-injected sound. Recorded during the pandemic with members across the globe, this is not only an experiment in creativity but also a testament to the LOA brotherhood, dedication to 'the old ways' and paying homage to their sonic forefathers. 'Tune In, Turn On, Electrify!' takes a ride through the mental landscape of the four musicians: thrusting raw, aggressive garage punk in your face, then flips the script inviting you on elaborate psychedelic trip. 
Listen to new single « Levitation Mind » at this location
Says the band: "Levitation Mind" is a 100% raw psychedelic trip into the minds of The Lords Of Altamont. 'Take a ride in my new dimension' launches you into an ethereal cross-section between space and time, with heavy guitar and a sludgy rhythm section guiding the travels of a warped mind. While you can never have a bad trip with the Lords, it is still suggested that you hold fast. »

Formed in 1999, THE LORDS OF ALTAMONT have gone through multiple line ups over the years, retain loyalty to their garage punk roots while evolving into heavier grooves. Never compromising that unmistakable Lords attitude, Dani, Rob and Barry having earned their colors tenfold, bring a gritty collective of experience and talent to join Jake on this journey of no-nonsense auditory exploits. Stream their latest single « Living With The Squares » at this location.
'Tune In, Turn On, Electrify!'
Out July 9th on Heavy Psych Sounds
THE LORDS OF ALTAMONT bring forth raw rock and roll fury birthed from the ultimate end to the era of peace and love. What was billed to be the "Woodstock of the West", the infamous Altamont Free concert on December 6th, 1969 was highlighted instead by heavy drugs, motorcycle chains and brass knuckles and later punctuated with shoving matches and fist fights. This palpable sense of bawdy foreboding resulted in four births, four deaths and extensive property damage.

The story of the band who would come to be known as THE LORDS OF ALTAMONT gets a proper start in late 1999. A son of Southern California and a veteran of the SoCal music scene, Jake Cavaliere – with numerous bands and projects from garage to punk dating back to the late 80s under his belt – enlisted fellow motorcycle rider and bandmate of the intro/surf sensation The Bomboras, Johnny DeVilla. Besides holding their first show at the legendary venue The Garage in Hollywood, high points include touring as the support act for their primitive rock n roll idols The Cramps, infamous rock gods The Who as well as counting the late Michael Davis of the MC5 as a past member.

Through personnel changes featuring an incredible roster of talent, and various adventures over the past 22+ years, The Lords of Altamont continue to evolve their sound while staying true to their roots. Jake Cavaliere, along with his assemblage of gritty and talented personalities, continues to captivate audiences with unparalleled hard driven performances the world over.

THE LORDS OF ALTAMONT is
Dani Sindaco — Guitars & Vocals
Jake Cavaliere — Organs & Vocals
Barry Van Esbroek — Drums & Vocals
Rob Zimmermann — Bass & Vocals

THE LORDS OF ALTAMONT LINKS
Website⎜Facebook⎜Bandcamp⎜Instagram

HEAVY PSYCH SOUNDS LINKS
Website⎜Facebook⎜Bandcamp⎜Instagram⎜Youtube