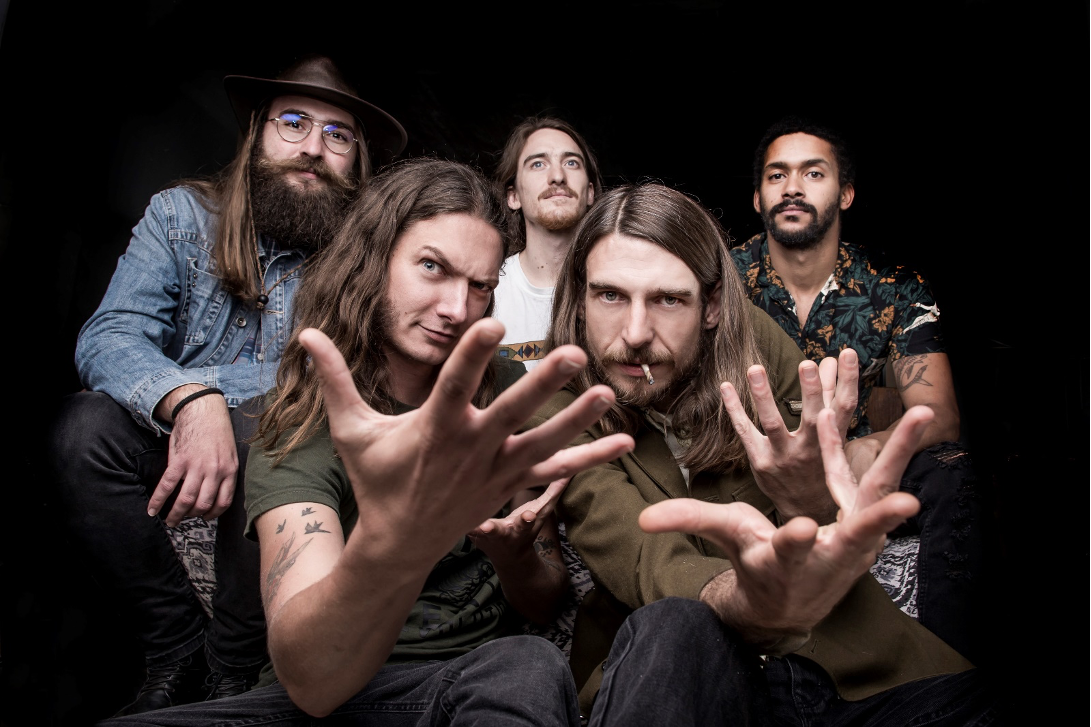 South African heavy rockers RUFF MAJIK announce PULP comic series; watch groovy new visualizer « Swine Tooth Grin »!
Heavy and fuzzy rock'n'roll five-piece RUFF MAJIK launch their PULP graphic novel series alongside their new single. Get into Ruff Majik's crazy and colorful world with their groovy and addictive « Swine Tooth Grin » video right now!
There is no white magic, there is no black magic, there is only Ruff Majik. Pulp Rock fandom, here we come. RUFF MAJIK has never been a band to do the same thing twice. From trying out different production styles for every release, playing mixtures of genres ranging from soul to black metal, to releasing a season-based EP series (later compiled into a full album), the band has always strived to keep themselves and their fans on their toes. It should come as no surprise then that frontman Johni Holiday has dreamt up yet another mad hatter-type plan for their upcoming release.
After the release of 'The Devil's Cattle' on Mongrel Records in October 2020, the band found themselves at a crossroads. RUFF MAJIK had just increased their membership to a five-piece, the album was well-received critically, and sold well in terms of vinyl, but didn't reach the lofty heights the band were aspiring to. As fate would have it, the band pressed for their first breakout release just as COVID-19 hit the world.

Says Johni: « It's a bummer you know. We had just signed to Mongrel Records and had this festival-ready album, with the best production value we've ever attempted, big eye-catching music videos, everything. And then the world stopped. I guess you could argue that we had a captive audience, hahaha, but I don't think that's completely true. The world was so oversaturated with an online activity that everything just became engulfed. Too much news to follow, too many amazing artists releasing amazing productions due to their newly found time off. Just too much of everything. Being able to tour would have made a world of difference. »
The band needed to make a plan to ensure their future endeavours would generate some heat. So, what then? What is the logical step forward for a small South African band, still hell-bent on world domination, but humbled by a global pandemic? Enter PULP: RUFF MAJIK's rebirth, re-brand, and singles campaign.Therefore, Johni (alongside Ale & Cake Illustrations) set forth to create a universe of pulp literature, to go along with their music, old and new. The PULP series kicks off today with an online comic tying in the story between their « Who Keeps Score » and « Swine Tooth Grin » videos, along with a visualizer for « Swine Tooth Grin » — the second single to last issued from their album « The Devil's Cattle ». It will be followed up on July 30th with another interim comic and an animated music video for « Heart Like An Alligator ». 
?Watch Ruff Majik's new video « Swine Tooth Grin » ?
Read the first chapter of the PULP comic series
« I'm a consumer of all things crazy, b-grade and wonderful. Our band name even came from a failed pilot for a b-grade adaption of an H.P. Lovecraft story (Rough Magik). One thing I've always been very invested in was the history of pulp fiction, not the Tarantino film, but where it actually got its name from. These crazy stories that were printed in mass on terrible, low-grade paper gave rise to many different genres of fiction and were even the ancestors of comic books. I always kind of felt like that was what Ruff Majik was doing with our music, we were always playing 'pulp rock'. It just didn't come out regularly enough and lacked the storytelling capacity that a short novel would. So, then I thought, why not have comics? Why not have animated features to go along with the singles and give us a sense of the world around the music? Why not turn us into an animated band, like Dethklok or Gorillaz? » Johni adds.
New album 'The Devil's Cattle'
Out now on Mongrel Records on CD, vinyl and digital
via Just Direct (South Africa) and Black Farm Records (Europe/USA) 
From there, the band will release a monthly issue of « PULP », which will chronicle stories from their past and future discography, released along with a range of animated music videos. The comics will feature all band members, other South African musicians, as well as musicians in the greater stoner/desert/doom/rock scene. Make sure to follow RUFF MAJIK on their Webtoons page for more PULP episodes and updates! 

The newest singles will form part of a full album set for release in June 2022 and will be released monthly along with videos, short online comics and exclusive merch. The full vinyl/CD release will include multitudes of artwork, as well as a full print version of PULP with all the monthly online comics compiled into one. 

RUFF MAJIK LINKS
Facebook⎜Instagram⎜Bandcamp⎜Spotify
MONGREL RECORDS LINKS
Website⎜Facebook⎜Bandcamp⎜Instagram