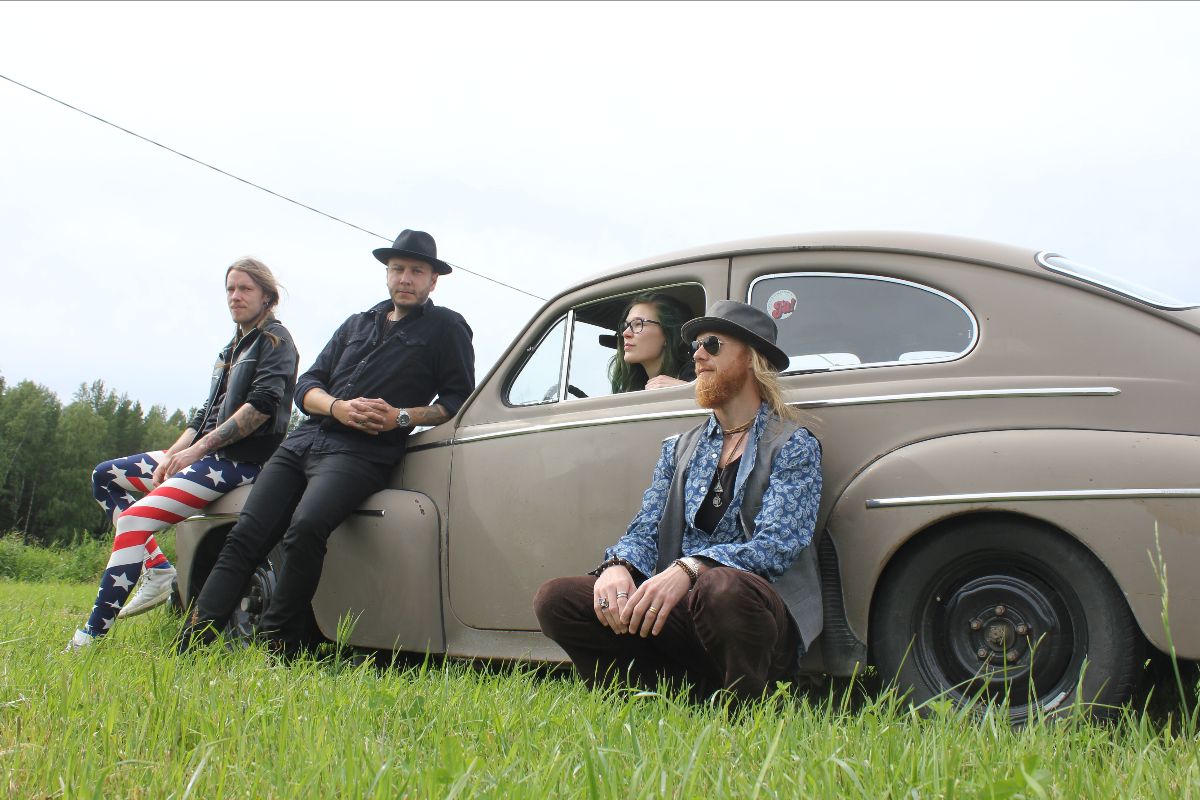 Swedish progressive rockers KINGNOMAD share new single off shimmering 'Sagan Om Rymden' album, out July 10th on Ripple Music.
Sweden's prog rock warlocks KINGNOMAD unveil a new track taken from their 70s-infused new album 'Sagan Om Rymden', coming out this July 10th on Ripple Music. Travel through the ages of rock and psychedelia with « The Creation Hymn » exclusively over at It's Psychedelic Baby Magazine.

There's an emanating glow, a retro feel, a psychedelic hand keeping things loose and airy, a breeze through hazy mornings throughout the music of KINGNOMAD. New album « Sagan Om Rymden » recalls the more playful doom-rock of Witchcraft, leading into a fair stomp of times past, with guitar solos and organ creating a nostalgic 70s prog and proto-metal, offering an uplifting and shimmering journey through the ages of quintessential rock. Are you ready to teleport to the end of the universe… and beyond?
Stream KINGNOMAD's shimmering « The Creation Hymn« 
Mr. Jay (vocals, guitar, piano, synths) about the new album: « When I started writing this album, I set out with a brand new perspective. I felt inspired by old Swedish progressive rock giants such as Kaipa, Bo Hansson and Kebnekajse — in fact, the title of the album is a big "hats off" to the late and great Bo Hansson. I picked up instruments I had not written Kingnomad stuff with before, like classical guitar, piano or putting the capo on weird places on the electric guitar. Strange and wondrous songs would then start to appear. »
New album 'Sagan Om Rymden'
Out July 10th on Ripple Music
European preorder / North American preorder
TRACK LISTING:  
1. Omniverse
2. Small Beginnings
3. The Omega Experiment
4. Tillbakablick The Usurper King
5. Multiverse
6. The Fermi Paradox
7. The Creation Hymn
8. On The Shoulders Of Giants
9. The Unanswered Question
KINGNOMAD formed in 2014 in a small forest village in northern Sweden. Best friends and neighbors, Jay and Marcus had the desire to create a blend of old 70s sound, nice haunting vocal arrangements, and lyrics that could carry you off to dark and distant  worlds. Bass maestro Maximilian was quickly recruited, alongside legendary punk drummer Andreas. Five songs were recorded and came to the attention of US label Ripple Music, who released four of them on their 'Second Coming of Heavy' split vinyl series.
In 2017, KINGNOMAD release their debut album 'Mapping the Inner Void', a heavy psychedelic piece filled with Lovecraftian soundscapes. Songs kept on coming, quickly leading to its followup 'The Great Nothing' in 2018. With new drummer Mano on board, the album was described as a « fitting soundtrack for a backflip through the doors of perception » by Classic Rock Magazine. With their third album, KINGNOMAD keep evolving to higher grounds, never standing still while maintaining their trademark "Nomad vibe". 'Sagan Om Rymden' is coming out on July 10th via Ripple Music.

KINGNOMAD are:
Mr Jay – Vocals, lead guitar, piano and assorted synthesizers
Mano – Drums, percussion and backing vocals
Marcus – Guitars and MicroKorg
Maximilian – Bass and backing vocals
KINGNOMAD LINKS
Facebook⎪Bandcamp
RIPPLE MUSIC LINKS
Website⎪Facebook⎪Bandcamp⎪Instagram