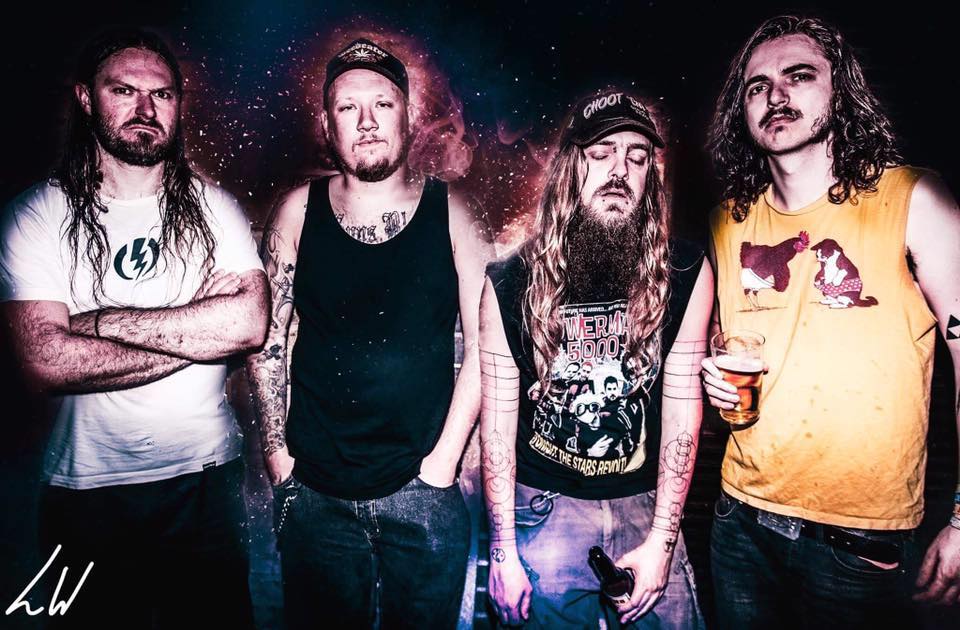 London's party doom heroes GURT share new video « Broken Heart Heroin Man » on Kerrang! ; new album « Skullossus » still available!
London's one and only sludge revellers 

GURT

 unleash some exclusive studio footage for their blistering anthem « Broken Heart Heroin Man » via Kerrang!. Their sophomore album « Skullossus » is still available on Bandcamp on all formats.
Watch the video for « Broken Heart Heroin Man » NOW
This new video was filmed during the recording of GURT's second full-length « Skullossus » at Titan Studios in Watford. « Skullossus » was released on May 1st through When Planets Collide and can be heard here.
GURT's frontman Gareth Kelly adds: "For one of our most favourite tracks from new album « Skullossus », we wrote 'Broken Heart Heroin Man' as a contrast to the slow and heavy opening track. We love sludge and doom but we also love punk and grind so this track shows us at our most speedy but still damned catchy, it's a shout out to all those show-offs out there that think they are cool as fuck but still live with their parents! As for the video, Spicy (bass) had recently bought a brand new GoPro and we filmed loads of silly footage in the studio whilst recording the album, with the intention of mashing it all together and releasing a video. So this seemed like the best track to go alongside that footage, just make sure you watch all the way to the end!"
The drums are thunderous, the vocals demonic and the guitars down-tuned, down-tempo and down-right sexy. This is not doom, this is not sludge, this is Gurt! 
GURT
 proudly wear the title of 'party doom', as described by a host of reviewers and fans. They are the physical embodiment of that sound, as much about brutality as they are about fun. Marrying 'dainty moves and thunderous grooves', GURT truly embrace all that is filthy about sludge, fun about metal, and catchy about pop! The foursome has been bringing the gravity since 2010, relentlessly touring the UK and Europe, sharing the stage with the likes of Weedeater, Red Fang, Dopethrone, The Sword, Hark, Raging Speedhorn and Black Tusk. With no less than three appearances at Desertfest London and two at UK's Bloodstock Open Air, the band now has set their sights on the rest of the world, the Moon and beyond!
Not ones to sit idly, GURT have released two albums and seven EPs and splits. They are known to make some unconventional choices for cover songs by metal bands ('Baggy Trousers' by Madness, 'Psycho Killer' by Talking Heads) and have also ruined two beloved Christmas songs. 2014 was a momentous year for the band: it saw the release of their debut album 'Horrendosaurus', along with a three week European tour with Dopethrone as well as an outstanding first appearance at Bloodstock Open Air Festival. In 2017, GURT released their second full-length record 'Skullossus'; to high praise from fans and critics. GURT are driving straight ahead into 2018, already planning the next records to keep getting out on the road to ever new places, including another European tour in the summer.
GURT is
Gareth Kelly – Vocals
Bill Jacobs – Drums
David Blakemore – Bass
Rich Williams – Guitar