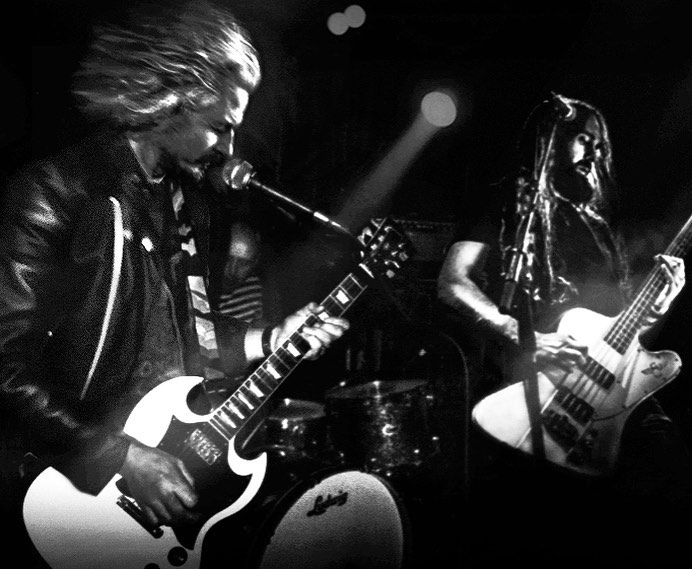 Cult UK stoner rockers JOSIAH to reissue long sold-out debut 'Out Of The First Rays' on Heavy Psych Sounds; preorder up now.
UK's stoner rock veterans JOSIAH announce the long-awaited vinyl reissue (and first digital release) of their 2001 cornerstone debut album 'Out Of The Rays', to be released on June 11th through Heavy Psych Sounds.

It's the year 2000. The world did not end, Uncle Acid, Graveyard and Kadavar are nothing but twinkles in Satan's eye — and JOSIAH are about to come together to make something very heavy happen. From the beating heart of the UK, Mathew Bethancourt, Sie Beasley and Chris Jones laid down a dark sound, laced with acid and fueled by heavy fuzzy riffing. Early live shows with the likes of Nebula, Zen Guerilla, Atomic Bitchwax and more, unleashed the loud, full stack, heavy psych rock experience of Josiah.

JOSIAH quickly rose to prominence on the UK scene with heavy touring, and released their debut record 'Out Of The First Rays' in June 2001 via Cargo Records. Out of this fuzz-laden record, crowd highlights included the rapidly sold out « Malpaso » 10″ EP (which was aired by Marianne Hobbs on Radio 1's Rock Show), "Spacequake" which was featured on Metal Hammer's « Best New UK Bands » compilation.
Says Mathew Bethancourt: « 'Out Of The First Rays' was an important record for us. This record launched Josiah onto the scene and created some major tremors across the world. It allowed us to play some great shows and create friendships we still have to this day. Listening to the recordings and travelling back to that moment in time, makes you realise you played a part in something. Something special. We didn't realise it at the time. We just wanted to write, record, play live and have a good time. We still do! The 20th anniversary edition on HPS is a celebration. A celebration of a young bands electric energy captured on 2" tape for the very first time."

'Out Of The First Rays' will be available worldwide again on June 11th, 2021 through Heavy Psych Sounds and available to preorder now in the following formats:
– 15 Ultra Ltd Test Press Vinyl
– 150 Ultra Ltd 3 Color Striped Green-White-Red Vinyl
– 300 Ltd Neon Purple Vinyl
– Black Vinyl
JOSIAH 'Out Of The First Rays' reissue
Out June 11th on Heavy Psych Sounds

TRACK LISTING:
1. Head On
2. Malpaso
3. Spacequake
4. Sweet Smoke
5. Black Maria
Twenty years on and 'Out Of The First Rays' is still as powerful today. As the band rip straight into « Head On » it's clear that JOSIAH wanted to take heavy rock back to its opiate-drenched roots. Psychedelic lyrics sung with soul and the heavy as fuck grooves laid down across this release owe a debt to Black Sabbath and Monster Magnet. « Malpaso » quickly became the band's signature track (featuring on soundtracks and TV shows) with its pulsating riffs and trippy middle section, and « Spacequake » makes you start to think there must be something in the midlands water supply, as Bethancourt echoes Ozzy with « come take my hand my child » and the Iommi-styled guitar hooks kick you straight in the gut. « Sweet Smoke » kicks off side B with its Cactus meets Grand Funk early 70's rock vibes.

The sonic interplay between the power trio, back the vocals up for this anthem to a burning earth… « Let the flames just take you higher ». The 10 minute closer « Black Maria » with its psychedelic twin vocals and one of the heaviest riffs you'll hear this side of dead, gives way to uptempo bass grooves and a wah drenched lead break. Take another sip of the electric kool-aid baby, before we « slide down the cosmos » and fall into the big black sleep.
JOSIAH is
Mathew Bethancourt – vocals & guitar
Sie Beasley – bass & vocals
Chris Jones – drums  
Find JOSIAH on Bandcamp

HEAVY PSYCH SOUNDS LINKS
Website⎜Facebook⎜Bandcamp⎜Instagram⎜Youtube