DOPETHRONE takeover Cvlt Nation with their mental new video « Scum Fuck Blues »
As twisted and provocative as we expect them to be, Canada's sludge outlaws DOPETHRONE just unleashed their new (rated R) video « Scum Fuck Blues » on Cvlt Nation. This first video sets the tone for the trio's forthcoming full-length « Hochelaga », due out April 13th on Totem Cat Records.
The 100% « sex, drugs and murder » video for « Scum Fuck Blues » was produced by America's horror merchants 
The Whore Church
, also known for taking part in last year's Housecore Horror Fest as well as for their disturbing blood-drenched video mixtapes. With a chorus like « 
Smoke, drink, die
« , we can easily assume that 
DOPETHRONE
have found the perfect partners in crime for their propaganda…
Get your brain ripped to pieces with « Scum Fuck Blues » on
Cvlt Nation
After three records that literally made the sludge & doom community bow down in front of their evilness, Canada's most insane and weed-laden trio gets back to business with the upcoming release of their new
 album « Hochelaga ».
DOPETHRONE
's riffage is more infectious than ever, atmospheres are nothing but filthy and degenerate, and the overall sound is as monstrous and crushing as a mountain troll crawling into Montréal's sewers. You've been warned…
« Hochelaga » out April 13th via Totem Cat Records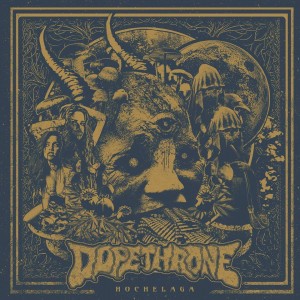 The riff comes in many forms. Sometimes it's clean, catchy and elegant. Sometimes it's filthy, grimy and about as elegant as a sledgehammer to the sternum. DOPETHRONE is the latter. This D.I.Y trio from Hochelaga, Montreal's trashiest ghetto, wallows in smoke, demons, death, the occult and enough psychotropic drugs to send both Hunter S. Thomspson and William Burroughs on one hell of a trip. Delivering some of the filthiest, most skull-crushing riffs drenched in distortion and fuzz, they encompass the bleakness of black metal, the steadfastness of New Orleans-style sludge with a heavier-than-thou doom mentality. Riffage is thick, punishing, suffocating and destructive and demonic vocals are harsh, visceral and animal-like for tunes dripping with pervasive THC. DOPETHRONE take over doom and view it through a crusty lens, and that perspective rise the genre to new heights of sonic filth.
After they released their first LP « Demonsmoke » on STB Records, the band unleashed « Dark Foil » via Totem Cat Records in 2011, then got invited to Roadburn Festival in 2012 by festival curators Voivod. The performance was followed by the release of third album « III« , in support of which the trio toured Europe two times. Montreal's distortion-powered sledgehammer DOPETHRONE is set to be back in 2015 with a fourth heavier and most of all thrashier full-length… The band will perform at DesertFest London and Berlin and Heavy Days In Doomtown this spring, and will make their very first appearance in Los Angeles for a special performance in November !
UPCOMING SHOWS: 
22.04 – LYON (FR) MJC Ô Totem w/ EyeHateGod
23.04 – STRASBOURG (FR) Molodoï w/ EyeHateGod
24.04 – LONDON (UK) Desertfest London
25.04 – BERLIN (DE) Deserfest Berlin
28.04 – PARIS (FR) Glazart w/ Acid King & Black Cobra
29.04 – AMSTERDAM (NL) TBA
30.04 – ATHENS (GR) An Club w/ Belzebong
01.05 – COPENHAGEN (DK) Heavy Days In Doomtown
03.05 – HAMBURG (DE) TBA
DOPETHRONE IS:
---