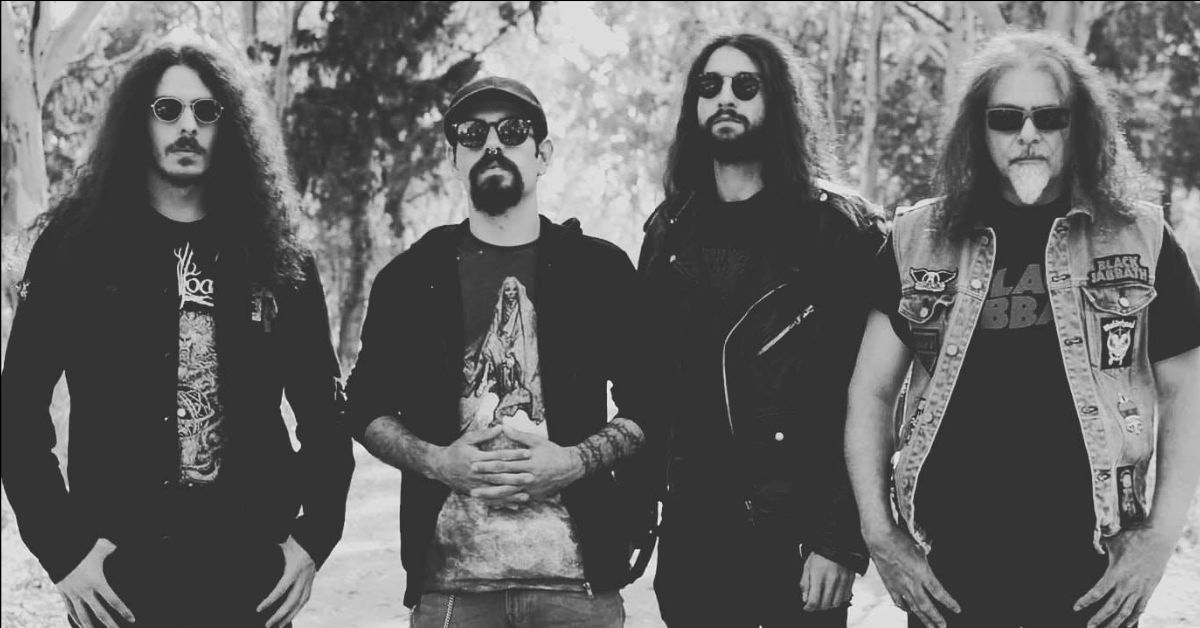 Greece's epic doom metallers ACID MAMMOTH crush you underfoot with new album 'Caravan', streaming in full via The Obelisk!
Greece's revered doom metal representatives ACID MAMMOTH team up with The Obelisk to premiere their addictive and prodigiously heavy new album 'Caravan' today! Hear it in full below, and get ready as it lands in all stores this Friday 5th March through Heavy Psych Sounds.
« 'Caravan' is primitive on its face but deceptively intricate and ably constructed, with a consistency of craft that unites the material across this five song/40-minute release and finds Acid Mammoth living up to the challenge and responsibility before them. No single band could possibly embody the entirety of 'Greek heavy' as a form simply because it isn't a singular form, but in culling influences from the worldwide heavy sphere and reshaping them into something of their own, Acid Mammoth nonetheless bring to life a key ethic in what's made Greece flourish these last years, and so, are a fitting and vital representation after all. » says The Obelisk.
Stream new album 'Caravan' in full via The Obelisk
New album 'Caravan' is the sequel to ACID MAMMOTH's 2020 'Under Acid Hoof' album, and their fourth release on Heavy Psych Sounds Records. This third full-length from the Greek outfit is an enveloping pitch-black journey into the unknown, driven by those infectious anthems the band has been revered for. Once again, the father and son duo on guitar treats the listener to a horde of fuzzed-out, Iommi-worshipping riffs, while the behemoth bass relentlessly crushes everything under its acid hooves. On top of these unearthly beats of harrowing doom, Chris Babablis Jr.'s vocals mesmerize with his woeful chants. Heavier and more multi-faceted than its predecessor, 'Caravan' is meant to tear you down in complete ecstasy. 
ACID MAMMOTH New album 'Caravan'
Out March 5th, 2021 on Heavy Psych Sounds


ACID MAMMOTH is a doom metal band from Athens, Greece. The band was formed in 2015 by Chris Babalis Jr. (Vocals & Guitars) and Dimosthenis Varikos (Bass). Acid Mammoth is more than just a band of friends: they are a family. In late 2016, the band recorded its self-titled debut full-length, which was released digitally in the fall of 2017. The album was well-received, and it wasn't long before the band got in the studio again to record its second full-length 'Under Acid Hoof', this time darker, heavier and fuzzier.
In September 2019, the band signed to Heavy Psych Sounds Records, which welcomed the Greek doomers to their roster after the first listening of the new album. Their second effort 'Under Acid Hoof' was released on January 24th, 2020 and was very well received by fans and critics alike. This fall, the band took part in Heavy Psych Sounds' series of split releases: 'Doom Sessions Vol. 2' featured Acid Mammoth alongside Italian unit 1782, for an ultra heavy release presenting three new tracks from each band.

Heavier and more multi-faceted than its predecessor, their third and new album 'Caravan' is meant to tear you down until the final breath. Like their previous works, 'Caravan' was recorded, mixed and mastered by Dionysis Dimitrakos at Descent Studio in Athens, while drums were recorded at Ignite Studio, with an artwork by Branca Studio.
ACID MAMMOTH
Chris Babalis Jr. – Guitar & vocals
Chris Babalis Sr. – Guitar
Dimosthenis Varikos – Bass
Marios Louvaris – Drums

ACID MAMMOTH LINKS
Facebook⎪Bandcamp⎪Instagram

HEAVY PSYCH SOUNDS LINKS
Website⎪Facebook⎪Bandcamp⎪Twitter⎪Instagram