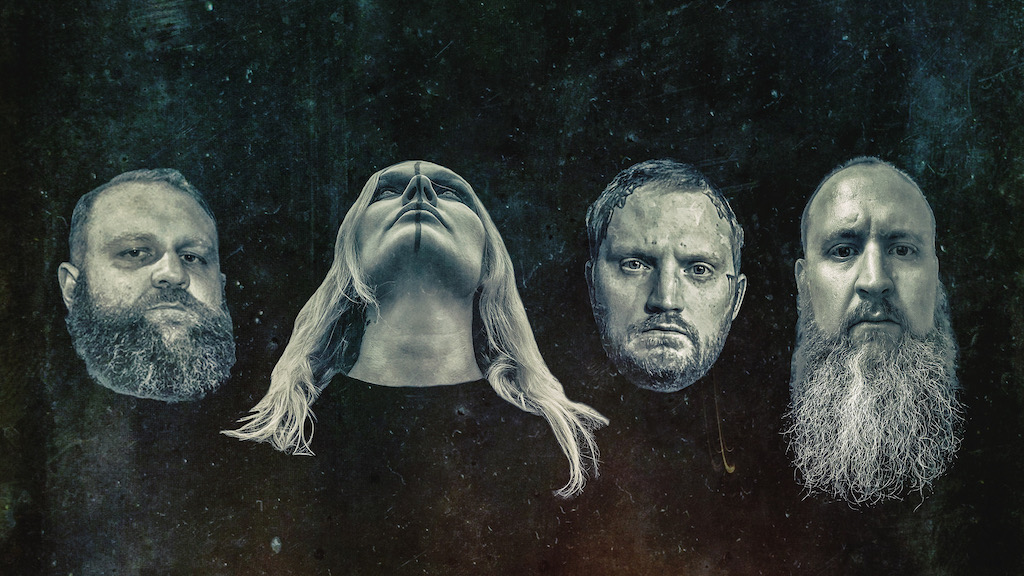 NYC post-metal mavericks GUHTS stream debut EP 'blood feather' in full via Invisible Oranges; out August 6th on CD and digital!
NYC-based post-metal four-piece GUHTS (with members of Witchkiss and Bask) present their powerful and awareness-raising debut EP 'blood feather' in its entirety courtesy of Invisible Oranges, ahead of its official CD and digital release this Friday 6th August.

« Within its four songs, the minimalist menace is paired with and pitted against swirling crescendoes of emotion in patterns that ultimately leave behind vivid memories of both extremes. » Invisible Oranges

"The New York-based band have harnessed and effortlessly injected their sheer power and emotional heft over twenty enthralling minutes." The Razor's Edge

"There's a distinctly industrial flavour to their post-metal that lends a machine-like, unsettling aura to their music along with electronic drums, with the vocals providing a humanising, emotional counterpoint to this." Distorted Sound Magazine
Listen to GUHTS debut EP 'blood feather' at this location
GUHTS is a New York post-metal band comprising members of Witchkiss, Bask and Black Mountain Hunger, delivering larger-than-life sounds and deeply emotional music, driven by Amber Burns' eerie and tormented vocals. With a sound that is cold as concrete, at times industrial, the foursome will take you on a spine-shivering trip where metal encounters machines, wounded souls meet purgatory. They have only just begun to capture the hearts of the masses. Watch their latest videos for « Handless Maiden » and « Eyes Open« .
GUHTS 'blood feather' EP 
Out August 6th on CD (Bandcamp) and digital
Deep in the pandemic, GUHTS guitarist Scott Prater was writing music for his other band Witchkiss and realized he had tapped into something greater. He quickly recruited his wife Amber, who is also the drummer and singer of Witchkiss, as well as his old friend Jesse Van Note of Bask and Black Mountain Hunger, who then brought in his bandmate Dan Shaneyfelt.
From there the band was off to the races crafting a sound influenced by acts like Cult Of Luna, Isis, Neurosis but perhaps above all Deftones. GUHTS will release their debut EP 'blood feather' on July 30th, 2021 and are seeking to find a full-time drummer and synth player to round out the lineup. The band has dreams of building a collective around the project where friends and like-minded musicians work together to craft emotional and powerful music. Once the EP is released, the band will gear up to drop a full length in 2022 and tour as much as possible. The future is bright for GUHTS, are you ready for their deeply emotional take on heavy music?

The 'blood feather' EP was recorded at The Doom Room in Newburgh, NY and The Thunder Dungeon in Asheville, NC, mixed and mastered by Scott Prater at The Doom Room in Newburgh, NY.
GUHTS are:
Amber Burns – Vocals
Scott Prater – Guitar & Synth
Dan Shaneyfelt – Guitar & Synth
Jesse Van Note – Bass
GUHTS links
Website⎜Facebook⎜Bandcamp⎜Instagram