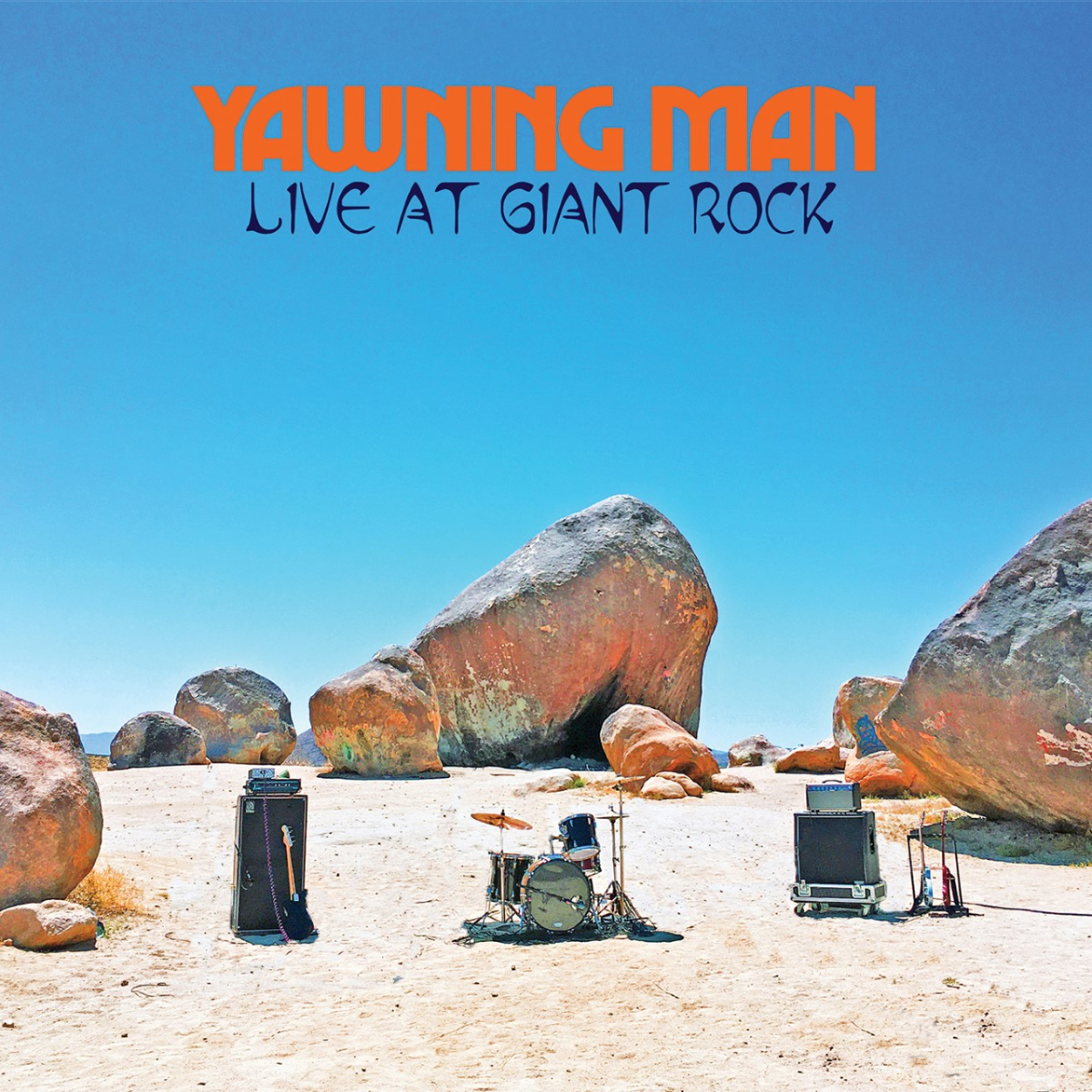 Desert rock giants YAWNING MAN share new video off « Live At Giant Rock » album and DVD, out October 30th on Heavy Psych Sounds.
Following their memorable live performance in the desert this spring, desert rock giants YAWNING MAN are set to release their mind-blowing « Live At Giant Rock » album and DVD this October 30th on Heavy Psych Sounds, and share a second video excerpt today with « The Last Summer Eye »!
A longtime dream has been to capture YAWNING MAN performing in the very environment that so inspired their music. The opportunity arose in 2020 from the challenges artists and musicians faced during the Covid-19 Pandemic, social distancing forcing artists to creatively adapt to alternatives to express themselves musically and visually. Yawning Man 's answer to this calling is "Live at Giant Rock". Watch the first video taken from the DVD: « Tumbleweeds In The Snow« .
This cinematic concert experience was intimately and beautifully captured by videographer Sam Grant in the environment that inspires Yawning Man's spacious, expansive and cinematic music. Filmed live in the early morning hours of May 18th, 2020 in the visually stunning and mysterious landscape of Giant Rock.
 🌵Watch new live video « The Last Summer Eye » 🌵
In the spirit of Pink Floyd's "Live at Pompeii" the performance is shot on location with no audience, only the band performing their instrumental meditations in the rugged beauty of the Mojave Desert. Giant Rock has attracted Native American Nomads, Scientists, UFO Researchers, and travelers from all over the world, drawn by its magnetic spiritual energy.« 
Live At Giant Rock » is out on October 30th via Heavy Psych Sounds, and can be preordered as:
– Ultra LTD Test Press vinyl
– Ultra LTD White/Blue vinyl (w/ alternative cover)
– LTD Neon Yellow vinyl
– Black vinyl
– Digital
– LTD edition DVD
YAWNING MAN « Live At Giant Rock » album and DVD
Out October 30th, 2020 on Heavy Psych Sounds
TRACKLIST
1. Tumbleweeds In The Snow – 14:53
2. The Last Summer Eye – 8:58
3. Nazi Synthesizer – 7:37
4. Blowhole Sunrise – 17:41
5. Space Finger (CD bonus track)
Formed in the late 1980's, the lineup of Gary Arce, Mario Lalli, and Bill Stinson rounds out their yearlong active recording and touring schedule. Arce and Lalli's background together date back to the start of YAWNING MAN with Stinson's background steeped in the SST Records world through performing and recording with Greg Ginn and Chuck Dukowski of Black Flag for several years. Yawning Man is acknowledged and recognized throughout the underground heavy music community as a key piece in the developments of the desert/stoner rock subgenres. While their contemporaries gravitated toward the heavy riffs of grunge, and post punk, Yawning Man leaned in another direction with their unique and organic, cinematic compositions and psychedelic improvisations…the perfect soundtrack to encompass the spacious moonscape atmosphere of the well documented « generator parties » of their area in the late 1980's. It was at these gatherings where they developed this distinctive style and sound by enchanting spectators with their seemingly endless free form instrumental sessions, which echoed through the beautiful deserts, mesas, and landscapes of the Coachella Valley.
YAWNING MAN is:
Gary Arce – guitar
Mario Lalli – bass
Bill Stinson – drums

YAWNING MAN LINKS
Facebook⎜Bandcamp⎜Instagram⎜Website

HEAVY PSYCH SOUNDS LINKS
Website⎜Facebook⎜Bandcamp⎜Instagram