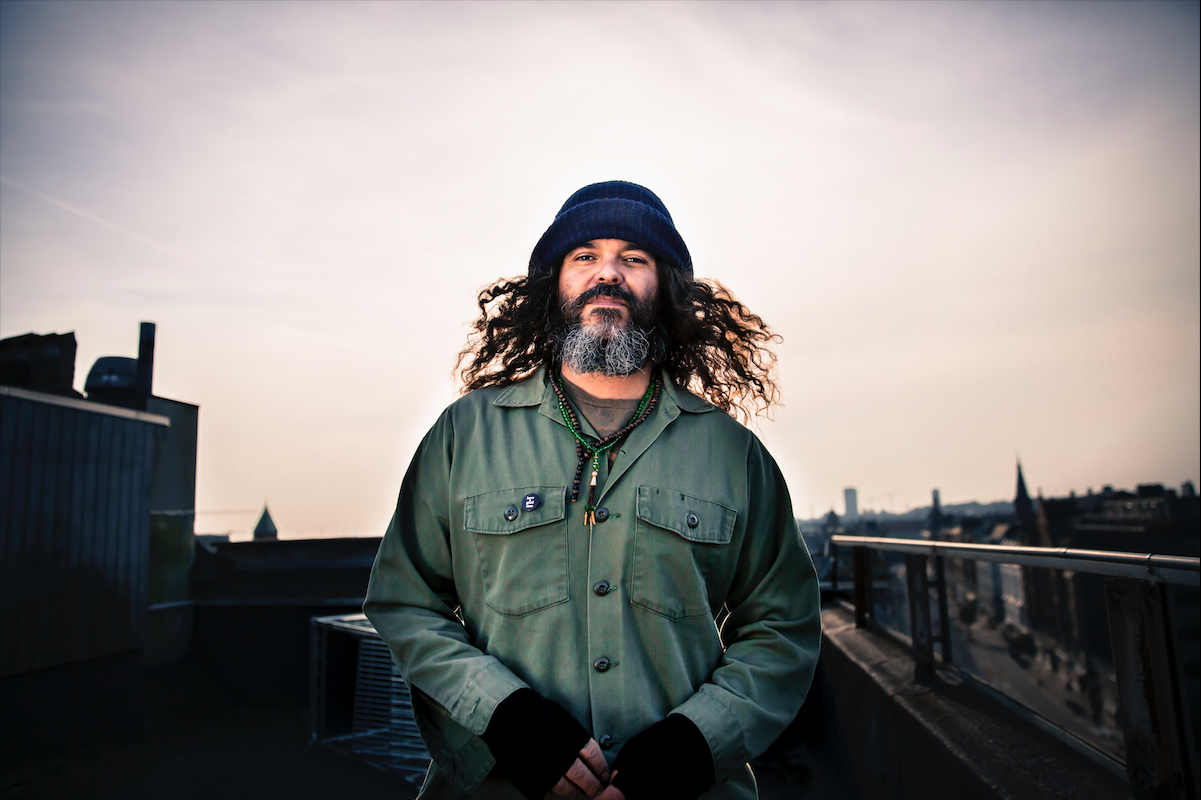 Desert rock godfather BRANT BJORK to reissue "Tres Dias" album on September 21st through Heavy Psych Sounds Records
Heavy Psych Sounds Records is proud to start the reissuing of 

BRANT BJORK

's solo back catalogue from 1999 to 2010! First reissue is « Tres Dias », coming along a brand new artwork and special and limited vinyl editions.
« Tres Dias » is the fifth solo album released by the godfather of desert rock 
BRANT BJORK
. The album was recorded in Joshua Tree, California, before Christmas 2006. This 8-track album is a mix of old and new tracks.
BRANT BJORK
 has spent over a quarter-century at the epicenter of Californian desert rock. From cutting his teeth alongside Fatso Jetson's Mario Lalli in hardcore punkers De-Con to drumming and composing on Kyuss' landmark early albums, to propelling the seminal fuzz of Fu Manchu from 1994-2001 while producing other bands, putting together offshoot projects like Ché, embarking on his solo career as a singer, guitarist and bandleader, founding his own record label and more, his history is a winding narrative of relentless, unflinching creativity.
For someone so outwardly laid back, he's never really taken a break. And while 
BRANT BJORK
 has shown different sides of himself on an album like his 2007's mostly-acoustic Tres Dias, when you're listening to Brant Bjork, you know it, because there's no one else who sounds quite like him. He comments: 
"Been a long time since i celebrated these recordings. Couldnt think of a better time to re-release. Fresh art to represent « brand new old times ». Enjoy!"
« Tres Dias » was produced, recorded, and mixed by Tony Mason at Back of the Moon Studios, Joshua Tree, CA in 2007. The original artwork has been designed by Bunker/Bjork, the re-issued artwork comes by Marcello "Rise Above" Crescenzi.
The « Tres Dias » reissue on HPS Records will be available as:
– 30 Test Press (only on HPS 
webstore
)
– 250 LTD Vinyl in Green/Yellow Quad (only on HPS 
webstore
)
– 500 LTD Vinyl in Gold
– Black Vinyl
– CD and digital
BRANT BJORK « Tres Dias » reissue
Out September 21st on Heavy Psych Sounds Records
– Vinyl and CD preorder start July 3rd here –
TRACK LISTING:
1. Too Many Chiefs…
2. Love Is My Revolution
3. Chinarosa
4. The Native Tongue
5. Video
6. Right Time
7. The Messengers
8. The Knight Surrenders Today

Catch BRANT BJORK live on the following dates in Europe this Fall, with very special guest Sean Wheeler:
02.11.18 NO Drammen |Union Scene
03.11.18 SW Stockholm | Debaser Strand
04.11.18 SW Göteborg | Sticky Fingers
05.11.18 SW Malmö | Kulturbolaget
06.11.18 DE Hamburg | Fabrik
07.11.18 NL Amsterdam | Melkweg
08.11.18 BE Leuven | Het Depot
09.11.18 UK London | Garage
10.11.18 FR Paris | Petit Bain
11.11.18 NL Tilburg | O13
12.11.18 DE Wiesbaden | Schlachthof
13.11.18 CH Zürich | Rote Fabrik
14.11.18 CH Martigny | Caves Du Manoir
15.11.18 IT Turin | Spazio 211
16.11.18 AT Innsbruck | Hafen (Heavy Psych Sounds Festival)
17.11.18 DE Munich | Feierwerk
18.11.18 AT Vienna | Arena
19.11.18 DE Dresden | Beatpol
20.11.18 DE Berlin | Festsaal Kreuzberg