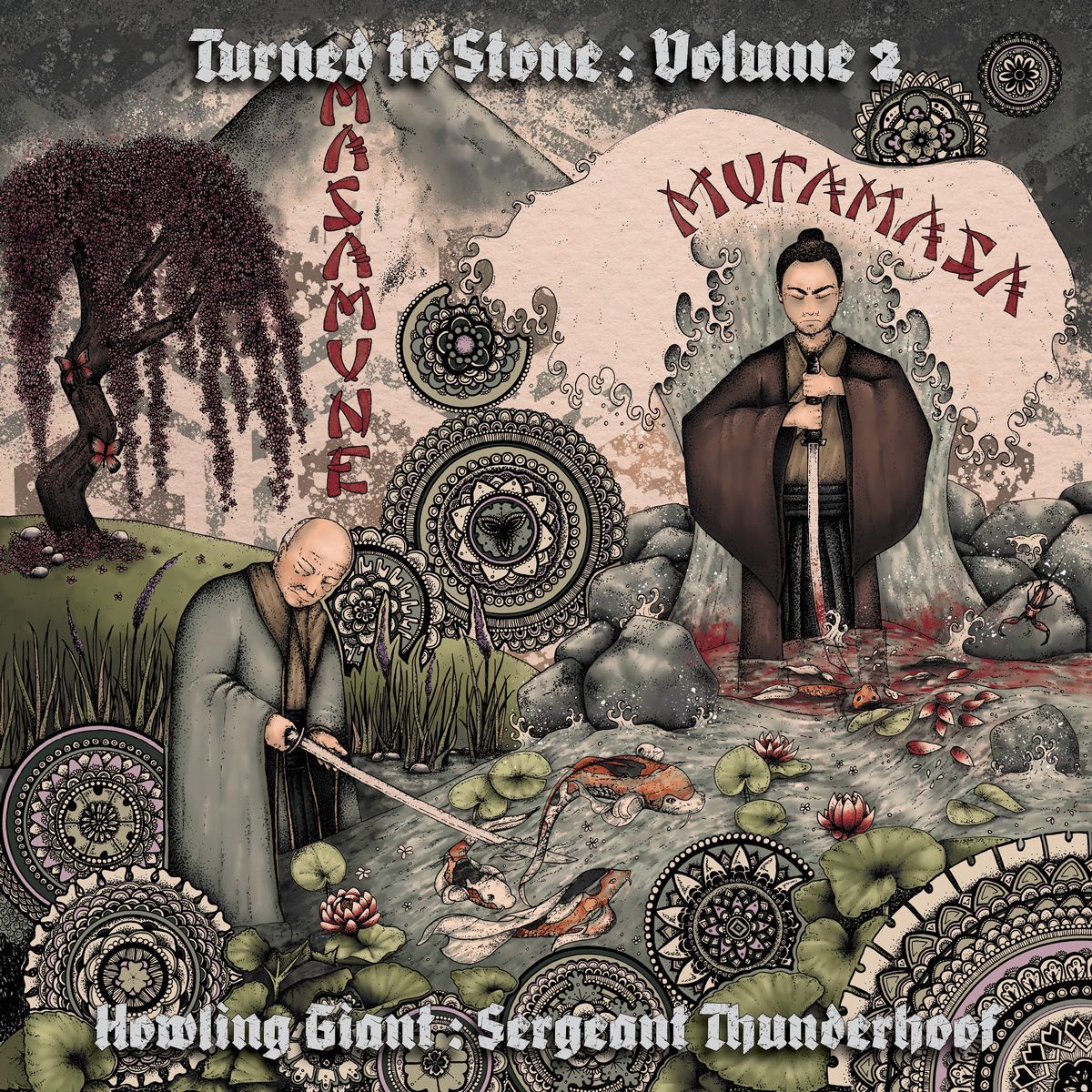 Progressive psych unit SERGEANT THUNDERHOOF release impressive « Muramasa » movie, off 'Turned To Stone Chapter II' split with HOWLING GIANT on Ripple Music.
To celebrate the upcoming release of Howling Giant and Sergeant Thunderhoof's progressive split album 'Turned To Stone Chapter II: Masamune & Muramasa' this August 7th on Ripple Music, Sergeant Thunderhoof share a mind-blowing 21-minute long animated movie for the track « Muramasa ». Enter the Japanese swordsmith's legend now!

For the second installment of their 'Turned to Stone' split 12″ series focusing on unique pairings from across the heavy underground, Ripple Music invited Nashville's psych metal purveyors HOWLING GIANT and Somerset's progressive stoner rock unit SERGEANT THUNDERHOOF to deliver two interconnected 20-minute tracks telling the story and face-off of legendary Japanese sword smiths Muramasa and Masamune.

Instead of the typical approach with two bands contributing stand-alone sides of a record, Howling Giant and Sergeant Thunderhoof wanted to write an album that was thematically and sonically cohesive. The result is a 40-minute piece of ambitious songcraft created by two riff-prog legends leaving another impressive mark on the heavy rock landscape. On their end, Howling Giant previously released a snippet from the track « Masamune » at this location. The album artwork was designed by Jane Swettenham.
Watch Sergeant Thunderhoof's « Muramasa » animated movie HERE
'Turned To Stone Chapter II: Masamune & Muramasa' will be issued on August 7th via Ripple Music, and available to preorder on: – Rare Test Pressing LP
– Magma Edition Galaxy Vinyl LP (black and pink marbling)
– Bedrock Edition Splatter Vinyl LP (green and black splatter)
– Landslide Edition Classic Black Vinyl LP

For this release, Ripple will donate 10% of digital sales to UNCF, an American association empowering more than 60000 Black students to get to and through college each year. Howling Giant will donate 50% of proceeds from their latest round of t-shirts towards Gideon's Army in Nashville, whose mission statement is to act collectively, boldly and strategically as a unified force for all children, saving them from death and incarceration and guiding them on a secure path to success.
HOWLING GIANT / SERGEANT THUNDERHOOF split album
« Turned to Stone Chapter II: Masamune & Muramasa »
Out August 7th on Ripple Music – European preorder // US preorder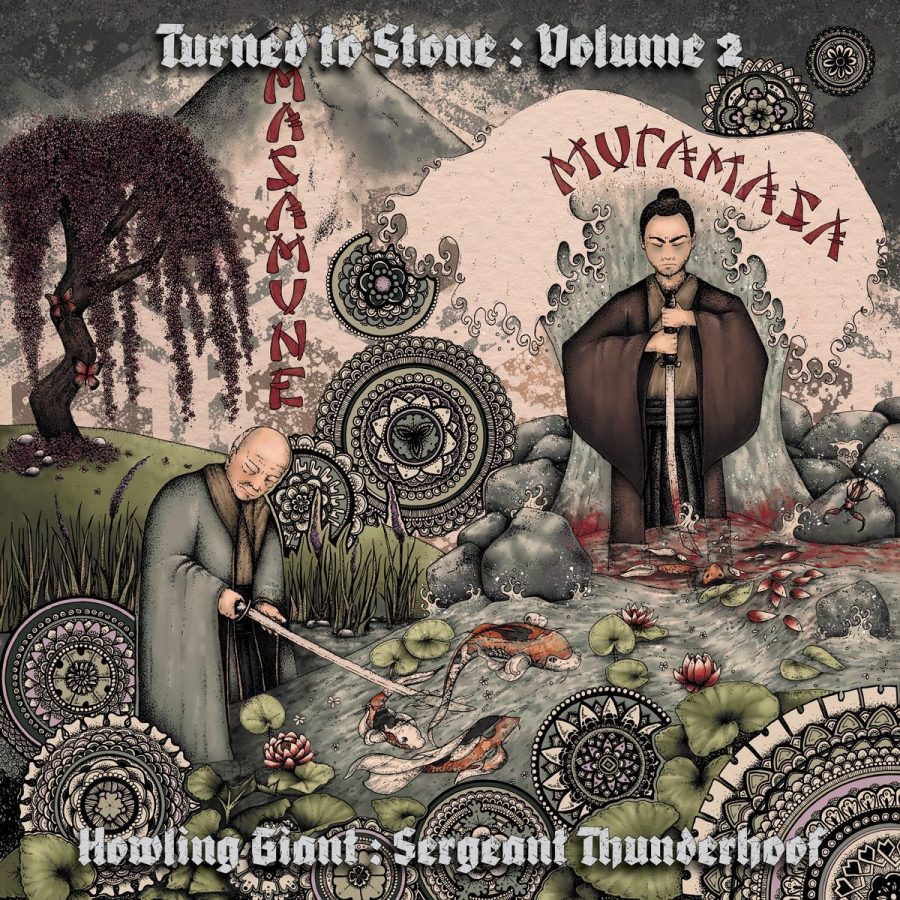 TRACK LISTING:
Side A – Howling Giant « Masamune » (19:42)
Side B – Sergeant Thunderhoof « Muramasa » (21:13)  
HOWLING GIANT comment: « We were so stoked to do the split with Sergeant Thunderhoof. After talking with those guys we both agreed that we wanted to do something a little different. Instead of the typical approach, where two bands each record a side of a record and the music remains completely independent, we wanted to create a record that feels like one complete thought performed by two bands, rather than two mini albums crammed onto a shared vinyl record. We decided to tell the story of two legendary Japanese sword smiths, Muramasa and Masamune, in which these they have a contest to determine who the superior sword smith is. They each crafted a blade of masterwork quality and held their contest at the rivers edge. We thought it would be cool to each record a 20 minute song telling the tale from our chosen sword smiths perspective. We then shared melodic ideas with the dudes in Sergeant Thunderhoof to insure a cohesive flow throughout the entirety of the record.« 

SERGEANT THUNDERHOOF add: « I don't think we realised what an undertaking it would be to write and record a continuous 20 minute epic. We were a little apprehensive at what the response would be from Howling Giant and Todd and Jadd at Ripple. Luckily for us, everyone seemed to love it and a short time later, Howling Giant submitted their half which was a revelation. I have to say that the final product is something i'm really proud of. I really do see this as a fully realised concept LP rather than just a split release. I'm proud of what both bands have done and I hope other people find it as rewarding as we did.« 

HOWLING GIANT LINKS
Facebook⎪Bandcamp⎪Instagram

SERGEANT THUNDERHOOF LINKS
Facebook⎪Bandcamp⎪Instagram

RIPPLE MUSIC LINKS
Facebook⎪Bandcamp⎪Website | Store