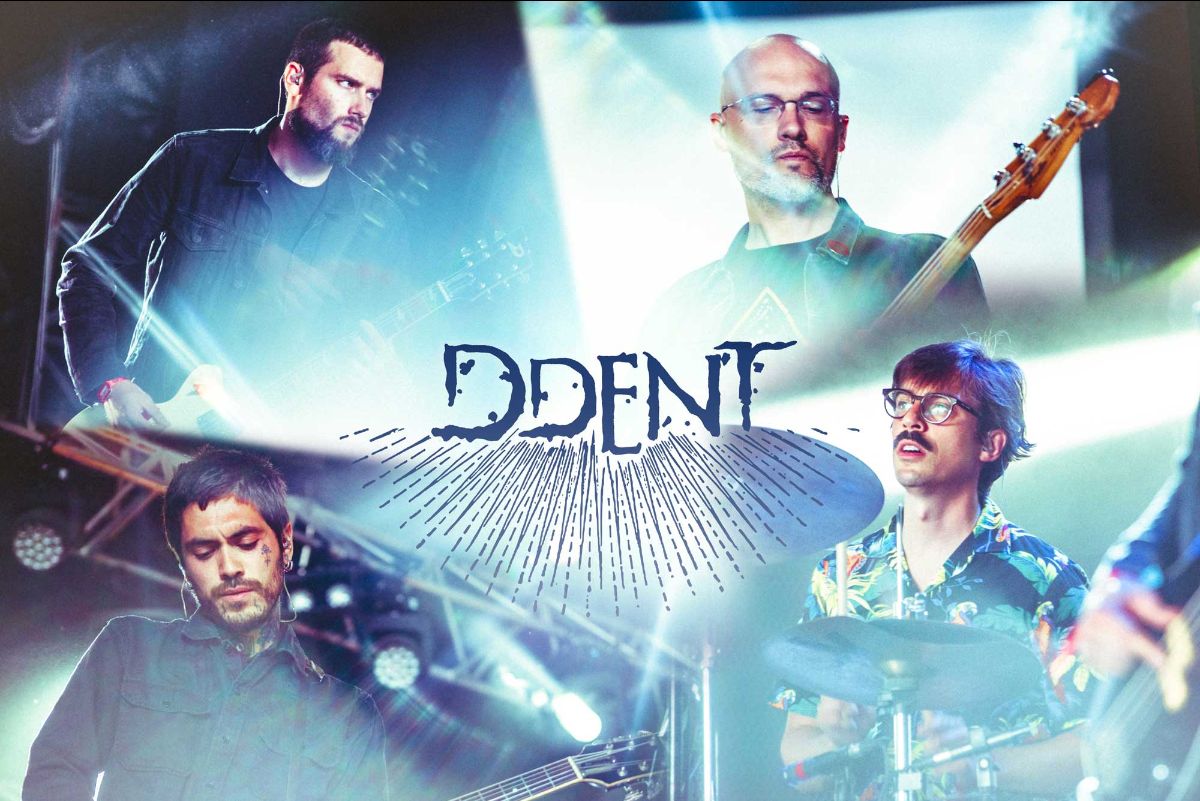 Dark post-metal unit DDENT share moving new video « Volemie » off upcoming third LP 'Couvre-sang'; out this July on Chien Noir.
French post-metal instrumentalists DDENT present their gripping video for « Volemie », the first single off their massive and mind-elevating new album 'Couvre-sang' due out for release on July 3rd on Chien Noir.

« Volemie" is a moving industrial post-rock piece using cinematic themes and intense synths to paint a range of emotions for the listener. (…) An experience that swallows you in dynamic and intense layers of metal. » describes Everything Is Noise.
Once again injecting poetry and philosophy into music, DDENT's third full-length depicts their own vision of reality in the form of a time-lapse. Entirely written and recorded by multi-instrumentalist Louis Lambert, 'Couvre-sang' won't leave you unmoved, with dark and elegant atmospheres that keep pushing the genre's boundaries by intelligently blending in expansive post-metal soundscapes with industrial and black metal patterns dear to their maker. 
Take a sensory trip with new video « Volemie« 
Louis Lambert about the album's concept: « 'Couvre-sang' is a neologism describing all these concepts that hide the true nature of reality. Put together, the songs titles are forming an eye, the only organ with an unaltered relationship to reality. A child (in latin « in fare », « who doesn't speak ») is the only one whose relationship to reality remains intact. The language learning process slowly tears him away from it, reducing it to primary functions. The artwork's eyeless child sums up this idea perfectly. 'Couvre-sang' is my most personal work to date, dealing with a topic on which I've been working on for a long time. This album is a reflection that anyone can make their own. »
New album "Couvre-sang"
Out July 3rd on CD, cassette and digital
via Chien Noir – PREORDER
TRACK LISTING:
 1 ………….I…I………….
 2  …………songe…………
  3 ……….volemie……….
 4 ……..yyyyyyyyy……..
 5 ….puissancerevee….
     6  souvenirsdematieres    
    7 …..ooooooooooooo..…
  8 …….videsdechos…….
9 ……….liedevin……….
10 …………voile…………
11……………V………..….
DDENT is the instrumental brainchild of guitarist and multi-instrumentalist Louis Lambert and drummer Marc Le Saux. First EP 'Chien Noir' sees the day in 2014, which quickly leads to the addition of live musicians to the project. This milestone lays the foundations for a dark post-rock sound that induces an inevitable spiritual and sensory journey.

While 2017 debut LP 'آكتئاب' narrated the introspective journey of a poet, their sophomore album 'TORO' (2018) deals with the search of truth through creation. The titles all refer to Federico Garcia Lorca's volume of poetry 'Llanto', and concept of duende – a creative force that possesses the artist and against which he is forced to battle to be able to make his art. It is safe to say that literature and philosophy have always been a centerpiece of DDENT's music.

In 2019, DDENT perform at France's biggest metal festival Hellfest, tantalizing both the audience and critics with their bewitching performance. As a result, Louis Lambert starts working on followup album 'Couvre-sang', writing and recording all eleven songs by himself. Pushing DDENT's experimental side further, this third album depicts their own vision of reality as a life time-lapse. Inspired by Henri Bergson's work on language, 'Couvre-sang' conveys a poetic and philosophical perception of a musician's role. As for the previous records, melancholy weaves its way deeply into 'Couvre-sang': this time, the language and its learning involve being torn away from reality, leading to the urge to create. Art becomes the answer to recover an immediate and intact relation to reality. 'Couvre-sang' is due out on July 3rd via their label Chien Noir.

DDENT LINKS
Facebook⎪Bandcamp⎪Twitter
CHIEN NOIR LINKS
Facebook⎪Bandcamp