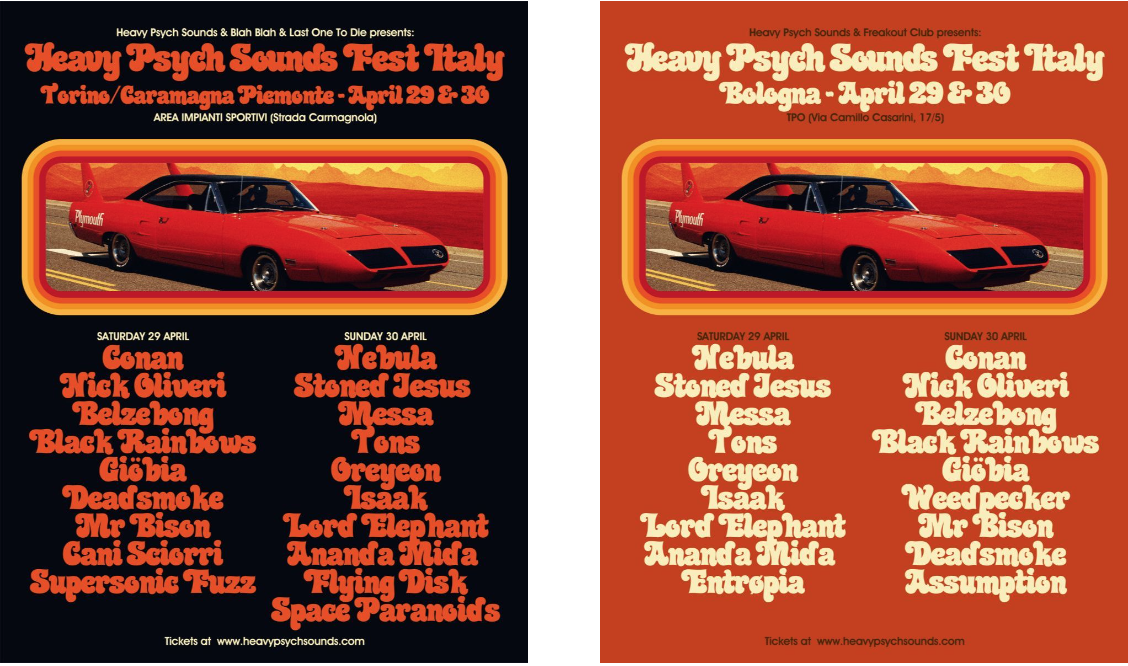 Stoner and doom festival HEAVY PSYCH SOUNDS FEST ITALY reveals full lineup; April 29-30 in Bologna and Torino!
Day splits are now released for the upcoming edition of HEAVY PSYCH SOUNDS FEST ITALY — the stoner, doom and psych rock festival curated by Heavy Psych Sounds Records — to take place simultaneously in Bologna and Torino this April 29th and 30th. Two days, two cities, rock'n'roll for hours!

Heavy Psych Sounds Fest returns to its motherland Italy for a riff-tasty weekend of live madness, gathering cornerstone and up-and-coming acts from the Heavy Psych Sounds Records roster alongside some of the most acclaimed stoner and doom acts on the continent: Conan, Stoned Jesus, Messa, Belzebong, Weedpecker. Both Bologna and Torino editions will take place simultaneously on the 29th and 30th of April, with half of the line-up playing in each city and switching the following day. 

Over the years, the Heavy Psych Sounds Fest events has become a fan favorite across Europe and California, thanks to cohesive lineups comprising an attractive mix of HPS bands (Brant Bjork, Nebula, Mondo Generator, Ecstatic Vision…) and special guests (High On Fire, Red Fang, Dead Meadow, Elder, Monolord, 1000mods). 
Heavy Psych Sounds Fest Italy – BOLOGNA
April 29-30th at TPO, Laboratorio di Arte, Cultura e Politica
(Via Camillo Casarini 17, Bologna)
🎟 BUY TICKETS 🎟
Heavy Psych Sounds Fest Italy – TORINO
April 29-30th at Last One To Die / Area Impianti Sportivi
(Strada Carmanola, Caramagna Piemonte)
🎟 BUY TICKETS 🎟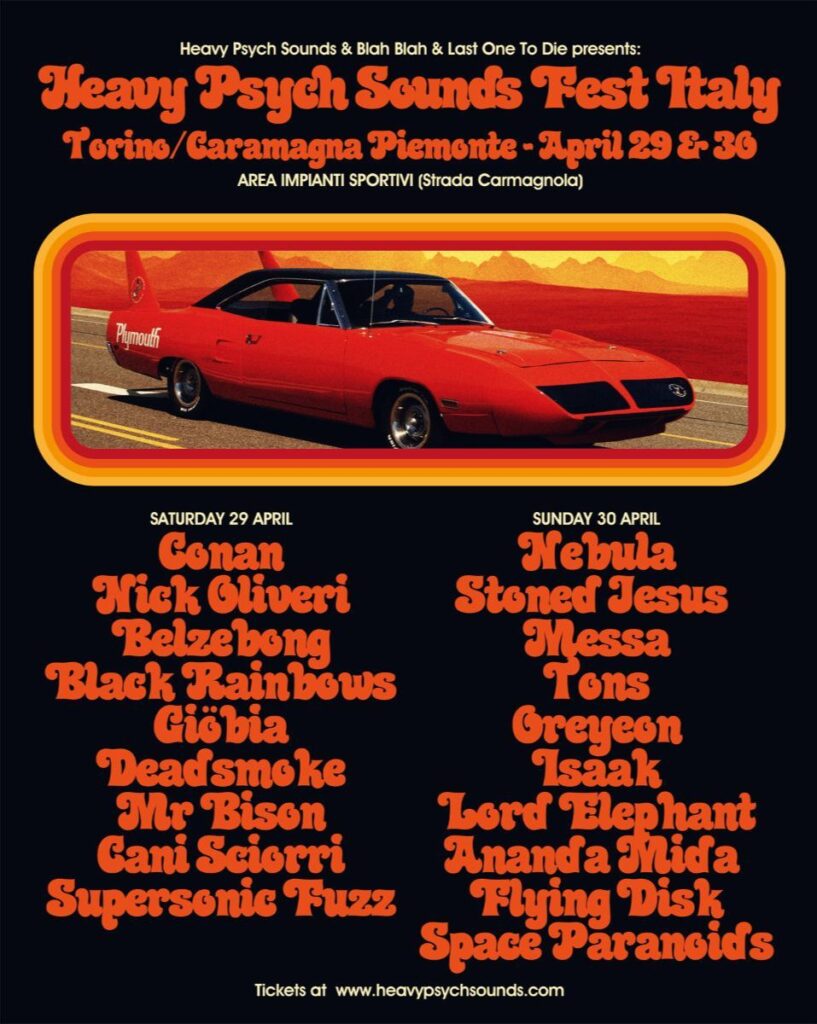 ---
 Headquartered in Rome, Italy, Heavy Psych Sounds specializes in introducing the best artists of the international heavy psych, doom, stoner, sludge and space rock scene such as Brant Bjork, Stöner, Bongzilla, Nebula, Nick Oliveri, Yawning Man, Black Rainbows, Acid Mammoth, Belzebong and more. While the first HPS Fests were held in Italy, the label has since extended its reach to the UK, Belgium, Germany, France, the Netherlands, Austria and California. The underground cult label is not only the place for all heavy rock record collectors, but it has also become an essential part of the live scene with brisk participation from heavy music fans all over the world.
HEAVY PSYCH SOUNDS RECORDS links
Website⎜Facebook⎜Bandcamp⎜Instagram⎜Twitter