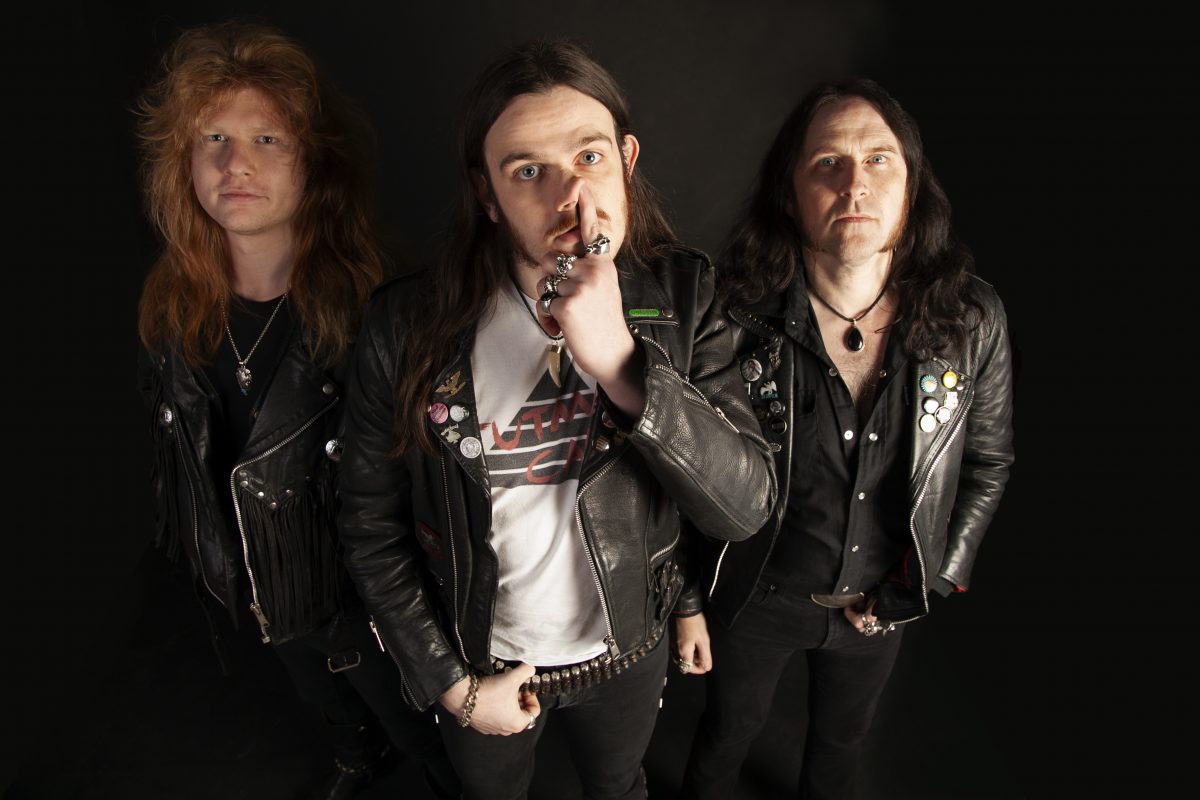 British heavy metal heroes ASOMVEL release first single off new album 'World Shaker', out this May on HPS Records.
Heavy Psych Sounds Records are proud to welcome a new member to their eclectic roster and family, with UK heavy metal trio and underground heroes ASOMVEL! The band share all details about their upcoming new album 'World Shaker' and debut a brand new track today.
Get all rock'n'roll and stream « The Law is the Law » right HERE!     
ASOMVEL released their well-respected debut LP, Kamikaze, in 2009. Barely a year later, the band was shaken to its core when front-man, Jay-Jay Winter, was killed in a road accident in 2010.
Although a devastating tragedy, co-founding guitarist, Lenny, knew that the band had to continue in tribute to the determined spirit of their founder. Since releasing their 2013 album, Knuckle Duster, with Bad Omen Records to much critical acclaim, and recruiting Jay-Jay's nephew, Ralph, the band has spent the last couple of years playing around the world; including a tour of Brazil, dates in Japan, Slovenia, Germany, Spain, France, Ireland – these dates included many respected festivals such as Hammerfest, Party San Open Air, Siege of Limerick, and MetalDays.
May 3rd 2019 will see the band release their third album titled 'World Shaker', followed by a heavy touring cycle all over the globe. Says vocalist & bassist Ralph: « We'll be releasing World Shaker in May, through Heavy Psych Sounds. We've got 11 tracks ready to go; the best you've heard in a son-of-a-bitch long time! » Just recently, the band also released another smashing video for the track 'True Believer', with more than a million views on the band's socials. Watch it HERE!

'World Shaker' will be available in the following formats:
– 50 Test Press vinyl
– 500 white vinyl
– 250 transparent background / splatter black-red-brown-yellow vinyl
– 250 gold vinyl
– Black vinyl
– CD and digital

ASOMVEL New album « World Shaker »
Out May 3rd on Heavy Psych Sounds
PRE-ORDER NOW!
 1. World Shaker
2. True Believer
3. Payback's a Bitch
4. Runnin' the Gauntlet
5. Reap the Whirlwind
6. The Law is the Law
7. Steamroller
8. Every Dog has its Day
9. Railroaded
10. Smokescreen
11. The Nightmare Ain't Over

'World Shaker' is dedicated to founding ASOMVEL member, Jay-Jay Winter. Carrying with it Jay's attitude, grit, and determination this album is the first to feature the new line-up; Finnish drummer, Jani Pasanen, and Jay-Jay's nephew, Ralph Robinson. Produced by James 'Atko' Atkinson, the albumwas recorded in September 2018 at The Stationhouse, and comes with a blistering master by Jaime Gomez Arellano at Orgone Studios. Sticking to the rock 'n' roll tradition, 'World Shaker' is eleven heavy metal songs to live your life by, this is the album Moses would have brought down from Mount Sinai.
ASOMVEL European shows:
25.04.19 ES – Valladolid /Porta Caeli
26.04.19 ES – Logrono / Sala Stereo
27.04.19 ES – Vitoria / Hel Dorado
28.04.19 ES – Bilbao / Nave 9
03.05.19 IRE – Belfast / Voodoo
04.05.19 IRE – Dublin / On The Rox
05.05.19 IRE – Limerick / The Kasbah
ASOMVEL IS
Ralph Robinson – Bass/Vocals
Lenny Robinson – Guitar
Jani Pasanen – Drums
ASOMVEL & HPS RECORDS LINKS
Facebook⎜HPS website⎜HPS Facebook⎜HPS Bandcamp