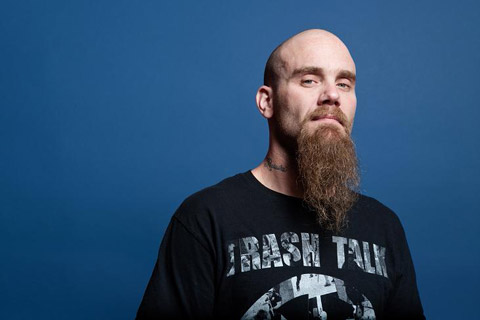 UK sludge avant-gardists OHHMS stream debut album « The Fool » on Metal Hammer; out 31.03 on Holy Roar Records!
The countdown has started, with British progressive sludgers 

OHHMS

 set to release their compelling debut « The Fool » next week on Holy Roar Records. Stream the album in its entirety via Metal Hammer now! 
With « The Fool »,
OHHMS
have once again left nothing to chance and deliver a well-thought-out album made of five intense, sludge-fueled songs spanning the course of an hour. As with their EPs, the UK five piece manages to transcend the listener through the thunderous force of their riffs, and wise the crowd up to politically-charged topics by means of Paul Waller's vocal firepower.
As for the album thematics, Paul Waller declares: « The Fool is the protagonist and the music is ordered in a way that tells the tale of his journey through the Major Arcana Tarot deck. The song subjects are based around the characters that he meets on his travels through the deck. We included a lyric sheet, so those that are into the concept can make up their own minds. But if you are not into that sort of pretentious nonsense then we made sure to include as many killer riffs as we could to ensure you at least leave the album with one hell of a bangover. »The artwork was made by Black Sails Design. Each copy of the album comes with three tarot cards, providing a unique reading to each copy owner. « The Fool » is out March 31st on Holy Roar Records, and you can pre-order it here.
« OHHMS prove the real deal. » Metal Hammer
« An ultra-heavy, emotionally-charged debut album. » Kerrang!
« A convincingly heavy magnum opus. » The Quietus
« This might just be some of the best British sludge metal in years. » The Revival Music
Armed with the thickest riffs and fieriest will, OHHMS formed in 2014 in Kent, UK. It didn't take long for the five-piece to come up with two stellar EPs « Bloom » (2014) and « Cold » (2015), both released on London-based extreme music powerhouse Holy Roar Records. Clocking in at over thirthy minutes, each EP unfolds with two monolithic, angst-ridden tracks, blending the downtuned approach of doom metal with more progressive, eerier landscapes. On top of this distinctive approach in songwriting, vocalist Paul Waller maintains maximum adrenaline levels by alternating sumptuously deep gravelly singing, Viking-warrior bellows and roar-is-war call to arms.
As fearless explorers of the heavy music scope, OHHMS quickly built a strong reputation among the UK's underground scene, which led them to play major events such as Desertfest, ArcTanGent, Temples, Incubate, as well as playing alongside The Skull, Conan, Rolo Tomassi, The Admiral Sir Cloudesley Shovell and many more. Three years after their thunderous beginnings, the band is back in March 2017 with their debut full-length « The Fool » on Holy Roar Records. True to themselves, OHHMS continue their boundary-free ascension in quest of the sonic panacea, more determined than ever to brand minds with their cathartic, transcending creations.