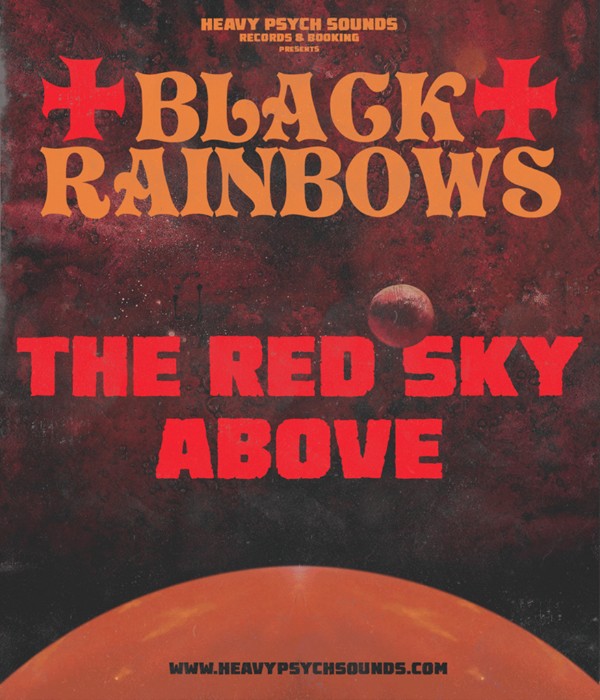 Fuzz rock masters BLACK RAINBOWS unleash new single « The Red Sky Above » on Heavy Psych Sounds!
Italian fuzzmasters 

BLACK RAINBOWS

 hit hard with a frantic new song entitled « The Red Sky Above », available today on Heavy Psych Sounds.
This brand new song from BLACK RAINBOWS was recorded during their last tour in January 2017, in a cool studio surrounded by snowy mountains in the north of Italy. « The Red Sky Above » is six minutes of pure, fuzzy, groovy, stoner frenzy. With this new single, the trio shows a subtle shift toward a darker and heavier sound. « The Red Sky Above » is exclusively issued as part of the « Heavy Psych Sounds Sampler Vol. 2 », available at this location.
BLACK RAINBOWS New single « The Red Sky Above »
Available on the HPS Sampler Vol. 2 and on all streaming platforms
Since they formed in Roma in 2005, Italian trio BLACK RAINBOWS have established themselves as one of the most active fuzz-fueled rock acts in Europe, with four albums, a remarkable handful of EPs, and countless tours and festival appearances across the continent. Blending the drive and swagger of 70's acid rock with the sun-baked thickness of 90's stoner rock, BLACK RAINBOWS have managed to create their own sound imprint, that we could easily describe as « Hawkwind, MC-5 and Nebula crashing cars in the middle of the Mojave desert ». Closely following with their highly acclaimed effort « Hawkdope », the band issued their fifth full-length « Stellar Prophecy » in 2016 on Heavy Psych Sounds.