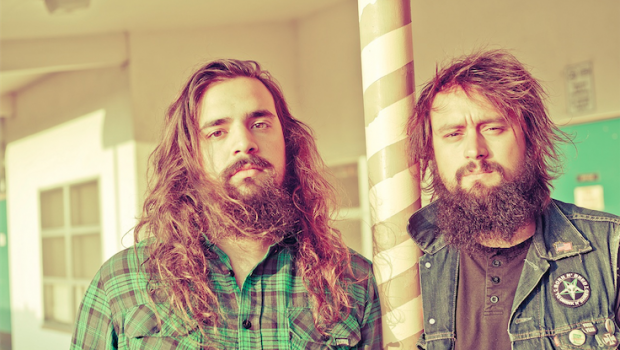 German garage blues duo THE PICTUREBOOKS confirmed for SONIC BLAST MOLEDO in Portugal
There will be blues and adrenaline at

SONIC BLAST MOLEDO

, with Germany's most unique rock duo

THE PICTUREBOOKS

taking over the stage in Moledo this August.
Music, skateboarding and motorcycles: here's what THE PICTUREBOOKS are all about. Since the release of their highly-acclaimed third record « Imaginary Horse » on Riding Easy Records last year, the two German rock'n'rollers have been relentlessly touring across Europe and the US, delivering sweat-drenched and highly emotional performances in front of bigger and bigger crowds, such as Desertfest or Roadburn Festival. 
A wind of pure rock freedom will be blown over Moledo this August, and you sure don't want to miss that!
SONIC BLAST MOLEDO 2015
August 14-15th in Moledo Do Minho (Portugal)
Already confirmed: Pentagram, The Vintage Caravan, The Picturebooks, Wight, Plus Ultra, Mother Engine, Nervous,
Big Red Panda, Cuchillo de Fuego, High Fighter, Lâmina, Puma Pumku, Galactic Superlords.
Weekend pass: 30€ // Day pass: 20€
Sun, Sea, Surf, Pool, Skate & Heavy Riffs: that's SONIC BLAST MOLEDO! Located in a lovely town on the northern tip of the Portuguese coast, this outdoor festival offers the perfect summer break for all heavy & psych music lovers. With two stages on a unique beach-front spot, attractive lineups every year (from Church Of Misery to Kadavar, The Bellrays, Blues Pills, The Atomic Bitchwax, Mars Red Sky, Samsara Blues Experiment…), surf, skate & pool activites in an overall friendly atmosphere: this is not a dream, this is SONIC BLAST MOLEDO and we invite you to join the party next August in Portugal to enjoy the best heavy & psych acts under the sun, a Super Bock in hand…
Get all the latest updates on SBM 
Facebook