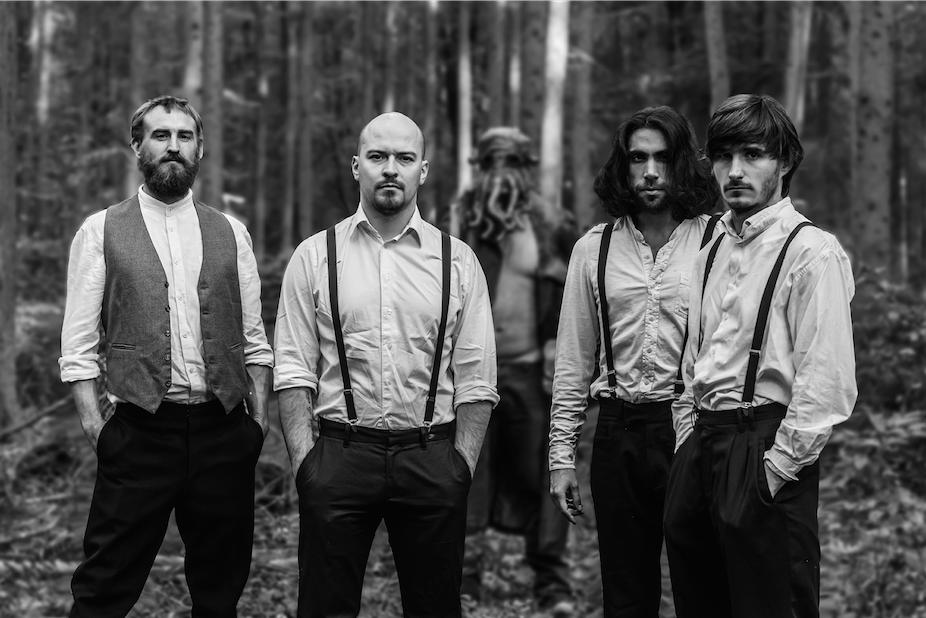 Stream ABRAHMA's divinely-sounding new song « Weary Statues » via The Obelisk now
After they released their first official video a few weeks ago, Paris heavy psych wizards ABRAHMA are making another mystical offering today with new song « Weary Statues » streaming over at The Obelisk.
Try out 
Abrahma's sonic power with « Weary Statues »
NOW
The Obelisk's very own wordsmith and mastermind JJ Kozcan comments on that new excerpt: « 
Both one of the most driving and most open-sounding cuts on 
Reflections in the Bowels of a Bird
, it pulls together the varying sides of the record's personality well, and speaks to the emotional and sonic intensity 
ABRAHMA 
bring to bear on their second offering.« 
ABRAHMA's second full-length « Reflections In The Bowels Of A Bird » will be out on May 12th via Small Stone Records. This new offering
 from the French foursome heaves
 with psychedelic fervor but also digs deeper into influence from the early '90s Seattle rock scene, bands like Soundgarden or Alice in Chains. 
« Reflections In The Bowels Of A Bird »
Out May 12th on Small Stone Records // 
Pre-order 
here
Forcefully ascending from the depths of Paris rock underground, it only took ABRAHMA one album to emerge as one of the torchbearers of French heavy rock on the international scene. Released in late 2012 on renowned North American label Small Stone Records, « Through The Dusty Paths Of Our Lives » unveiled an incredibly mature songwriting, while showcasing the band's sombre and complex music realm. With this first full-length, they laid the foundations of their peculiar stoner aura adorned with the darkest riffage of the Seattle sound, and drew the attention of the international press. 2015 will see the Parisian foursome release their second album to date, due out this spring on Small Stone Records.
UPCOMING SHOWS:
09.04 – STRASBOURG (FR) Mudd Club
10.04 – LICHTENFELS (DE) Paucnhy Cats Inn
11.04 – MUNSTER (DE) Rare Guitar
12.04 – TILBURG (NL) ROADBURN FESTIVAL
13.04 – France TBA
14.04 – MONTPELLIER (FR) Black Sheep
15.04 – MADRID (SP) Maravillas Club
16.04 – BARCELONA (SP) Rocksound
17.04 – VITORIA (SP) Helldorado
18.04 – NICE (FR) Le Volume
19.04 – CALENZANO (IT) ASD Factory Club
20.04 – SAVIGNANO SUL RUBICONE (IT) Sidro Club
21.04 – MUNICH (DE) Feiewerk
22.04 – DRESDEN (DE) Ost-Pol