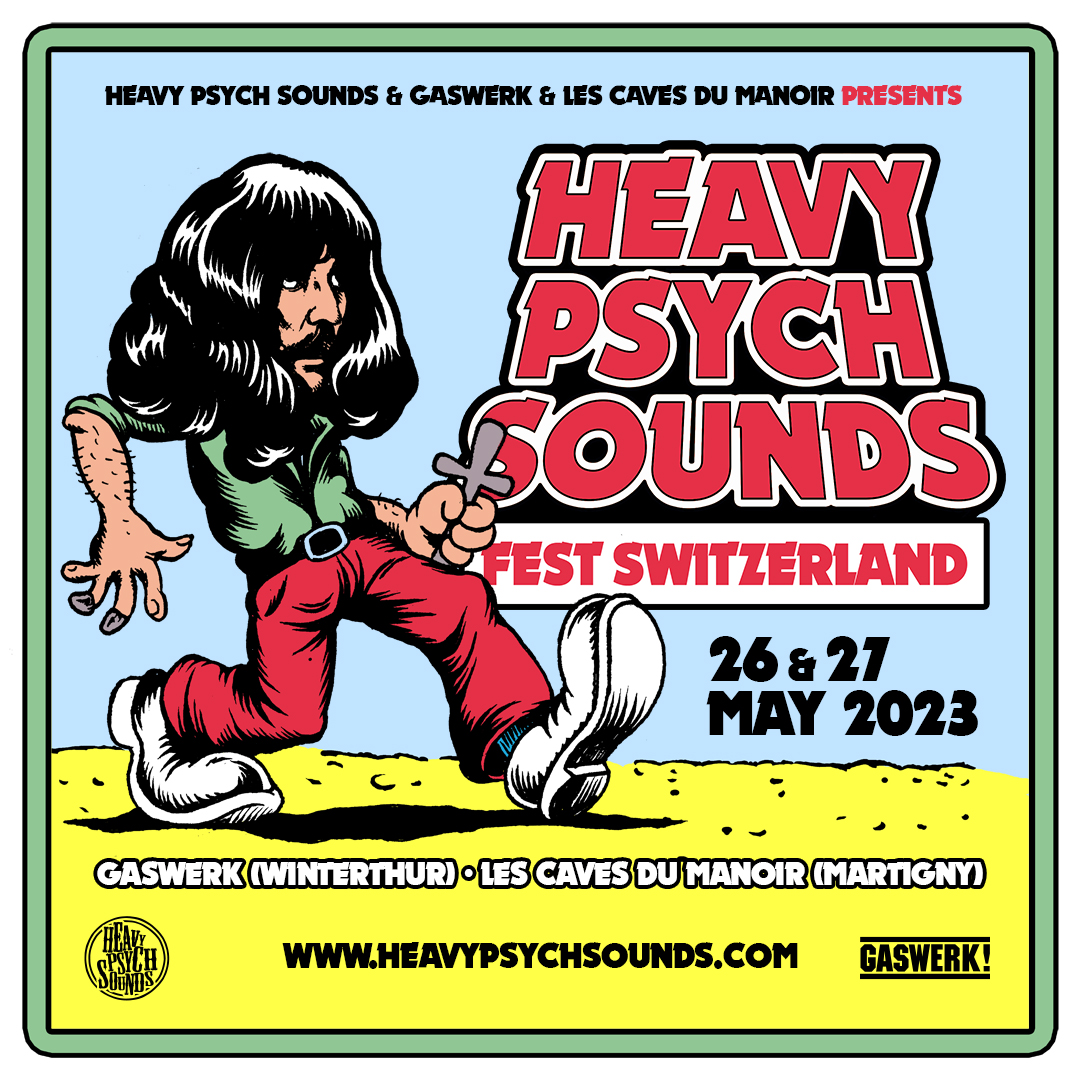 Full lineup revealed for HEAVY PSYCH SOUNDS FEST SWITZERLAND, to take place on May 26-27th in Winterthur and Martigny.
In cooperation with Gaswerk and Les Caves du Manoir, Heavy Psych Sounds Records share the final names to play the 2023 edition of HEAVY PSYCH SOUNDS FEST SWITZERLAND — the stoner, doom and psychedelic rock festival taking place simultaneously on May 26-27th in the cities of Winterthur and Martigny. 

After the HPS Fest Italy and HPS Fest California lineup reveal, it's now time to get ready for the yearly Swiss gathering of all things heavy and fuzzy-sounding! US sludge metal veterans Bongzilla and cult heavy psych rockers Nebula** are confirmed to headline the festival alongside Swedish stoner rock icons Truckfighters, all joined by some of the finest acts from the Heavy Psych Sounds Records roster. See the full lineup below! 
Heavy Psych Sounds Fest Switzerland 2023
May 26-27th at Gaswerk (Winterthur) and Les Caves du Manoir (Martigny)
🎟  Winterthur tickets // Martigny tickets  🎟
Truckfighters / Bongzilla / Nebula** / Acid Mammoth / El Perro
1782 / Giöbia / Tons** / Witchthroat Serpent / Isaak**
Margarita Witch Cult / Deadsmoke / Oreyeon
Lord Elephant / Motorizer**
**in Winterthur only!
Founded and curated by European music label Heavy Psych Sounds Records, HEAVY PSYCH SOUNDS FEST has become a trademark event among heavy and fuzz rock lovers by taking over major European cities from London to Rome, Bruxelles and Paris since its inception in 2015. 
Headquartered in Rome, Italy, Heavy Psych Sounds specializes in introducing the best artists of the international heavy psych, doom, stoner, sludge and space rock scene such as Brant Bjork, Stöner, Bongzilla, Nebula, Nick Oliveri, Yawning Man, Black Rainbows, Acid Mammoth, Belzebong and more. The underground cult label is not only the place for all heavy rock record collectors, but it has also become an essential part of the live scene with its mini-festival series gathering heavy music fans all over the world.
HEAVY PSYCH SOUNDS links
Website⎜Facebook⎜Bandcamp⎜Instagram⎜Twitter