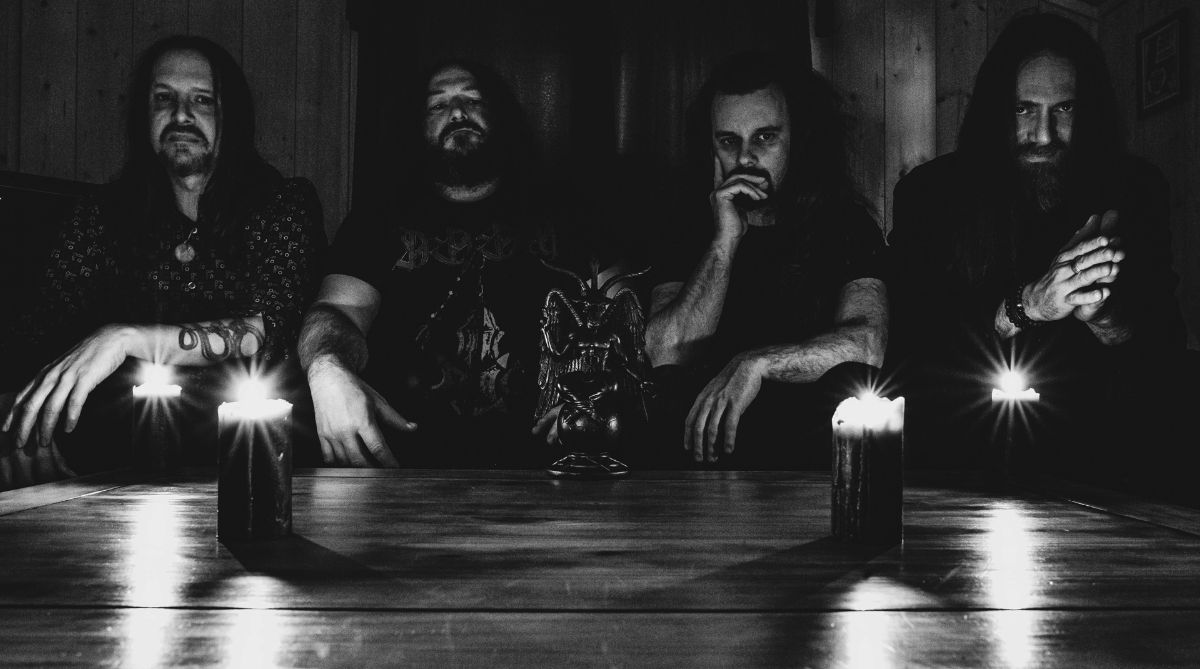 French doom metallers WITCHTHROAT SERPENT share first video off new album « Trove Of Oddities at the Devil's Driveway » on Heavy Psych Sounds.
South of France's occult doom foursome WITCHTHROAT SERPENT present the second track taken from their forthcoming new album « Trove Of Oddities at the Devil's Driveway », to be released on March 3rd through Heavy Psych Sounds. 
About the song: « Yellow Nacre is the « fastest » and in some ways the nastiest track on the album. As lyrics deal with the world's most common and strongest drug, the music has to be approached in an extreme way. Enjoy this piece of noisy doom and feel the poison in your veins.« 
Check out new song « Yellow Nacre » on The Sleeping Shaman
On their new album « Trove Of Oddities at the Devil's Driveway », the mighty Frenchies have conjured up their finest horror-inspired atmospheres and wrapped this 6-tracker up inside a tar-thick layer of droning fuzz and pummeling energy, all produced by renowned sound engineer and producer Christophe Chavanon at Kerwax Studio
Written between 2019 and 2020, it was recorded on tape in September 2022 at Kerwax studio in Brittany. « It achieves our initial dream of recording an album on analog without using any computer or digital material. The album is on the whole slower than our previous ones. It's darker and more evil, and a tribute to old horror movies, psychedelic drugs and lost souls. An invocation to Satan! We paid special attention to the atmosphere, making it threatening and anguishing while using a mellotron and movie samples for the first time. We wanted to keep the sound raw and natural so Kerwax was really the perfect place to capture the haunted and psychedelic vibes of the songs. It's our first album with this line-up and it took several years to develop. » Watch new video « The House That Dripped Blood« !
New album « Trove Of Oddities at the Devil's Driveway »
Out March 3rd on Heavy Psych Sounds
European preorder / US preorder
TRACKLIST:
1. Multi-dimensional Marvelous Throne
2. Nosferatu's Mastery
3. The Gorgon
4. The House That Dripped Blood
5. Yellow Nacre
6. Mountain Temple In Bleakness
WITCHTHROAT SERPENT was formed in November 2011 in Toulouse, France, by Fredrik (guitar/vox), Niko (drums), and Lo Klav (bass), with the aim to spread occult and powerful doom stoner across the living world's borders. The band toured extensively in Europe, playing both underground shows and big festivals. In 2018, after the recording of the third full-length « Swallow The Venom » (Svart Records), Lo Klav left the band and was shortly replaced by Ügo. In 2020, Djé joined the band as the second guitarist. In January 2021, their first recording as a four-piece gave birth to two new tracks, released as part of their « Doom Sessions » split EP with UK doom unit Dead Witches on Heavy Psych Sounds. The band returns in 2023 with their new full-length on the Italian label, with aover art and layout by Branca Studio.

WITCHTHROAT SERPENT is:
Fredrik Bolzann – guitar/vocals
Niko Lass – drums
Ügo Greifengeier – bass
Djé Cndrs – guitar

WITCHTHROAT SERPENT links
Bandcamp⎜Facebook⎜Instagram⎜Spotify

HEAVY PSYCH SOUNDS links
Website⎜Facebook⎜Bandcamp⎜Instagram⎜Youtube