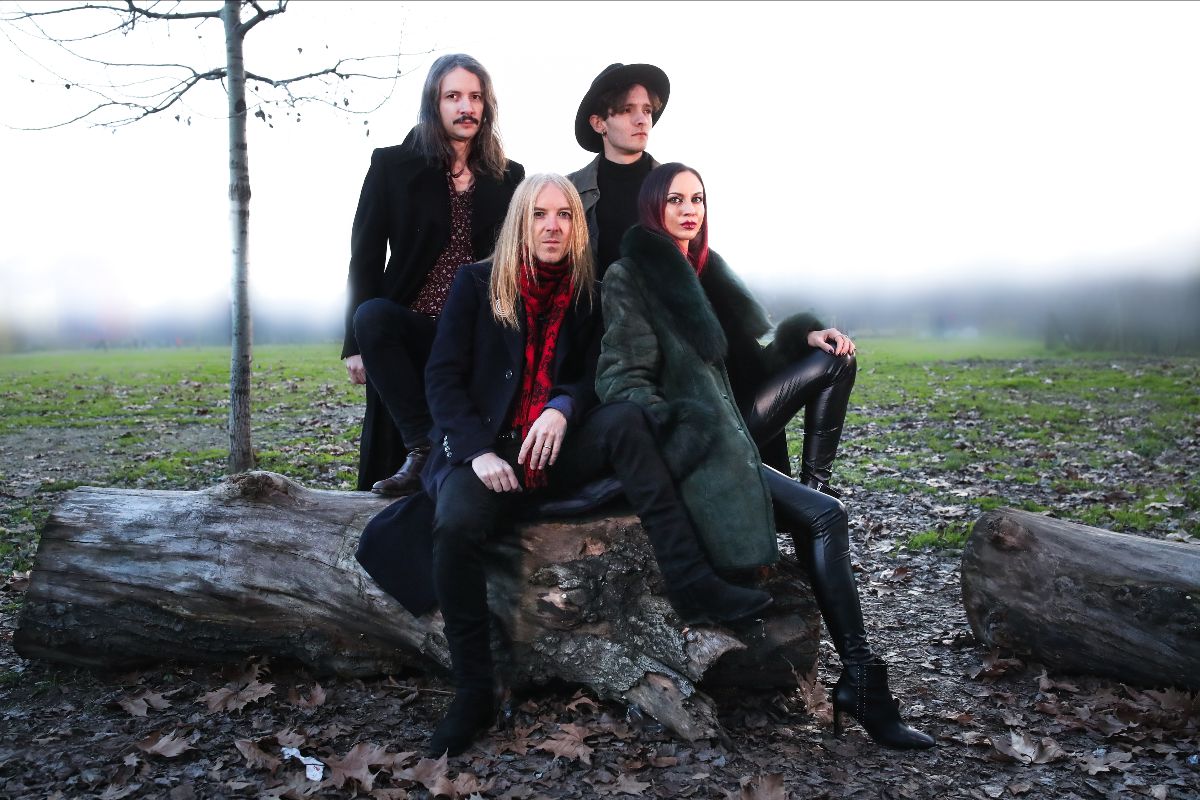 Italian psychedelic rockers GIÖBIA share intoxicating first track off new album « Acid Disorder », out April 28th on Heavy Psych Sounds.
Italian psychedelic and acid rock stalwarts GIÖBIA announce the release of their sixth album « Acid Disorted » this April 28th on Heavy Psych Sounds. Listen to the infectious and cosmic first single « Consciousness Equals Energy » exclusively on It's Psychedelic Baby Magazine!

GIÖBIA comments: « 'Consciousness Equals Energy' is inspired to Ram Dass' mind-expanding masterpiece 'Be Here Now' spiritual journey. We have always been fascinated by Dass' study of drugs and the mystical experience, thus this song is our personal tribute to his genius and his courage to swim against the tide, as well as a kind of mantra, "a bridge on which you stand, looking down into the water in which you see your own life going by. It's a training device to break you out of your attachments."

🚀 Listen to new single « Consciousness Equals Energy » 🚀
« Acid Disorder » is the latest astonishing work of neo-psych acid-rock riffers GIÖBIA. With this surprising album, the four-piece invite us to enter their realm, that hidden place in the depths of their mind where anything can happen. Once again we abandon ourselves to altered states of consciousness, enchanted by the lysergic side of music that is both familiar and new. "Acid Disorder" was recorded at Elfo Studio in Piacenza, Italy, between March and October 2022, engineered and mixed by Daniele Mandelli and Bazu and mastered by Giovanni Versari at La Maestà Studio. The artwork was designed by Trevor Tipton.
GIÖBIA – New album « Acid Disorder »
Out April 28th on Heavy Psych Sounds – PREORDER
TRACKLIST:
1. Queen Of Wands
2. The Sweetest Nightmare
3. Consciousness Equals Energy
4. Screaming Souls
5. Blood Is Gone
6. Circo Galattico
7. In Line
8. Acid Disorder 
The mystical day 60s rock met neopsychedelic rock mixing up to the point of losing consciousness of their own essence, that's when GIÖBIA's acid psychedelic rock was born, in an overwhelming and incessant soundtrack with an unmistakable Italian taste. In a vortex that leaves no way out, the unique melodies of this quartet take the listener into a world where the boundaries of reality are no longer defined and anything can ever happen. After their debut in 2009 with 'Hard Stories', Giöbia firmly established themselves in 2013 by 'Introducing Night Sounds', which suddenly brought them to the most important stages of Europe, until their 2016 milestone 'The Magnifier' assigned them a place among the most influential bands of the scene. Giöbia went on astonishing their audience by forging 'Plasmatic Idol', which saw the light in 2020 via Heavy Psych Sounds and reconfirmed them as the modern forefathers of a genre that fascinates and amazes anyone who dares to leave themselves behind without the fear of never returning.
In 2021, GIÖBIA released their split album with The Cosmic Dead « The Intergalactic Connection – Exploring The Sideral Remote Hyperspace », a must-have for every space traveler. Unable to stop in front of any challenge, the quartet is finally ready to release its brand new album 'Acid Disorder' on April 28th, 2023 on Heavy Psych Sounds, which expertly refines the band's psychedelic rock attitude alongside a wide spectrum of intriguing sounds and textures.
GIÖBIA links
Facebook – Bandcamp – Website – Instagram – Spotify
HEAVY PSYCH SOUNDS links
Website – Facebook – Bandcamp – Instagram – Youtube