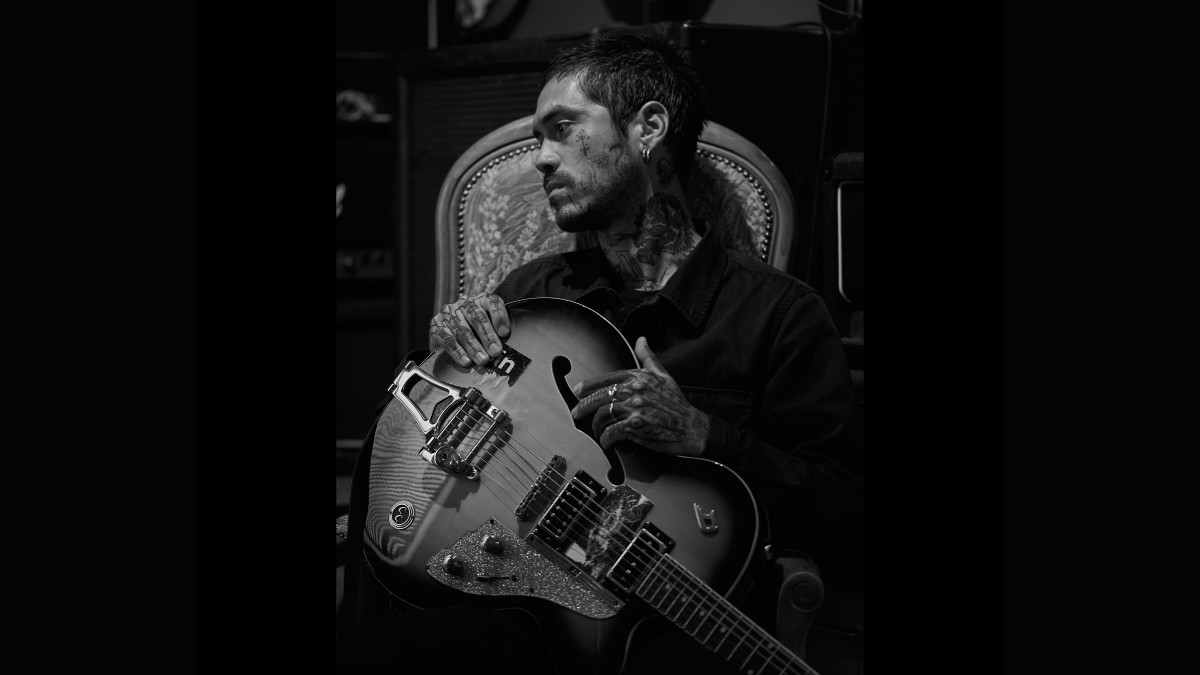 Instrumental post-metal project DDENT releases dreamy « Neceffe eft vivere » video off upcoming 2xEP on Chien Noir.
French instrumental post-metal project DDENT presents an enigmatic new video entitled « Neceffer eft vivere » exclusively on Invisible Oranges. The song is taken from an upcoming 2xEP to be released early 2023 on Chien Noir. 
« Powerful synthesizers and reverberating guitar create an airy, majestic atmosphere that's laced with a little bit of grit from the rhythm section. DDENT injects a growing sense of regret, or maybe loss, into the song as it progresses, although every following chord seems to reframe that negativity as a possibility for something better, » describe Invisible Oranges. 
DDENT just announced the release of a 2xEP to be issued on CD, cassette tape and vinyl in early 2023 through Chien Noir. Each chapter of the EP will be available digitally ahead of the physical 2xEP release. 
🌙  Immerses in nature's power with new video « Necette eft vivere » 🌙
About first EP « Ex Auditu », DDENT songwriter and multi-instrumentalist Louis Lambert says: « This first chapter is about wonderment through nature. To illustrate the album and its theme, Guillaume Ossamot (who wrote the titles) and I were inspired by Spinoza's theses. Spinoza defines supreme Good and the fact of reaching the greatest beatitude as « amor intellectualis dei ». This translates into « the intellectual love of God ». But his definition of God goes against any Christian belief and brings the human back to the essential: God is everywhere, God is nature, and we, humans, are also part of God. God is only another name for Nature itself: « deus sive natura » or « god or nature ». The intellectual love of god is the understanding of the supreme reality of nature, omnipresent and omni-creative. This first EP is a tribute to this reflection, and an attempt to approach and represent musically the sensation of wonderment through nature that one can feel when one understands it, approaches it and then experiences it as an infinite Substance, a divine, infinite and infinitely creative Nature.« 
All tracks on the 2xEP were composed, performed and recorded by Louis Lambert. Mixed by Louis Lambert & Chris Fielding, mastered by Chris Fielding. Artwork by Sophie Ejzenberg, titles by Guillaume Ossamot.
DDENT – New EP « Ex Auditu »
Available early 2023 on digital streaming platforms
DDENT is the instrumental brainchild of guitarist and multi-instrumentalist Louis Lambert and drummer Marc Le Saux. First EP 'Chien Noir' sees the day in 2014, which quickly leads to the addition of live musicians to the project. This milestone lays the foundations for a dark post-rock sound that induces an inevitable spiritual and sensory journey. While 2017 debut LP 'آكتئاب' narrated the introspective journey of a poet, their sophomore album 'TORO' (2018) deals with the search for truth through creation. The titles all refer to Federico Garcia Lorca's volume of poetry 'Llanto', and concept of duende – a creative force that possesses the artist and against which he is forced to battle to be able to make his art. It is safe to say that literature and philosophy have always been a centerpiece of DDENT's music.
In 2019, DDENT performed at Europe's biggest metal festival Hellfest, tantalizing both the audience and critics with their bewitching performance. As a result, Louis Lambert started working on the follow-up album 'Couvre-sang'. Entirely written and recorded by multi-instrumentalist Louis Lambert, DDENT's third album 'Couvre-sang' is a massive and poetic post-metal 11-track awash with dark, elegant atmospheres and intriguing thematics, described as « an experience that swallows you in dynamic and intense layers of metal » by Everything Is Noise and most notably « pure instrumental industrial bliss, a living breathing beast, crafted superbly, with real emotional levels » by The Sleeping Shaman. In 2021, he released a cinematic single and video entitled « VOLEMOI« , however 2023 will be the year of the songwriter's comeback, with the new « Ex Auditu » double EP on Chien Noir.  
DDENT LINKS
Facebook⎪Bandcamp⎪Twitter⎪Instagram⎪Spotify

CHIEN NOIR LINKS
Facebook⎪Bandcamp