Austin heavy rock pillars DUEL return with new album 'In Carne Persona' on October 1st; first single and preorder available on Heavy Psych Sounds.
Austin, Texas acclaimed heavy rockers DUEL return with their anticipated fourth studio album 'In Carne Persona', to be released October 1st on Heavy Psych Sounds. Turn the volume up and blast their brand new single « Children of The Fire » exclusively via The Obelisk!  

« Four records deep, they sound like they know who they are and what they want to do, and from the melody of the hook into the take-no-nonsense solo-plus-final-chorus, it's four and a half minutes of organic efficiency that speaks only to the follow-up to 2019's 'Valley of Shadows' as one worth marking the calendar for », declares The Obelisk editor. 
⚡️Rock out with DUEL's new single « Children of The Fire » ⚡️
New album 'In Carne Persona' is nine heavy, riff-soaked tracks crafted from their desert dungeon. Written and recorded during the plague lockdown, this fourth studio album from the Texan unit was slowly and finely crafted down to the smallest detail. Just like you would expect from DUEL, you will find a handful of upbeat classic guitar rockers in the vein of Thin Lizzy, early UFO or KISS, as well as electric old-school NWOBHM anthems channeling early Judas Priest and Iron Maiden, while the band keeps pushing the barriers of their sound and offering up something new with the soul of their classic evil boogie.
New album 'In Carne Persona'
Out October 1st on Heavy Psych Sounds – PREORDER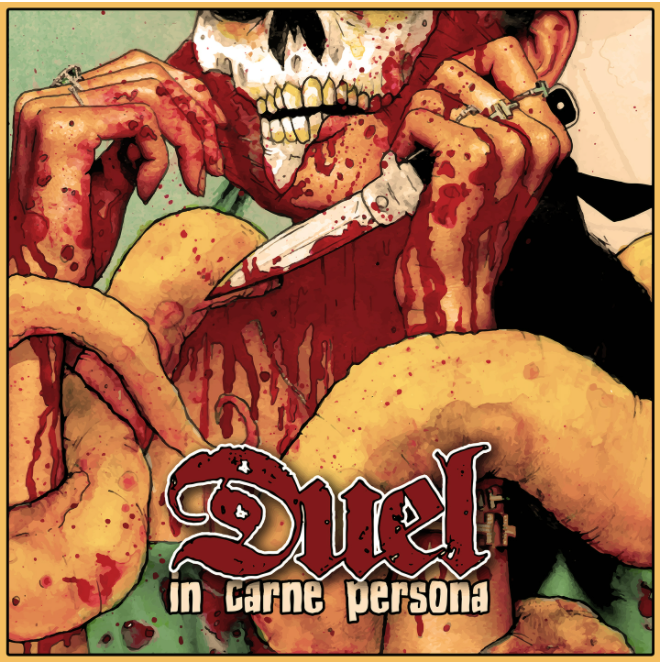 TRACKLIST:
01. Children Of The Fire
02. The Veil
03. Anchor
04. Behind The Sound
05. Bite Back
06. Wave Of Your Hand
07. Lizard Tongue
08. Dead Eyes
09. Blood On The Claw
DUEL is a heavy, tripped-out four-piece heavy rock foursome hailing from Austin, Texas. Steeped in the sinister sounds of dungeon-esque early 80s heavy metal, 70s metal, and late 60s psych, their tunes spin dark tales of ritual horror, occult sex, and apocalyptic doom while exploring alternate realms, and the depth of infinite space with a head full of mushroom tea. Dealing with their own brand of dark boogie, the band has earned a reputation thanks to their high-voltage live performances, relentless touring across Europe and the US, writing and recording schedule. Since 2016, DUEL have released three albums on Heavy Psych Sounds Records, growing their fanbase even more each time.

DUEL is
Tom Frank — Guitars & Vocals
Shaun Avants Bass & Vocals
Justin Collins — Drums
Jeff Henson — Guitars & Vocals

DUEL links
Facebook⎜Bandcamp⎜Instagram⎜Spotify

HEAVY PSYCH SOUNDS links
Website⎜Facebook⎜Bandcamp⎜Instagram⎜Youtube