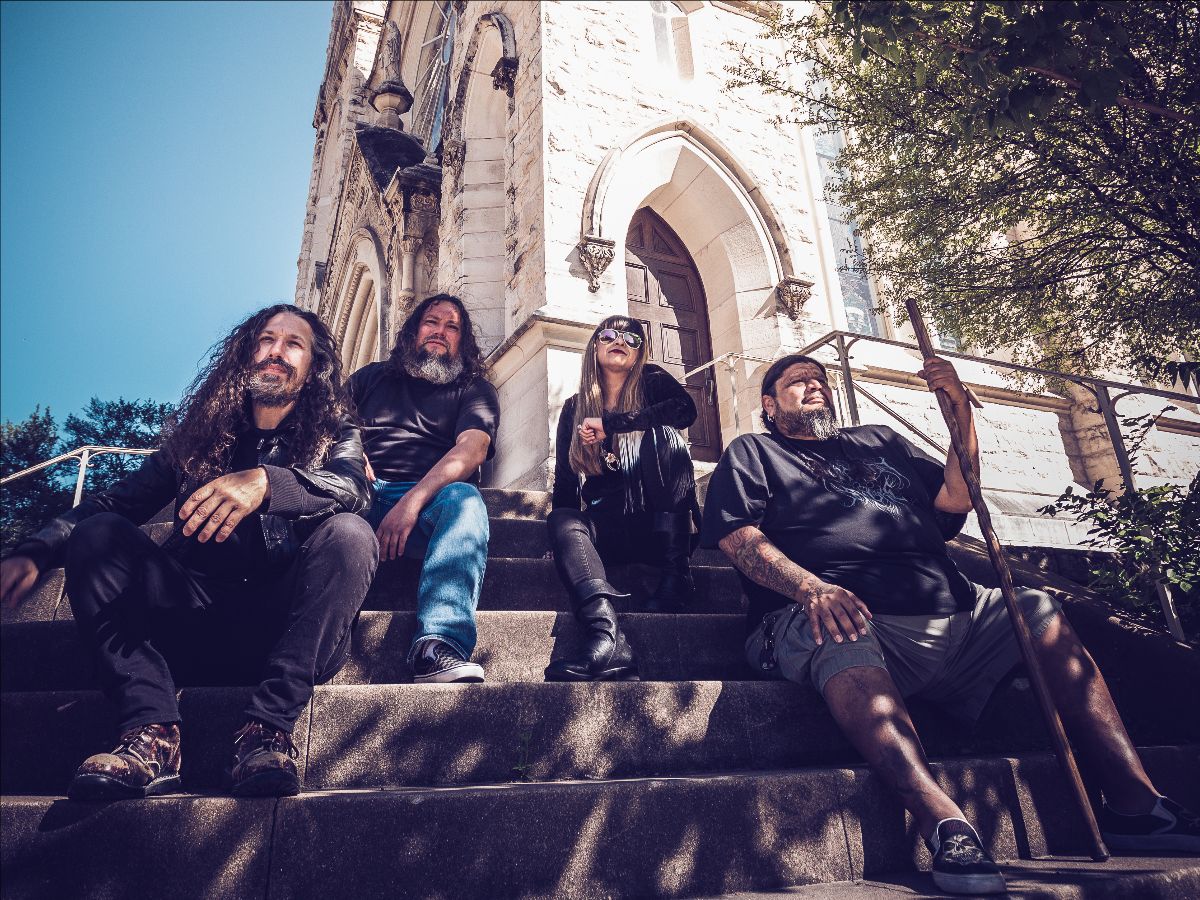 Austin heavy rockers WITCHCRYER unleash first single « I Rise! »; new album 'When Their Gods Come For You' out August 20th on Ripple Music!
Austin, Texas proto-metal foursome WITCHCRYER present the first single taken from their concept album 'When Their Gods Come For You', to be released on August 20th through Ripple Music. Listen to « I Rise! » (featuring Steve Colca from Destroyer Of Light on backing vocals) exclusively via The Obelisk now!
About the song, WITCHCRYER comments: « It's an uptempo stomper that tells of the resurrection of vengeful mythological Greek Titan god Menoetius. Menoetius (« doomed might » in Greek) was known as a violent, hot-headed, and prideful god. He was eventually struck down by Zeus with a bolt of lightning and banished to Tartarus. In the song, Menoetius returns from Tartarus threatening to destroy all humans and gods by harnessing the thunderous might of Zeus.»
? Listen to Witchcryer's new single « I Rise! » at The Obelisk ?
"When Their Gods Come For You" is a concept album that deals with deities across various ages of civilization throughout time. The album starts with "Devil & The Deep Blue Sea", a Faustian tale of a damned soul swallowed by an apocalyptic leviathan, Hellmouth, and the narrator's attempt to fight for their life. The album continues with the song "Hellmouth" in which the narrator is now the Anglo-Saxon depicted demon fish itself. Songs about Greek gods and titans with tales of pride and punishment follow, as well as a Mesoamerican sun deity teaching its doomed warrior people to fly, a Roman goddess seeking justice for crimes against women, the tale of the Blackfoot creation god. Title track "When Their Gods Come For You" comes full circle, proclaiming that if one does not stand up for what they believe in, someone else will do the believing and choosing for them.
The album will come with a download of a mythological book featuring the album lyrics, and artwork from artists who illustrated each god mentioned on the album: David Paul Seymour ("I Rise!"), John Michael Bowley ("Hellmouth"), Daniel Augustus Marschner (« Nemesis, the Inevitable"), Gerardo Quetzatl Garcia ("Quetzatlcoatl"), and cover artist Kyle Otto.
New album 'When Their Gods Come For You' 
Out August 20th on Ripple Music – PREORDER

Witchcryer was created by guitarist Jason Muxlow during his time with Chicago doom band, Earthen Grave (Ripple Music) and became his priority when he moved to Austin in early 2015. That summer, he began co-writing songs with drummer Javi Moctezuma and vocalist/lyricist Suzy Bravo joined the band later that year, which led to the release of their demo The Preying Kind,With the final addition of San Antonio bassist Marilyn Monroe (Pillcrusher, Las Cruces), Witchcryer played its first show in April 2016.
Their debut album Cry Witch was released on Ripple Records in 2018, comprising nine songs of classic doom produced by the band & Brant Sankey. The band toured the Southern states with Italian doom band Messa, then made their way north to Chicago later in the year, while playing regularly throughout Texas.
In the fall of 2019, the band headed back to producer Brant Sankey's Studio E in San Antonio to work on the new album. This time out, the sound is bigger, grander, and more epic, the band leaning into their rock and metal roots with special guest vocals by doom metal vocalists Gary Rosas (Ungrieved, Mala Suerte) and Steve Colca (Destroyer of Light). 
WITCHCRYER is
Suzy Bravo – vocals, lyrics
Jason Muxlow – guitar
Marilyn – bass
Javi Moctezuma – drums
WITCHCRYER LINKS
Website⎪Facebook⎪Bandcamp⎪Instagram

RIPPLE MUSIC LINKS
Website⎪Facebook⎪Bandcamp⎪Instagram