Retro rockers DOCTOR CYCLOPS unveil details about upcoming album « Local Dogs » on Heavy Psych Sounds.
Northern Italy's cold woods are set to unleash their fieriest beast, with '70s power trio

DOCTOR CYCLOPS

returning with their blistering third album « Local Dogs » this March on Heavy Psych Sounds.
DOCTOR CYCLOPS haven't stood idle since their latest album « Oscuropasso » (World In Sound 2014), slowly but surely rustling up their heaviest and most accomplished project to date. This new full-length entitled « Local Dogs » delivers an explosive blend of '70s heavy rock, NWOBHM and doomier Sabbath-style riffage, ready to take you back to a different era. Groovy riffs and gloomy paths coming straight from the woods feel like the epic saga of the '70s is truly likely to continue its course. In this context, the appearance of Bill Steer (Carcass, Firebird, Gentlemans Pistols) on lead guitar tastes like the icing on top of a tempting cake.
« Local Dogs » will be issued on LTD clear blue vinyl, black vinyl, CD and digital. Its compelling artwork was designed by Rise Above (Marcello Crescenzi).
DOCTOR CYCLOPS New album « Local Dogs »
Out March 31st on Heavy Psych Sounds
– Presales start on February 24th –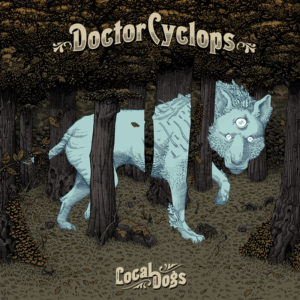 TRACK LISTING:
SIDE A
1. Lonely Devil
2. D.I.A.
3. Stardust (w/ Bill Steer)
4. Epicurus
5. Wall Of Misery
SIDE B
1. King Midas
2. Stanley The Owl
3. Druid Samhain (w/ Bill Steer)
4. Witch's Tale
5. Witchfinder General
DOCTOR CYCLOPS is a power trio delivering a blistering heavy rock rejuvenating the legacy of the '70s and early '80s. The band formed in 2007 in a small village in the middle of Appennino mountains, Northern Italy. Their common passion for brilliant outfits such as Truth and Janey, Sir Lord Baltimore, Captain Beyond or Witchfinder General lead them to record and self-produce their first EP "The Doctor Cyclops" (2010), which is quickly followed by two full-lengths: "Borgofondo" (2012) and "Oscuropasso" (2014), both released on German heavy psychedelic label World in Sound.
Since 2008, the trio has had the chance to tour Europe several times, sharing the stages with Firebird, Blood Ceremony, Siena Root, Colour Haze, Stoned Jesus, The Grand Astoria and many other bands. DOCTOR CYCLOPS also took part to important festivals such as Freak Valley in Germany (2012) and Red Smoke Festival in Spain (2016). But the oddyssey has just kicked off, as the band plans to release their new album on Heavy Psych Sounds, and will be on tour across Europe in the spring of 2017…
DOCTOR CYCLOPS IS
Christian Draghi – Guitars & Vocals
Francesco Filippini – Bass
Alessandro Dallera – Drums
DOCTOR CYCLOPS LINKS
Facebook⎪Bandcamp⎪Heavy Psych Sounds website