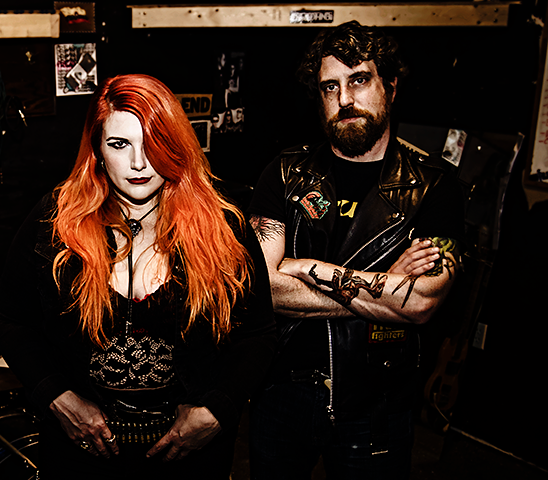 US doom and hard rock duo CRYSTAL SPIDERS release third video « Fog »; debut album 'Molt' out September 25th on Ripple Music!
North Carolina's one and onlyCRYSTAL SPIDERS release the third single taken from their upcoming debut album 'Molt', due out September 25th via Ripple Music. Watch « Fog » today exclusively over at The Sleeping Shaman website!
« When you think of the most iconic duo's who play loud and heavy music, it's usually the combination of guitar and drums that are the standard. (…) Crystal Spiders are taking things off in a completely different direction, and it's a must listen for stoner fans, looking for something new, and altogether refreshing in the whole genre. (…) This album, after repeated listens, it's consistently good, from start to finish. There are no duff tunes, nothing is out of place, and there are times where so much is going on, it's hard to believe it's a duo.« 

The Sleeping Shaman
Watch Crystal Spiders new lyric video « Fog » right here
The band previously released a hectic video for « C-U-N Hell » as well as an eerie visualizer for « Trapped« . Crystal Spiders' debut album 'Molt' set things straight with nine instant proto-doom classics, dripping with enough swagger and fuzz to make the house crumble down. Enhanced by the unrivaled production of Mike Dean (Corrosion Of Conformity), Brenna Leath's hoarse vocals strike hard on top of the duo's devastating rhythm section, giving a strong, catchy hard rock depth to the whole record.  
CRYSTAL SPIDERS Debut album 'Molt'
Out September 25th via Ripple Music
European preorder // North American preorder
  It didn't take long for North Carolina's CRYSTAL SPIDERS to draw attention. The early poise of their self-recorded 2019 demo earned the doomy psych band a spot on The Obelisk's top short releases of 2019, and caught the attention of Ripple Music head honcho Todd Severin, who decided to put out their LP before he even heard the mixes. Only a year after recording their three-song demo and debuting to a hometown crowd in downtown Raleigh, the band helmed by bassist Brenna Leath and drummer Tradd Yancey will release their full-length debut 'Molt' via Ripple Music.

This rebuff of genre conventions has been a steady current in past and concurrent projects. Leath's affection for classic metal and hard-rock is as apparent in her charged rock 'n' roll outfit The Hell No as it is in her doomy proto-metal band, Lightning Born, and Yancey lends a heavy swing to the psych-seared doom crew Doomsday Profit. For 'Molt', CRYSTAL SPIDERS pulls elements from across genres to create an album that traces the band's full spectrum. Early songs like "Tigerlily" and "Trapped" find new complements in brand-new cuts like "Chronic Sick" and the title track. With a production assist from Mike Dean — Corrosion of Conformity bassist and Leath's bandmate in fellow Ripplers Lightning Born — 'Molt' finds them at their most powerful.

Following a year of consistent gigging and short runs alongside The Well and Omen Stones, CRYSTAL SPIDERS are looking to up the ante with confirmed appearances at Raleigh Deathfest and the Maryland Doom Fest, as well as ranging further along the East Coast and into the western US. Riding the momentum of their first year of shows and the strength of a potent debut, it's a safe bet that they will soon take space in the minds of fuzz-addicted legions far and wide. Debut album 'Molt' is coming out on September 25th 2020 through Ripple Music. 

CRYSTAL SPIDERS is:
Brenna Leath – Bass/Vocals
Tradd Yancey – Drums/Vocals

CRYSTAL SPIDERS LINKS
Facebook | Bandcamp

RIPPLE MUSIC LINKS
Website⎪Facebook⎪Bandcamp⎪Instagram