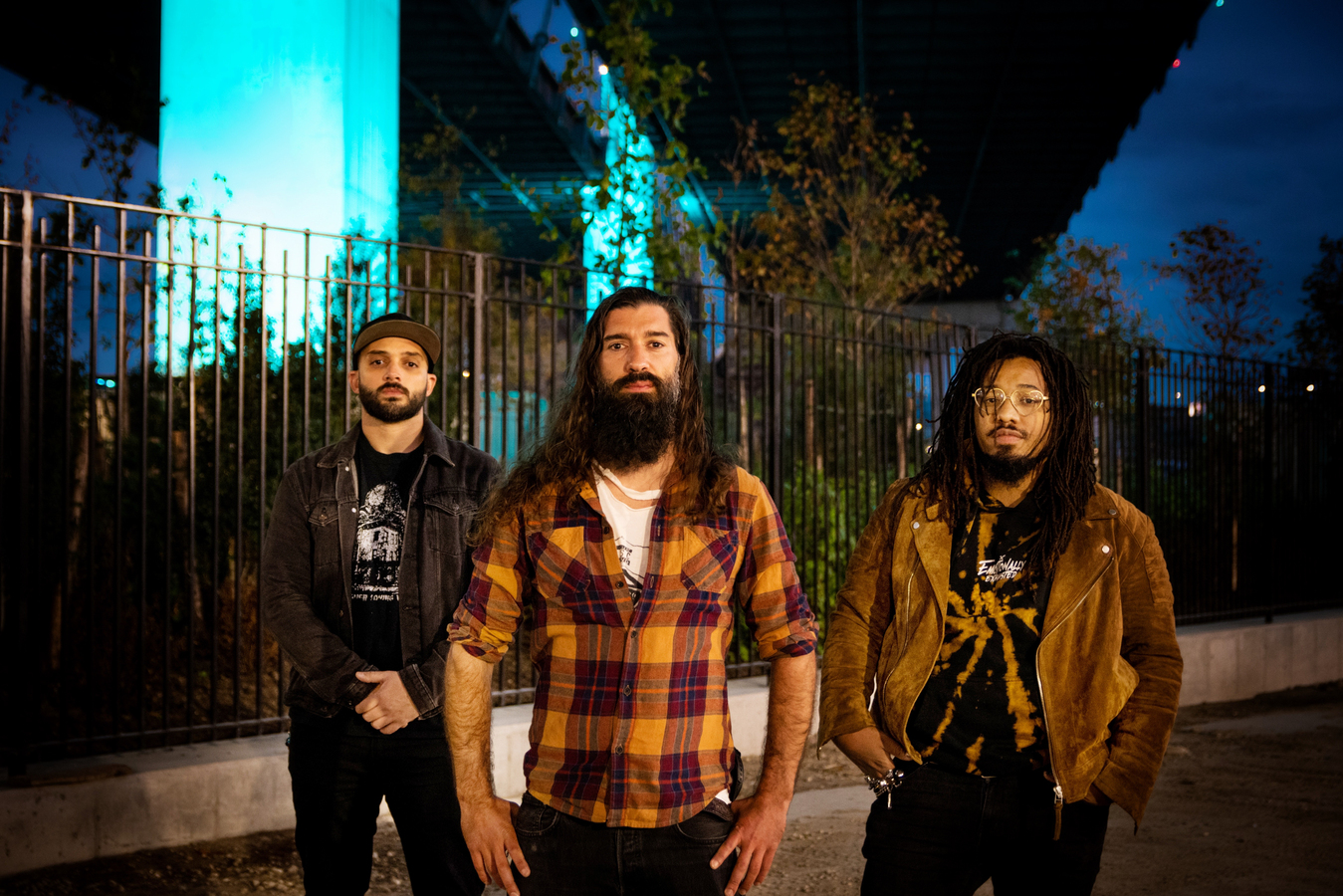 New York sludge metal trio SOMNURI release crushing animated video « Desire Lines »; new album out June 4th on Blues Funeral Recordings!
Brooklyn progressive sludge trio SOMNURI teamed up with Revolver Magazine to present a trip-inducing and unnerving animated video for their third single « Desire Lines ». Their new album 'Nefarious Wave' will be released on June 4th through Blues Funeral Recordings.
Whereas their latest videos « Beyond Your Last Breath » and « Tooth & Nail » showcased the trio's more aggressive and sludgecore-driven facet, « Desire Lines » is leans towards SOMNURI's sludge metal roots, with director Dima Drjuchin's giving the song a weird and trippy dimension by filling it with plenty of emotional switch-ups. « Desire Lines has to do with the idea that if you always seek the path of least resistance, you may end up feeling life has passed you by. It's about not having regrets, » says the band. « The video is a mind-fuck. Animator and director Dima Drjuchin captured the vibe of the song so well. It feels warm and inviting at first but something is looming and it ultimately goes to a much darker place. It certainly takes the viewer on a ride and fans of heavy, psychedelic music and art should dig it.« 
Watch new video « Desire Lines » on Revolver Magazine
Coming from the depths of Brooklyn, NYC, SOMNURI weave together breakneck energy, infectious melodies, bludgeoning riffs and pounding grooves that share DNA with High on Fire, Mastodon and Torche. Elements of the city surface throughout their sound: brutality and spaciousness, stark dissonance, and delicate hush. Embodying their refusal to concede or compromise, their sophomore album 'Nefarious Wave' is a reflection of their undeniable ethic, a devastating musical worldview ready for those willing to inhabit it with them.
SOMNURI New album 'Nefarious Wave'
Out June 4th on Blues Funeral Recordings
Nothing burnishes heaviness like being a DIY band in Brooklyn. The strength of will to survive in New York inevitably seeps into the music, and toughens the musical character of those who persevere. SOMNURI started when two multi-instrumentalists sharing adjacent practice spaces heard like-minded styles and energies coming from next door. Justin Sherrell had played drums in Brooklyn bands Blackout, Tower, and Bezoar, but yearned to take on guitar and vocals. He heard Phil SanGiacomo (Family, Grandfather, Last Hours) pounding out polyrhythms through the wall and thought, 'this could be the foundation of something awesome. Hitting the pavement with an underground cannabis delivery service to fund the band's beginnings immediately catalyzed their uncompromising ethos. SOMNURI self-released an ambitious and well-received debut LP in 2017, earning high marks from Decibel, Metal Injection, Invisible Oranges and Metalsucks, and powered ahead with a series of blistering shows. The arrival of bassist Philippe Arman in 2019 seemed to complete the band at last, with the addition of live vocal harmonies and slick yet thunderous low-end.

A sprawling record full of time and tempo shifts, their sophomore album 'Nefarious Wave' is a story of survival and resilience. As naysayers flee the city, claiming the scene is dead and will never be what it used to, SOMNURI is alive, breathing, adapting and mutating into something greater, and continues to push the possibilities of heavy music and the ideals of how a DIY band fights for their place. It was mixed by Phil SanGiacomo, and mastered by Justin Mantooth at Westend Recording Studios KC. The artwork was designed by Dani Otrajki.

SOMNURI is:
Justin Sherrell — guitars/vocals (also bass on the album)
Philippe Arman — bass
Phil SanGiacomo — drums

SOMNURI LINKS
Facebook⎪Bandcamp⎪Instagram

BLUES FUNERAL RECORDINGS LINKS
Website⎪Facebook⎪Bandcamp⎪Instagram⎪Youtube