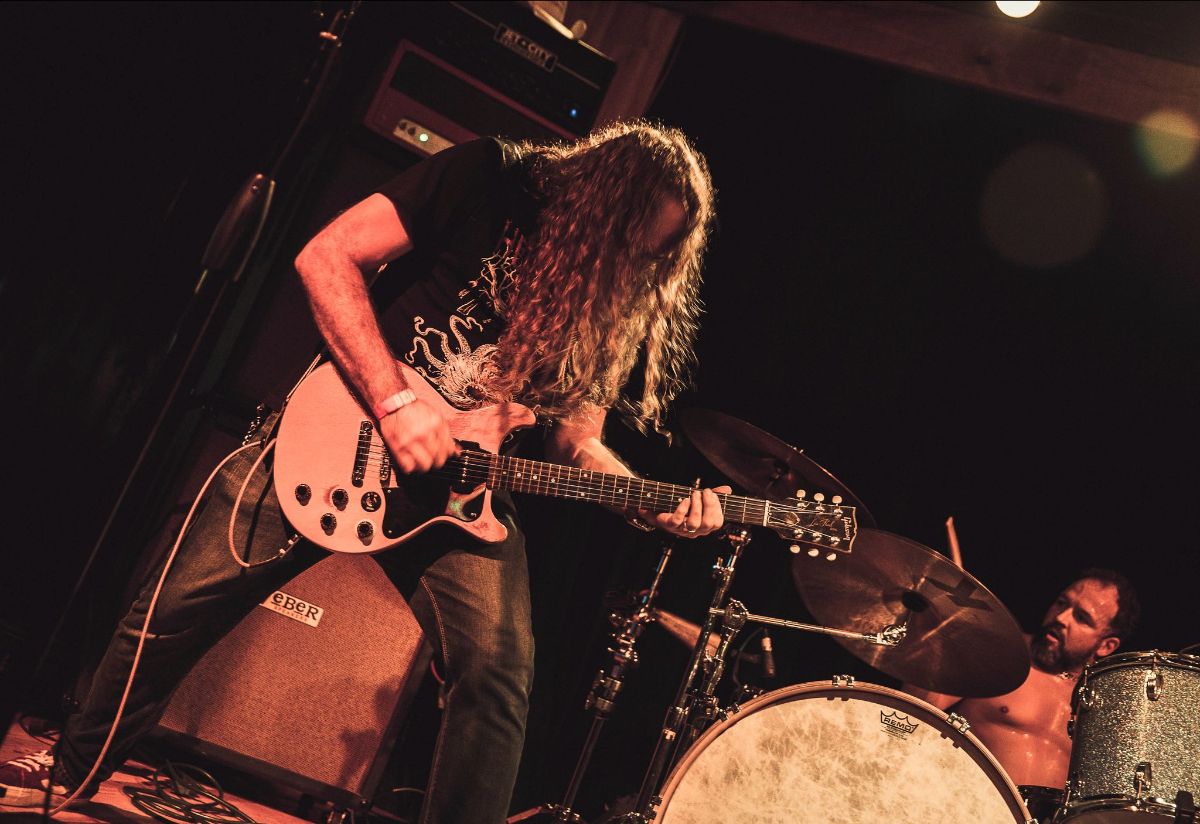 Texas psychedelic doom veterans WO FAT announce new album on Ripple Music; first three records to be available for the first time in the US!
Chief purveyors of Texas-sized psychedelic doom WO FAT once again team up with Ripple Music for the upcoming release of their awaited seventh studio album — and followup to 2017's acclaimed 'Midnight Cometh' — next year. Ripple Music is also set to reissue the trio's first three albums in the coming months, making these long out-of-print classics available to North American fans for the very first time.

Over the course of a sonic odyssey which spans six studio albums, one live recording and two splits, Texas' very own psychedelic doom mongers WO FAT have stayed true to the deep, dark blues that wail from within and have continually infused their riffs with primal grooves. Having secured their legendary status within the stoner rock community by appearing on much coveted bills at Roadburn, Desertfest, Freak Valley Festival, Hellfest and Psycho Las Vegas, their latest release and collaboration with Ripple Music, 'Live Juju: Freak Valley' seemed to be the perfect follow-up to their critically acclaimed 2017 album 'Midnight Cometh'.

While WO FAT have just confirmed the release of their seventh full-length in the fall of 2021, Ripple Music will repress the band's long out-of-print Nasoni Records albums from days past, starting with 'Psychedelonaut' (2009) in the spring of 2021, followed by 'The Gathering Dark' (2006) and 'Noche Del Chupacabra' (2011) in 2022. All upcoming reissues will be available on black vinyl and limited edition colored vinyl with new liner notes, for the first time ever to North American fans.
---
"Wo Fat have cemented their status among stoner metal's prismatic visionaries." Metal Hammer

"An immersive experience in which stoner grooves and metal riffs jostle for air in a churning tide of psychedelic juju." Classic Rock

"They're the intersection of Kyuss' anthemic Sky Valley-era stuff, Clutch's doom rock boogie, Electric Wizard's Sabbath-on-cough-syrup apocalyptic mist, and, duh, Sabbath itself." MetalSucks
After over 12 years of slinging their Texas-sized psychedelic blues doom, WO FAT is going stronger and rocking harder than ever, as they continue their swampadelic vision quest of overdriven, fuzz-laden riffag eand jazz-minded jam explorations, and with six studio albums, a live album, and a couple splits under their belt, Wo Fat has gained a reputation as one of the premier US Stoner Metal bands. Starting with 'The Gathering Dark' in 2006, they have stayed true to the deep, dark blues that wails from within and have forged their riffs with a primal grooviness, giving them a consistency of style, even while they have progressed and matured as a band, with their musical forays getting heavier but also trippier at times.

2009's 'Psychedelonaut' really began to solidify the WO FAT name, garnering them wider critical recognition, leading to releases with Nasoni and Totem Cat Records and then on to their two most critically acclaimed releases to date: 'The Black Code' (2013) and 'The Conjuring' (2014) on Small Stone Records, with 'The Conjuring' landing on NPR's "Top Ten Metal Albums of 2014" among numerous other best-of lists. During these last few years, Wo Fat have made appearances a number of iconic festivals in Europe and the US, Wo Fat teamed up with Ripple Records to release 'Midnight Cometh', a slab of riffage that is possibly their most daring psychotropic exploration of heaviness to date.

With voodoo drums beating and molten blues-tempered waves of guitar riffery, they are carrying on the WO FAT tradition of keeping things heavy and fuzzy, but also groovy, which, all too often, is a missing element in much modern heavy music. You can hear the echoes of field hollers and that oft forgotten "way back yonder funk" that fuel the fire that burns deep in the swamp at the witching hour. You can feel the rush of living on the edge and glimpse a phantasmal Coltrane in your peripheral vision as they careen through improvisational jams. And all this with an unrelenting metal heaviness underscoring apocalyptic lyrics that conjure visions of the end of an age, and black midnight bargains and the consequences reaped. While Wo Fat may be speaking a familiar language to the apostles of the riff, there isn't anyone that sounds quite like them.
WO FAT is:
Kent Stump – guitar, vocals
Michael Walter – drums
Zack Busby – bass

WO FAT LINKS
Web | Facebook | Bandcamp | Instagram

RIPPLE MUSIC LINKS
Website | Facebook | Bandcamp | Youtube | Instagram