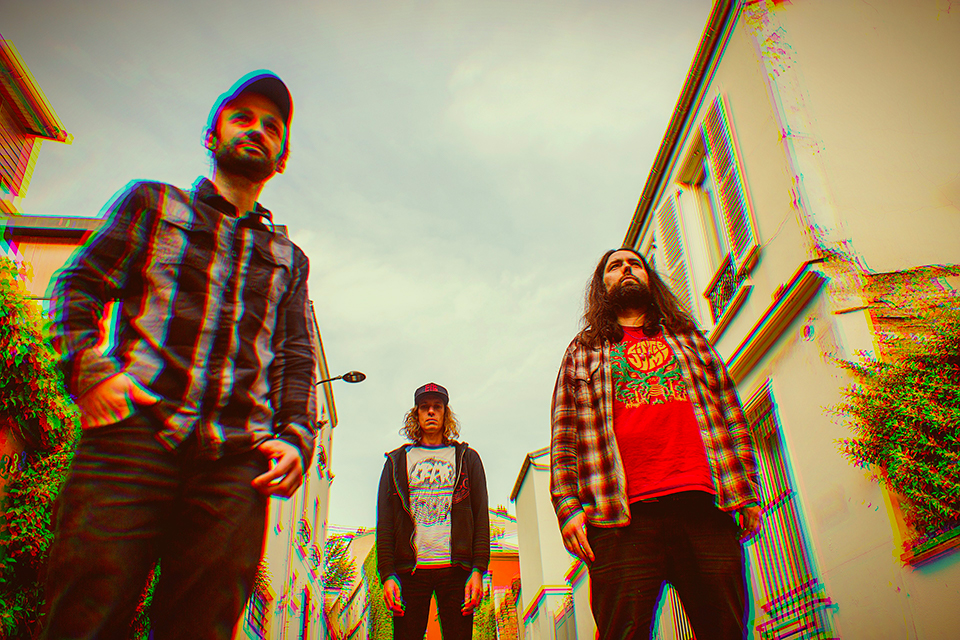 French heavy psych frontrunners MARS RED SKY present their liberating new video « Crazy Hearth » via Everything Is Noise!
French heavy psych behemoths MARS RED SKY unveil their stunning new video « Crazy Hearth » via Everything Is Noise. Their latest album « The Task Eternal » is still available on Listenable Records/MRS Red Sound.

Thevideo was directedby the band's emblematic video maker Seb Antoine, also responsible for « The Light Beyond », « Alien Grounds » and « The Proving Grounds ». New single « Crazy Hearth » is not only a dive into the wild, it also delivers a strong message about our suffocating planet and how much we need to let go the superficial and plant the seed for brighter days. MARS RED SKY offer a breathe of fresh air in these troubled times, with a song that is both dense and ethereal.
Dive into the wild with « Crazy Hearth« 
Frontman Julien Pras recalls the shooting: « In our previous videos, we were only performing live or making background appearances. This is the first time we are playing the main characters. Seb Antoine had this idea of filming us in the woods and on a lake, which wasn't an easy task for us at first! Beyond the central ecological aspect of the video, some more personal references have tinged the story. Playback scenes were shot at the end of the day to get that warm light, wrapping up two intense, fun and emotional days. Some random walkers even applauded the performance! »

Due to the Covid-19 crisis, MARS RED SKY spring US tour (including a headline set at Monolith On The Mesa) had to be rescheduled to 2021. The band have also announced a bunch of European shows to take place this fall, with more to be confirmed soon:
01.10.20 – COPENHAGEN (DK) A Colossal Weekend Festival
02.10.20 – OSLO (NO) Høstsabbat Festival @ Kulturkirken Jakob
03.10.20 – PRATTELN (CH) Up In Smoke Festival
New album « The Task Eternal » still available
on Listenable Records and MRS Red Sound
Beyond a highly recognizable sound, MARS RED SKY have been opening gateways to new dimensions with their otherworldly songs since their self-titled debut back in 2011. Whether you experience their records or live performances, their hulking yet trippy brand of stoner rock takes you onto an infinite journey. From the early days, the Bordeaux trio has established as an essential live act, treading upon the biggest rock and metal stages (SXSW, Hellfest, Roadburn, Desertfest, Eurockéennes) and opening for the likes of Sleep, Dinosaur Jr., Kyuss Lives!, Killing Joke or Gojira.
With their sophomore full-length « Stranded In Arcadia » (2014), a sci-fi odyssey filled with dystopian reveries, MARS RED SKY quickly became a cornerstone band among the heavy rock scene, garnering praise from international critics. « Hypnotic », « massive », « charismatic », « psychedelic » are some of the words used to define the prolific trio's sound, floating atop the stoner rock constellation and 70s psych pop nebula. Two years and hundreds of shows across Europe and Americas later, the band released their third album « Apex III (Praise For The Burning Soul) » (2016), once again showcasing a behemoth sound that blends perfectly with Julien Pras ethereal vocals and guitars, opening a door to even more bewitching paths. After another two years spent on the road, 2019 felt like the right time to return with their brand new album « The Task Eternal », their darkest and most progressive offering to date, already described as their biggest album yet.

MARS RED SKY ONLINE
Facebook⎜Twitter⎜Instagram⎜Website⎜Store