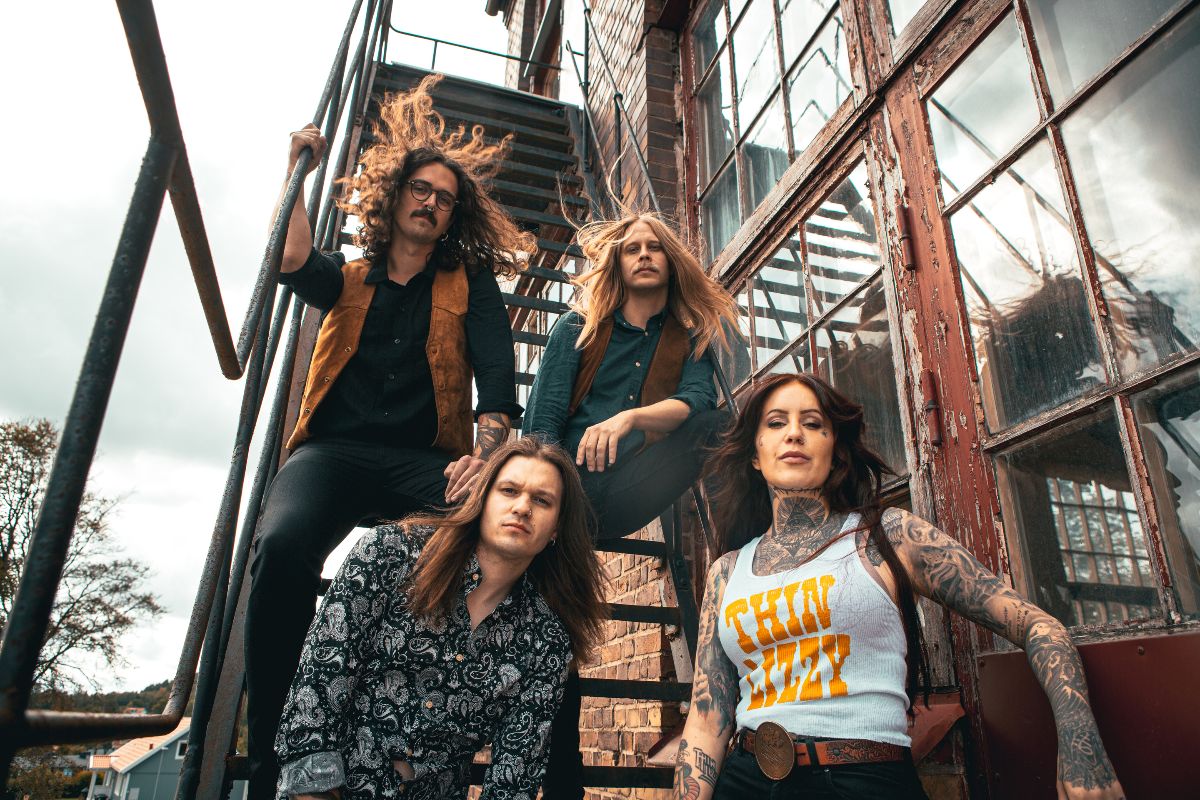 Gothenburg hard rockers ACID'S TRIP share 'Strings of Soul' in its entirety; out May 7 on Heavy Psych Sounds Records.
Sweden's up and coming hard rock firestorm ACID'S TRIP share their fire and fuel-driven debut album 'Strings of Soul' in full ahead of its official release tomorrow on Heavy Psych Sounds. Buckle up and step on the gas now!

« It's a party, it's a show, it's catchy, fun, classic and of its moment. And at its core is a band with a more than capable sense of delivery and a clarity of vision. They know what they want their songs to do. They want them to dance, to careen and twist along back roads at probably too-high speeds. » describes The Obelisk editor.
Stream new album 'Strings of Soul' in full via The Obelisk
High energy rock'n'roll with string-bending licks, a touch of soul and a blazing organic beat: this best describes ACID'S TRIP. The Gothenburg foursome is ready to unleash their debut album 'Strings of Soul', an action-packed, boogie-driven 12-track that spiritedly follows on the heels of Thin Lizzy, Lynyrd Skynyrd and the Hellacopters. It's so easy to get compelled by their early 70s vibe: just close your eyes and follow Acid's suave vocals. 'Strings of Soul' was recorded during the summer of 2020 by the band themselves, and mixed and mastered by Ola Ersfjord (Honeymoon Disease, Tribulation, Dead Lord). Don't miss ACID'S TRIP virtual release and listening party this Friday 7th May on the band's Facebook and Instagram pages.
ACID'S TRIP 'Strings of Soul'
Out May 7th on Heavy Psych Sounds
Formed in late 2018 by Acid, former guitarist of Honeymoon Disease, ACID'S TRIP has a clear vision of performing high speed rock'n'roll. With blasting guitar riffs, punchy melodies and a shitload of attitude, the band delivers full tilt boogie action on both vinyl and live on stage! With two shreddin' guitarists in the front and a dynamite rhythm section, this high- voltage juggernaut is running over the garage rock scene – with rapid electric guitars, groovy riffs and chopper culture! Their music is best described as a hard rock action mix of the speedy Mc5, a touch of Thin Lizzy and Lynyrd Skynyrd soul. The quartet has already proven themselves on tour in Europe and the band blew the roof at the legendary « Flanders Chopper Bash » while the success became a fact. Quickly they gained the attention by Italy's record label and booking institution Heavy Psych Sounds.
ACID'S TRIP 12" vinyl "Rock'n'Roll Speedball", released in 2019, sold out quickly and the awaited debut album will see the light of day on May 7th 2021 through Heavy Psych Sounds. The band has already worked up a well acclaimed live portfolio while touring the streets of Europe and this album has really captured the feels of being out on the road while leaving strings of soul for miles on end. Their debut album 'Strings of Soul' is an explosive mixture of Thin Lizzy, Lynyrd Skynyrd and the Hellacopters, delivering instant hits like "Get It Right", "No more fucks" and fans favorite "Faster Chopper Boogie". Get ready to be blown away and down with vibes from the early 70s while blasting "Strings of Soul" on full-tilt boogie! 
ACID'S TRIP IS:
Acid — guitar & vocals
Mike — guitar & vocals
Rockhard — drums
Lucas — bass 
ACID'S TRIP LINKS
Website⎜Facebook⎜Bandcamp⎜Instagram
HEAVY PSYCH SOUNDS LINKS
Website⎜Facebook⎜Bandcamp⎜Instagram⎜Youtube