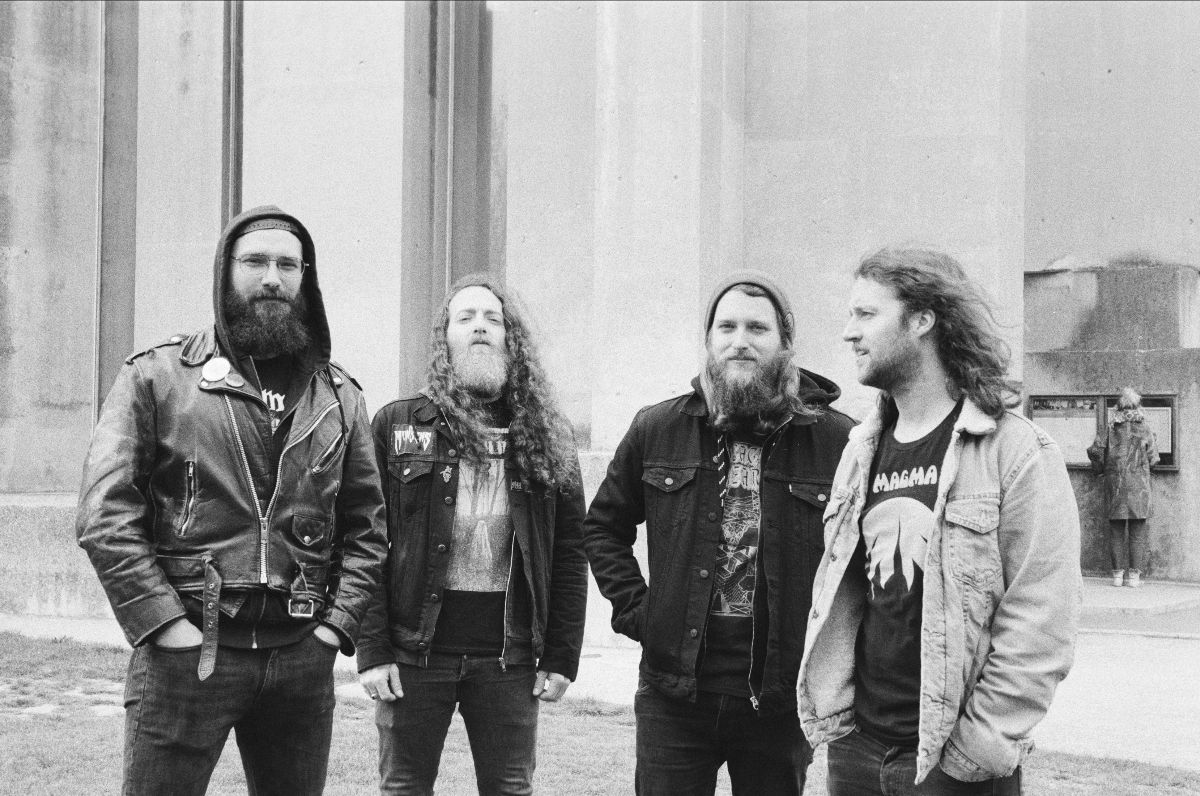 Austrian heavy psychedelic rockers RYTE share the second single off self-titled debut LP on Heavy Psych Sounds!
Austrian heavy psychedelic foursome RYTE stream the second track off their self-titled debut album 'Ryte', due out January 17th on Heavy Psych Sounds.

« With « Shaking Pyramid", being the longest composition on the album, we tried to catch a certain doomy atmosphere of the present, interdimensionally connected to the past and future. With almost no lyrics the track tells the story of ancient structures, evoked by alien craftsmanship« , comments the band.
Stream « Shaking Puyramid » right now
RYTE's debut album is the result of an intense one-and-a-half-year writing process. The album consists of four long tracks, that pushes the boundaries of Psych rock as it is influenced by Doom, Prog Rock, Jazz and even World Music. The sound is dominated by down-tuned, sometimes doomy, sometimes epic twin guitars, dynamic and jazzy drums, distorted, playful bass lines and spacey Theremin landscapes. Drummer Hannes Ganeider recorded the LP at his own rehearsal space, while Michael Piller did the mixing and none other than the underground producer-legend Tim Green mastered the album at Louder Studios in California.

Debut album 'Ryte' will be available in the following formats:
– 20 Test Press vinyl
– 250 Ultra LTD Orange Transparent vinyl
– 350 LTD Clear Water Green vinyl 
– Black vinyl
– CD and digital
RYTE Debut album « Ryte »
Out January 17th on Heavy Psych Sounds
PREORDER
In mid-2016, Hannes, Arik & Shardik decided to start a new project together. Arik & Shardik, at that time have already been playing several years together in Pastor and were looking for someone to jam with. By chance they met drummer Hannes at a Saviours show in Vienna. Shortly afterwards RYTE was founded. The only thing that was still missing was a bass-player. The band finally found the last missing part in late 2016 and was then a complete four-piece with Lukas on bass. They spent at least one intense year of continuous rehearsals and songwriting sessions in order to get a live-set and of course, an album together. In late 2017 they set up their very first (private) show at their rehearsal space in Vienna, spiked with a mind-blowing liquid light show done by "Ufonauten". Then, they were lucky enough to play festivals like Lake on Fire, Stick & Stone and share stages with amazing like-minded bands such as Sacri Monti, Golden Void and Mothers of the Land just to name a few! Since day one, the band's goal was to play sophisticated, mostly instrumental Heavy Psych with little hints of classic Prog, Space Rock, Doom and plenty of other stuff. Speaking of influences, the band is not limited by any means as long as it sounds fresh and interesting and does the band's initial idea of adventurous heaviness justice. RYTE's self-titled debut album will be out soon via Heavy Psych Sounds!

RYTE IS
Lukas Götzenberger – Vocals & Bass
Hannes Ganeider – Drums & Percussions
Arik – Guitar & Vocals
Shardik – Guitar & Effects

RYTE & HPS RECORDS SUR LA TOILE
Facebook⎜Bandcamp⎜HPS website⎜HPS Facebook⎜HPS Bandcamp