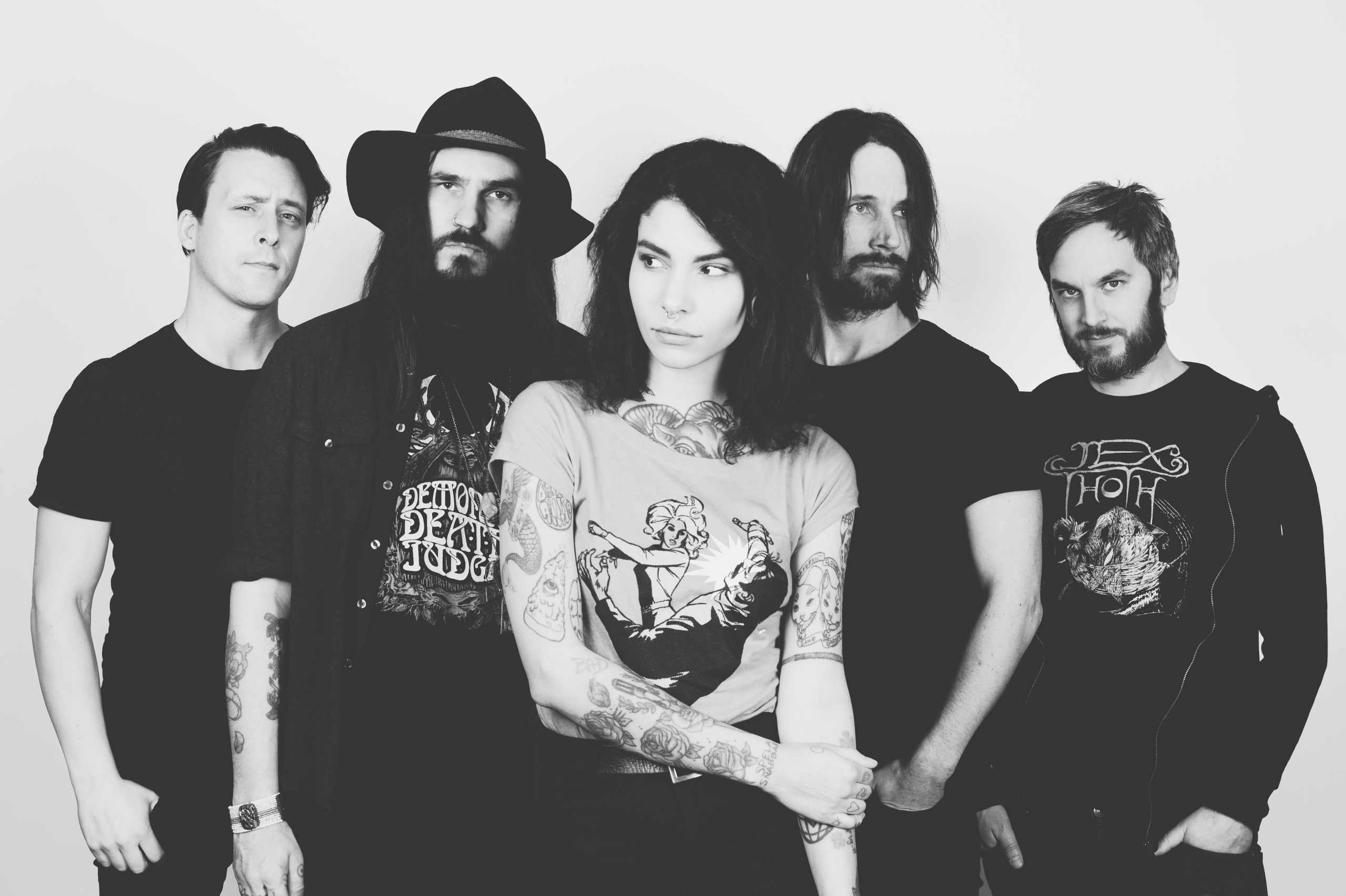 Forest rockers BESVÄRJELSEN (with Dozer members) share 'All Things Break' video off 'Frost' EP, out now on Blues Funeral Recordings
Sweden's bewitching heavy rockers BESVÄRJELSEN (with former Dozer members) deliver a vertiginous new video taken from the « Frost » EP on Blues Funeral Recordings. Watch it now courtesy of The Obelisk and Rock Hard Germany.
« All Things Break » lyrics deal with the bitter side of relationships that don't work out. It's about the emotions when you feel left behind. Not only romantically, but the general feeling of loneliness. And that everything turns to shit in the end. » comments vocalist Lea Amling Azalam. 
 Reach unseen heights with « All Things Break » VIDEO
Drummer ErikBäckwall share crispy details about the shooting: « The video was shot in the north west of our region by our friend Tony at Az Foto, on an old railroad bridge built in 1903, with no trains traffic and close to a waterfall called Helvetesfallet (« the Hell fall »). The bridge is about 186 feet tall, with creaky wooden planks with space between, so you could see all the way down. We had set up the drums on the middle of the bridge and I was adjusting the toms when Johan shouted "Traaaain!". We thought it was a joke, but it wasn't. I turned around and heard the train behind the trees. Me and Lea took whatever drum pieces we could get and ran with the train coming behind us. My first thought was to get away from the bridge, the second was that It's probably gonna hit parts of the drum kit we couldn't carry. Fortunately, the train driver saw us and stopped. We had to do a walk of shame to collect the rest of the drums with seniors taking pictures from the train, and face an angry train driver. After that 'Stand by me' moment we checked the time table and saw that we had three hours before the next train. We just got on with it.
« BESVÄRJELSEN are not your everyday heavy rock band. The Swedish quintet conveys a unique sense of mystique and harrowing beauty through their alluring brand of rock, carried by Lea Amling Alazam's spellbinding vocals. « Frost » was recorded in the dead of winter, in a cabin in the woods of Dalarna county in Sweden, hence a permanent feel of being isolated in a cold wilderness in the grip of higher forces.
BESVÄRJELSEN « Frost » EP
Out now on Blues Funeral Recordings – ORDER
"Besvärjelsen step up to the plate with a sound that is wholly their own."Metal Injection 
"Blazing fretwork, hypnotic interludes and tooth-rattling climaxes." Metal Hammer
"An album which hits just the right spot." Heavy Blog Is Heavy 
"Beautifully produced doom rock with lush soundscapes and terrifying vibes." Two Guys Metal Reviews
BESVÄRJELSEN – Swedish for "conjuring" – was formed in 2014. Though clearly rooted in the realms of doom, within their engulfing sound lies traces of progressive metal, punk, folk, and classic rock all carefully weaved together resulting in a sound that is at once crushingly heavy and alluringly sophisticated. They released their debut EP « Villfarelser » in 2015, quickly followed by the « Exil » EP (2016) which also celebrates the addition of drummer Erik Bäckwall (former Dozer, Greenleaf) to the lineup. In 2018, the quintet release their first full-length « Vallmo » (Swedish for "poppy"), offering seamlessly wandering from crushing doom riffs to catchy vocals and melodies, deep lyrical content and storming drum work, all topped by stunning guitar solos and, for the first time since the band's formation, songs in English as well as their native Swedish. A couple of months before the release, the band welcomed bass player Johan Rockner (former Dozer, Greenleaf) to the fold. 

« Frost » is available through Blues Funeral RecordingsPostWax series — a groundbreaking subscription-style series of exclusive records for diehard fans of stoner, doom, heavy, psych rock, launched by Blues Funeral Recordings. The « Year One » series also feature limited edition vinyl releases from Elder, Lowrider, Domkraft, Big Scenic Nowhere with jaw-dropping artwork and next-level design. 

BESVÄRJELSEN is
Andreas Baier – Guitar, vocals
Staffan Stensland Vinrot – Guitar, vocals
Johan Rockner – Bass, vocals
Lea Amling Alazam – Vocals
Erik Bäckwall – Drums

Find Besvärjelsen on Facebook⎜Bandcamp
Find Blues Funeral Recordings on Facebook⎜Bandcamp