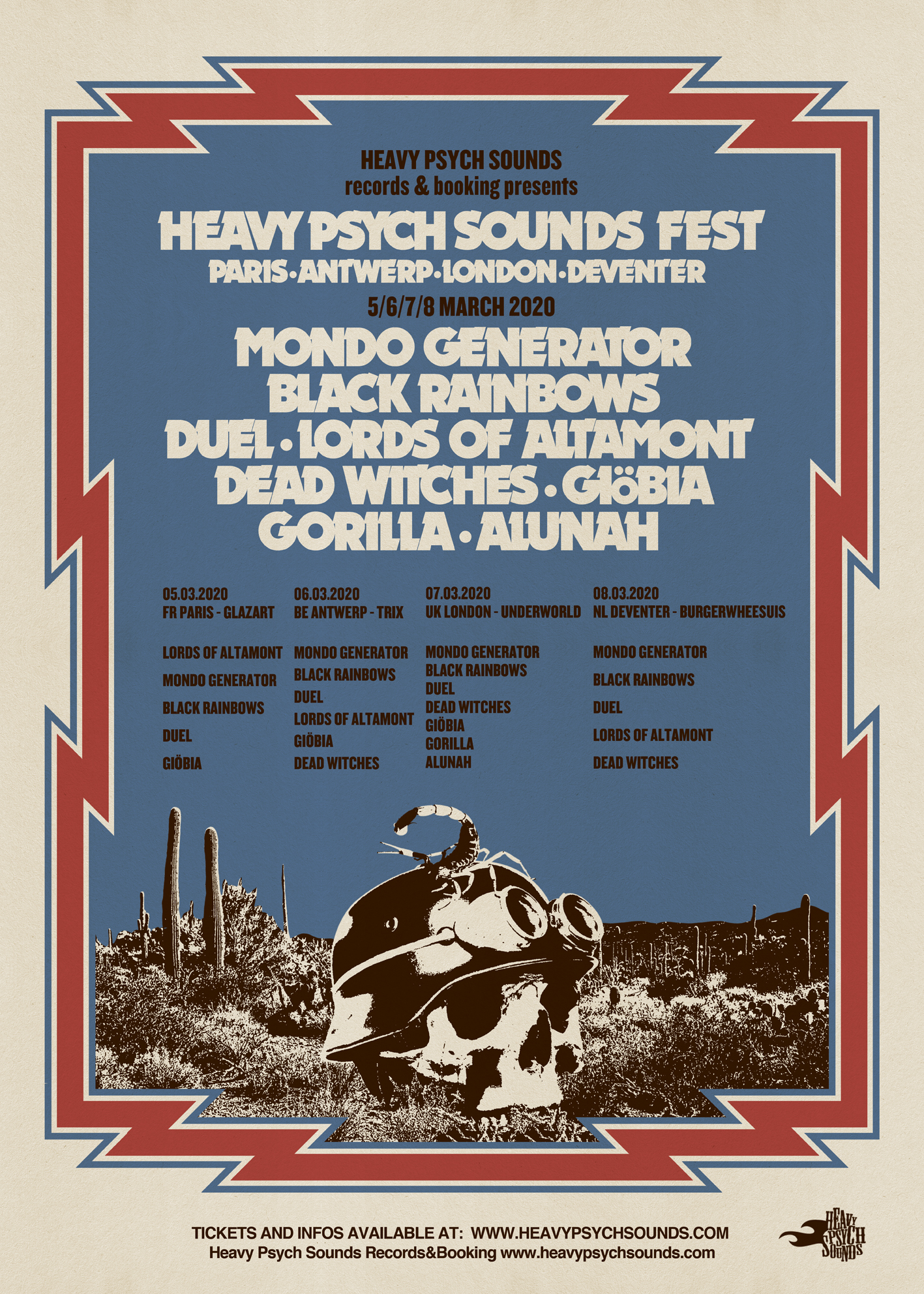 HEAVY PSYCH SOUNDS FEST announce new London, Paris, Antwerp and Deventer editions in 2020 with Mondo Generator, Black Rainbows, Duel, Lords Of Altamont and more!
Heavy Psych Sounds Records, the unstoppable cult and fuzz rock machine rising from Rome, Italy, has announced to once again conquer London, the Netherlands, Belgium and this time also Paris, with their highly acclaimed mini festival series: HEAVY PSYCH SOUNDS FEST!
 
Heavy Psych Sounds specializes in presenting the best artists in the global heavy psych, doom, fuzz blues and space rock realms, and their festival-series is no exception, spotlighting the ever-growing label's dedication to its craft. HPS is not only THE address for all heavy rock record collectors, but it has also become an important live and festival institution; with a brisk participation from heavy music fans all over the world. Each hotspot of the traveling festival tour features diverse line-ups including both genre leaders and fast-rising acts, all ready to prove their place among the world's best!
 
In cooperation with Desertscene, Rock in Bourlon, Metadrone and SOZ Concerts, Heavy Psych Soundshas announced the dates and bands to kick off 2020 in style in London, Antwerp, Paris and Deventer. Featuring high class acts such as Nick Oliveri's MONDO GENERATOR, BLACK RAINBOWS, DUEL, DEAD WITCHES and many more, the HPS FEST series 2020 will be taking place in March. The line-up, dates and locations will look as follows:
 
HPS Fest Paris (FR) – March 5th @ Glazart
Tickets – Facebook event
HPS Fest Antwerp (BE) – March 6th @ Trix
Tickets – Facebook event
HPS Fest London (UK) – March 7th @ The Underworld
Tickets – Facebook event
HPS Fest Deventer (NL) – March 8th @ Burgerwheesuis
Tickets – FB event coming soon
(all artworks are available on Facebook events)

"Heavy Psych Sounds is happy to announce the second edition of the London, Belgian and Netherlands HPS fest!", label owner Gabriele Fiori comments. "Last year was such a success, so we also added Paris. We want to thank all the audiences, who make the label and booking so great. Bands, fans and promoters, we want to thank you all for your support and making it happen!"

Earlier this year, Heavy Psych Sounds also announced a bunch of festival dates in Berlin, Dresden (De), Rome (It) and Innsbruck (AT) to take place in the fall of 2019 with headlining acts such as CONAN, MONOLORD, among further heavy as hell bands alike BLACK RAINBOWS, THE SONIC DAWN, ALUNAH, ECSTATIC VISION and many more. Find out all details, tickets and info at this location.
HEAVY PSYCH SOUNDS RECORDS LINKS
HPS website⎜HPS Facebook⎜HPS Bandcamp