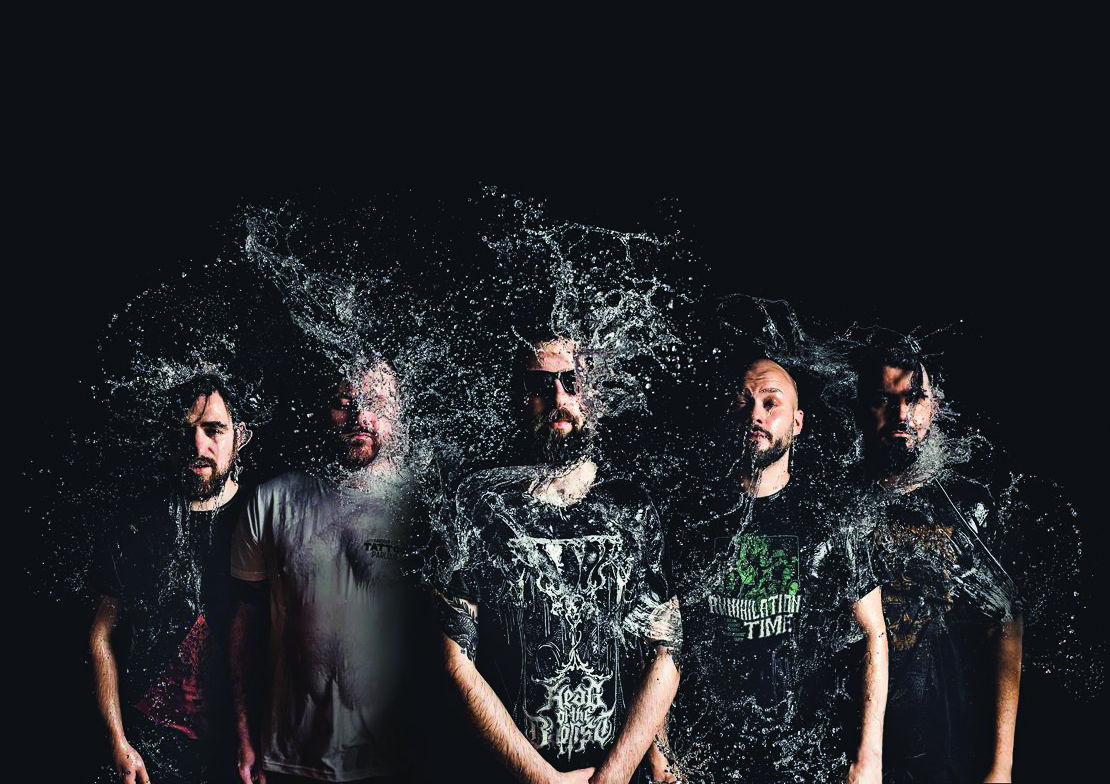 Sludge punk berserkers YOUR HIGHNESS unleash blasting first single off new album due out October 11th.
Antwerp's crushing and rock'n'rolling sludgers YOUR HIGHNESS are set to release their third studio album on October 11th. The band unveils all details and an impetuous first track right now!
Pulverize your ears with new track « Devil's Delight« 
Belgium's extreme sludge unit YOUR HIGHNESS are unleashing their third and eponymous full-length to the world this fall, and it's going to hit hard as a buffalo stampede! With their unique gritty vocals, ear-grinding grooves and trademark thunderous pace, the Antwerp quintet constantly crosses the thin border between sludge metal and swamp-soaked hardcore. But don't think they go pedal to metal at all costs: YOUR HIGHNESS have always had a soft spot for classic heavy and bring out the catchiest and most melodic riffage that such a crushing outfit can deliver these days. Feast your ears with the volcanic onslaught and stomp-inducing anthems of their new album "Your Highness", coming October 11th on all turntables!
About the new album, YOUR HIGHNESS states: « 'It represents a revolt to weariness and a need for action. Whether it's our liberties, our environment or just a basic sense of humanity: nothing should be left for grabs for anyone but ourselves. The crown of the Enlightenment is waning. The rule of reason is under attack 24/7. You have to take a stand on a lot of matters. Neutrality is an undesirable ideal. Internally, we also closed the book on two years of musical apathy and status-quo. This album is a testament to this new modus operandi. »

YOUR HIGHNESS New album "Your Highness"
Out October 11th on Hoogheid Records
TRACK LISTING :
1. Devil's Delight
2. The Flood
3. Born Anew
4. Black Fever
5. To Wood & Stone
6. Little to Relate
7. Rope as a Gift
8. Kin's Blood

Armed with a huge DIY spirit, YOUR HIGHNESS started bulldozing the Belgian underground scene and abroad back in 2009. With musicians who earned their stripes with bands as BARK, We're Wolves, Officer Jones, Autumn Delay, Icarus, Bulls On Parade, Amenra and Oathbreaker, they have the knowhow to bang some heads. 

Since their 2009 inception, the prolific five piece have released two full-lengths, one EP, one split LP as well as a 20-minute song. Getting instant response from heavy music fans and promoters, the band has already played renown festivals such as Graspop, Roadburn, Desertfest, Pukkelpop, Groezrock, Ieperfest, Into The Void, Rock Herk, and many more. Metalsucks.com once described: « Your Highness are here for the win. Not only do these guys bring the dual-guitarmony, classic groove goodness and the gargling vocal style, but the production's really raw and organic sounding as well. If thin lizzy were just getting started, this is what it'd sound like to stand in their garage and listen to them practice."

Ten years of colossal riffage and shivering blues, and it's only begun! Battle-tested through stages across all European borders, supporting the likes of High On Fire, Torche, Corrosion of Conformity, The Sword, Karma to Burn, Acid King, ASG among many others, YOUR HIGHNESS are set to introduce their awaited third studio album in October 2019. 

YOUR HIGHNESS LINKS
Facebook⎪Twitter | Instagram | Bandcamp