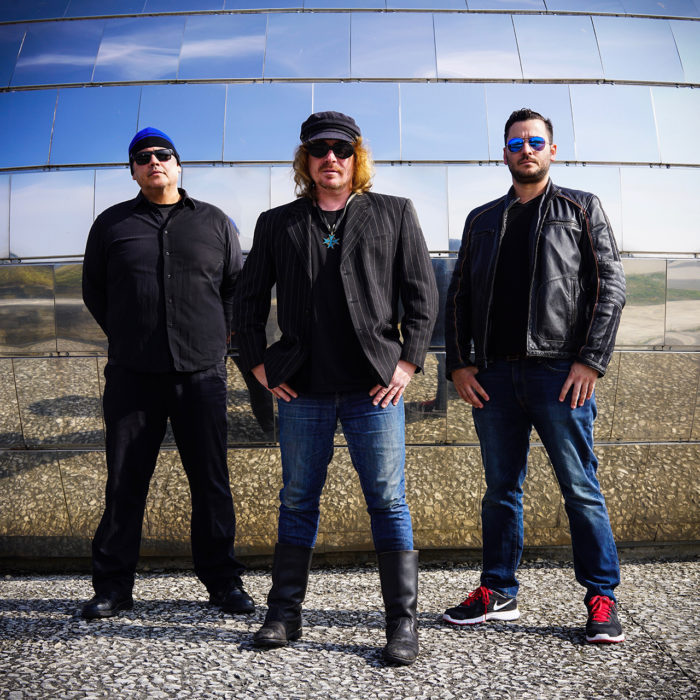 Cali power rockers AVON stream second album « Dave's Dungeon » in full; out this Friday on Heavy Psych Sounds.
California-based heavy rock trio 

AVON

 (with ex-Kyuss and Queens of the Stone Age drummer Alfredo Hernandez) are sharing their sophomore album « Dave's Dungeon » in its entirety today, before its official release on HPS Records ion February 23rd.
AVON is heavy rock trio formed in California by Alfredo Hernández (former Kyuss, QOTSA), James Childs (Airbus, Little Villains) and Charles Pasarell (Waxy). Their heavy desert rock is psychedelic, raw, melodic and meaningful. Their musical bond comes from years of playing in their respective bands often together in California's desert cities, Los Angeles and on many European tours.Recorded in Los Angeles and produced by James Childs, « Dave's Dungeon » boldly follows debut LP « Mad Marco », and showcases the band's evolution towards more rawness, defiance and certainly packing a punch. The group is on fire! « Yello » kicks off the album clearly showing the band's roots in punk rock delivered with an "in your face" clarity. Meanwhile, « Terraformations » settles you into a machine-like robot rock ride, telling stories of human conquest and immediately providing the listener with classic Hernandez drumming and Childs' distinctive guitar style, bound with solid bass riffing from Pasarell. Next in line is a more in-your-face yet personal punk track about gigging at the « Red Barn », a famous venue in the Californian desert. « Hero with a Gun » shows the band's talent for dreamy instrumentation, melody and production, conjuring thoughts of California on the big screen. « Mace Face » is a pure heavy rock Avon standard that will delightfully punch its way through your heart! Side two explodes with « P51 », killer Maiden-style shredding and harmonics giving a frenzied picture of the classic American fighter aircraft. Kicking back in the desert with « Space Native » and realizing how big and lost one can feel, only to snap right back to reality with « On Fire », agreeing to disagree in a nod to some schoolboy led heroes. « Dungeon Dave » obviously refers to the album title, and represents a very special, almost utopic place for the band when they were on tour in Europe. The album comes to a close with just three words: « Was ist Los? », performed with their unmistakeable space rock style that will surely be a classic Avon mantra, simply meaning – what is wrong?
« Dave's Dungeon » will be issued on LTD Solid Yellow vinyl, Black vinyl, CD and digital formats. Vinyl and CD pre-orders will be available from November 17th on Heavy Psych Sounds website.
AVON New album « Dave's Dungeon »
Out February 23rd on Heavy Psych Sounds
Vinyl and CD pre-orders are available HERE
 TRACK LISTING:
1. Yello
2. Terraformations
3. Red barn
4. Hero With A Gun
5. Mace Face
6. P51
7. Space Native
8. On Fire
9. Dungeon Dave
10. Was Ist Los?
AVON
 released their debut LP "Mad Marco" on Spira Records in 2016 and have already completed four tours in Europe and also appeared at the prestigious London and Berlin Desertfest in 2017, supporting their H42 Records release « Six Wheeled Action Man Tank ».
The trio features the mighty Alfredo Hernández who has played on some of the very best Desert Rock Albums ever, including « …and The Circus Leaves Town » by Kyuss and the critically acclaimed debut LP by Queens of the Stone Age. His distinctive drum sound can be heard on Josh Homme's « Desert Sessions ». He also teamed up with fellow desert musician and former Kyuss drummer Brant Bjork, for Ché's « Sounds of Liberation » album, and founded experimental psychedelic instrumental group Yawning Man along with Gary Arce and Mario Lalli. Over the last decade, Alfredo has worked with with Nick Oliveri in Mondo Generator, as well as Avon's lead singer James Childs and former Kyuss member Chris Cockrell in Vic du Monte's Persona Non Grata, performing on four studio albums and two live releases.
James Childs saw success with British rock group Airbus, he also worked with Geoff Barrow of UK trip hop group Portishead for the release of a rock reconstruction of the hit single 'Sourtimes'. They worked together again on North American and European tours in 2012 and 13 with BEAK> .
In 2007, James worked in Los Angeles with Philthy « Animal » Taylor (Motorhead) on a project called Little Villains. James has also seen success in the Film and Television industry, having written the theme to Disney's worldwide hit cartoon « Kick Buttowski ». He also joined the Australian 'Showtime' production team in 2014 and toured the world twice over with sell out performances. James and Alfredo have completed no less than 6 LPs and 18 tours together!
Charles Pasarell is a musician from the California desert who had cut his teeth with Palm Springs band Waxy, also working with the likes of John Garcia, and toured with successful bands such as Volbeat and Kyuss Lives. In 2005, he toured Europe on the same bill with Alfredo and James in Vic du Monte's Persona Non Grata, and again in 2007 with James and his band Airbus. Since 2007, Charles joined LA based honky tonk punk band Devastating Karate releasing a string of albums and touring America. Charles joined James for the Lakota project in 2014 and also payed bass with 'Vic du Monte's Persona Non Grata' prior to the formation of Avon with Alfredo.
AVON is
James Childs – Vocals & Guitar
Charles Pasarell – Bass
Alfredo Hernandez – Drums