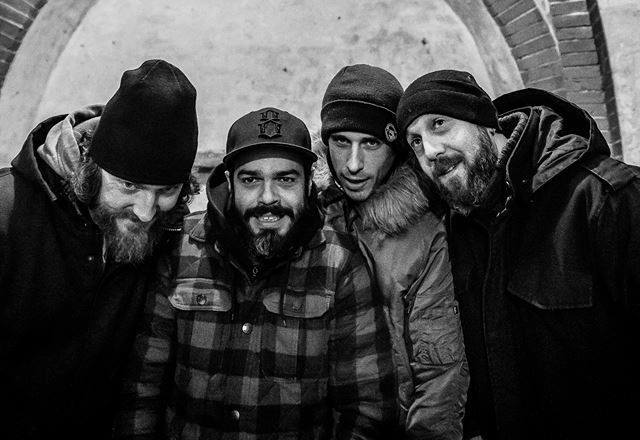 Italian sludgers TONS announce new LP « Filthy Flowers Of Doom » coming out April 20th on Heavy Psych Sounds.
Torino's dirty doomers

TONS

have confirmed the release of their new album « Filthy Flowers Of Doom » this April 20th on Heavy Psych Sounds.
« Filthy Flowers of Doom » is TONS second full-length album. 40 minutes divided into five tracks of in your face doomy sludge metal. Evil riffs, tight drumming and a demonic voice characterize the last effort from the Turin band, now with a new drummer and a second guitar. Low-league occultism and weed devotion are the basis of this muddy album that will drag you into a sulfurous and sabbathian void. "Filthy Flowers of Doom" was recorded by Danilo "Deepest Sea" Battocchio, while mastering is helmed by Brad Boatright (Sleep, NAILS, Obituary) at Audiosiege (USA). LET THE DOOM GO ON…..
TONS New album « Filthy Flowers Of Doom »
Out April 20th on Heavy Psych Sounds
Pre-order up from February 13th at this location
TRACK LISTING:
1. Abbath's Psychedelic Breakfast
2. 99 Weed Balloons
3. Those Of The Unlighter
4. Girl Scout Cookie Monster
5. Sailin' The Seas Of Buddha Cheese
TONS is an Italian doom/sludge band formed in Turin in October 2009 from the ashes of three popular hardcore bands of the city. The band consists of Steuso on guitar (rock poster artist and guitarist of The Redrum) Marco on drums (drummer of Noinfo and Medusa) and Paolo on bass/vocals (singer of Lamatematica). In June 2009, with the help of Danilo Bottocchio (Last Minute to Jaffna), they recorded a 4-song demo unveiling a devilish yet second-degree vibe, as proven by song titles such as « The Rime of the Ancient Grower », « Tangerine Nightmare », or « Once Upon a Tentacle… ». The mystery of the city of Turin and the magical, esoteric surroundings fascinate the band, as their their debut album « Musineè Doom Session Volume 1 » tells. Mount Musineè is located in Val Susa, a place shrouded in local myths such as witchcraft and alien life. In July 2011, the band recorded the six songs of « Musineè Doom Session Volume 1 » with the help of Danilo and Paolo Paganelli, and mastered by Lorenzo Stecconi (sound engineer for Ufomammut, Lento, ZU, Grime, Amen Ra). The album includes the songs of the demo and two new songs, and was released on Heavy Psych Sounds and Escape from Today. TONS shared the stage around Europe with bands like Bongzilla, Weedeater, Church Of Misery, Unsane, Napalm Death, Karma To Burn, Big Business, Kylesa, Lesbian, Pentagram, Naam, Fatso Jetson, Yawning Man, and so on. In 2014, Tons played at Duna Jam festival in Sardinia and Incubate Festival in Tilburg (NL). In 2016, Marco left Tons and Andrea Peracchia (Slaiver, Dogs for Breakfast) joined the band as a drummer; in the same year Paolo Paganelli, a longtime friend and collaborator, became a permanent member. In 2017, TONSfinally recorded their second full-length which will be released by Heavy Psych Sounds in April 2018, followed by a full European tour.
TONS IS
Weed Mason – Vocals / Bass
Steuso – Guitar
Paganellord – Guitar
Perlage – Drums