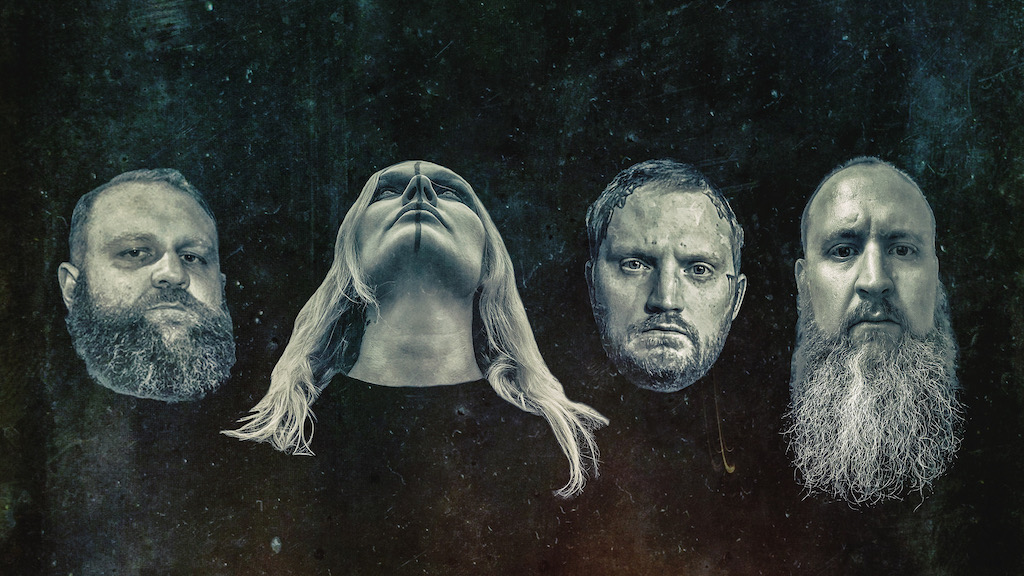 New York post-metal unit GUHTS share disturbing new single « Handless Maiden »; 'blood feather' EP released August 6th!
NYC-based fearless post-metallers GUHTS (with members of Witchkiss, Bask) present the devastating second single taken from their self-released debut EP 'blood feather', coming out on August 6th on CD and digital. Get intense and arise with « Handless Maiden » exclusively on Everything Is Noise!

« A grueling post-metal march, the guitars drawing from the crustier, sludgier side of the genre, this massive track paints a picture of why they are a band to keep an eye on. » — Everything Is Noise

GUHTS is a New York post-metal band comprising members of Witchkiss, Bask and Black Mountain Hunger, delivering larger-than-life sounds and deeply emotional music, driven by Amber Burns' eerie and tormented vocals. With a sound that is cold as concrete, at times industrial, the foursome will take you on a spine-shivering trip where metal encounters machines, wounded souls meet purgatory. They have only just begun to capture the hearts of the masses. 
Listen to GUHTS new single « Handless Maiden« 
Vocalist Amber Burns enlightens us about the song theme: "Handless Maiden" is a story I read in the book "Women Who Run With The Wolves" by Clarissa Pinkola Estes, Ph.D. This book is my personal bible, no matter how many times I read these stories, I always learn something new about myself. Handless Maiden is a story that reminds me that no matter how far down the "approved collective way of thinking takes me", like once long ago I believed that giving up my little pieces of myself, a life of creating, basically surrendering my instincts & intuition would make me a "good mother" a "good wife" I lost myself completely for a "grotesque financial marriage ». Handless Maiden reminds me: we can master many descents into the underground forest, the underground world of female knowing, a place that lives way below ego… with each descent, caused by pain, loss, heartache, we dive deeper & deeper and come back up even stronger & wiser connected to our intuition and connected to the wild woman that lives inside each and everyone one of us. It reminds me it's ok to go down into the "La Selva Subterranea" over & over, it will be ok. I remember my soul is steel, not glass.' »
Debut EP 'blood feather' will be released on August 6th on CD via Bandcamp, and on all digital streaming platforms. Listen to the EP's first single « Eyes Open » at this location.
GUHTS 'blood feather' EP 
Out August 6th on CD and digital – Self-released
Deep in the pandemic, GUHTS guitarist Scott Prater was writing music for his other band Witchkiss and realized he had tapped into something greater. He quickly recruited his wife Amber, who is also the drummer and singer of Witchkiss, as well as his old friend Jesse Van Note of Bask and Black Mountain Hunger, who then brought in his bandmate Dan Shaneyfelt.
From there the band was off to the races crafting a sound influenced by acts like Cult Of Luna, Isis, Neurosis but perhaps above all Deftones. GUHTS will release their debut EP 'blood feather' on July 30th, 2021 and are seeking to find a full-time drummer and synth player to round out the lineup. The band has dreams of building a collective around the project where friends and like-minded musicians work together to craft emotional and powerful music. Once the EP is released, the band will gear up to drop a full length in 2022 and tour as much as possible. The future is bright for GUHTS, are you ready for their deeply emotional take on heavy music?

The 'blood feather' EP was recorded at The Doom Room in Newburgh, NY and The Thunder Dungeon in Asheville, NC, mixed and mastered by Scott Prater at The Doom Room in Newburgh, NY.
GUHTS are:
Amber Burns – Vocals
Scott Prater – Guitar & Synth
Dan Shaneyfelt – Guitar & Synth
Jesse Van Note – Bass
GUHTS links
Website⎜Facebook⎜Bandcamp⎜Instagram