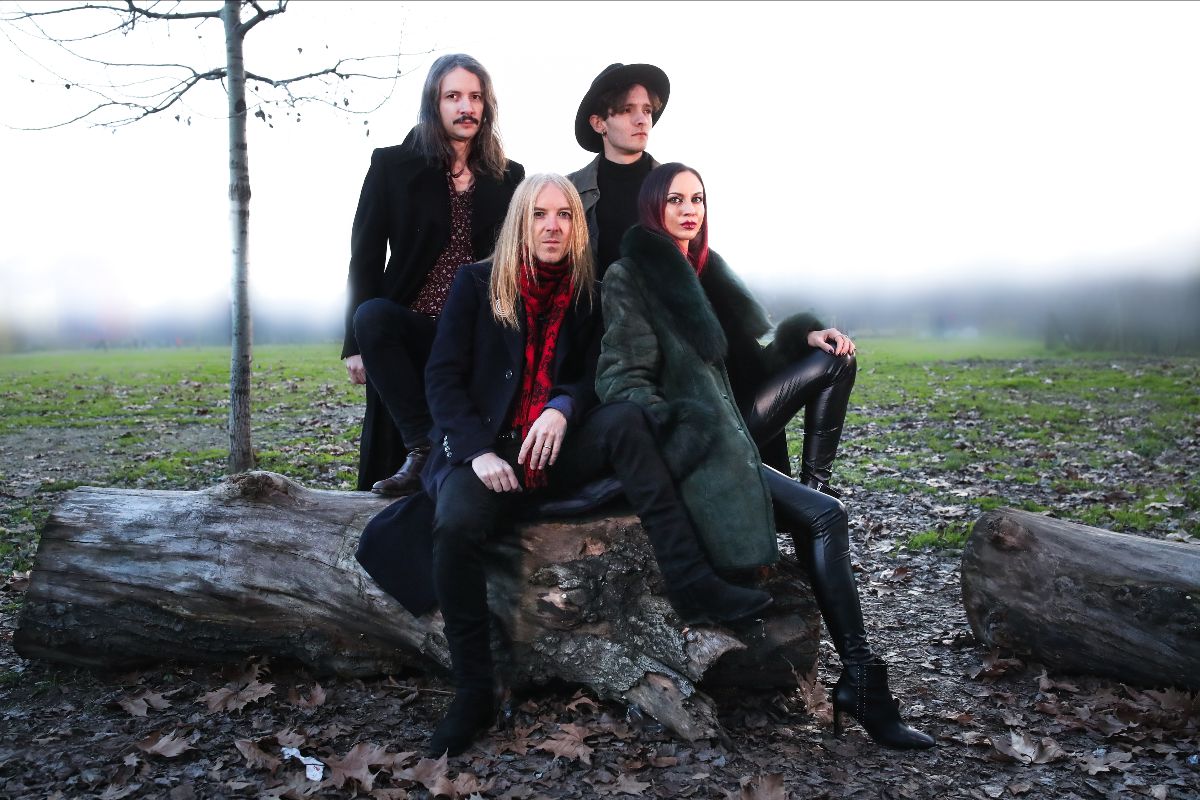 Italian psychedelic rockers GIÖBIA share heavy new track « The Sweetest Nightmare »; new album out April 28th on Heavy Psych Sounds.
Italian psychedelic and acid rock stalwarts GIÖBIA share a heavy new track taken from their forthcoming sixth album « Acid Disorted » on Heavy Psych Sounds. Immerse yourself into the lysergic haze of « The Sweetest Nightmare » via The Sleeping Shaman website!

GIÖBIA has been building sonic bridges between the cosmos and what we can call reality for a decade now, and this new album cements their reputation as one of Europe's most bedazzling purveyors of psychedelia. About the song, the band comments: « The Sweetest Nightmare' is the call to salvation of those who have long found relief in their own damnation, the painful and at the same time sweet and almost familiar condemnation in which to cradle themselves. With doom sounds contaminated by ethereal atmospheres, this song is the invocation of those who look into oblivion to find themselves, touching the bottom to the point of being able to go back up.« 
🪐 Listen to dreamy new single « The Sweetest Nightmare » 🪐
On its sixth album « Acid Disorder », the otherwordly foursome delivers eight mind-altering and fluid-sounding tracks, with a special focus on rich atmospheres and textures. The eclecticism of the songs and their exotic flavor is rendered by the use of certain ethnic instruments – we can clearly recognize sitar and saz binding in an intriguing dance with vintage organs and synthesizers. Such a fascinating mixture gives the band its own hallmark that makes it unique and recognizable among thousands.

« Acid Disorder » easily engages even the most demanding listener. We can hear certain krautrock influences à la Amon Düül and Ash Ra Tempel, leading us to float in the cosmos towards new unexplored dimensions and reconfirm the purely space-rock taste of the band and its inclination for sci-fi soundtracks charm and mystery. GIÖBIA invite us to enter their realm, that hidden place in the depths of their mind where anything can happen. Once again we abandon ourselves to altered states of consciousness, enchanted by the lysergic side of music that is both familiar and new. 

« Acid Disorder »  will be available on April 28th in various vinyl formats, CD and digital through Heavy Psych Sounds. ► Listen to first single « Consciousness Equals Energy« !
GIÖBIA – New album « Acid Disorder »
Out April 28th on Heavy Psych Sounds
TRACKLIST:
1. Queen Of Wands
2. The Sweetest Nightmare
3. Consciousness Equals Energy
4. Screaming Souls
5. Blood Is Gone
6. Circo Galattico
7. In Line
8. Acid Disorder 
The mystical day 60s rock met neopsychedelic rock mixing up to the point of losing consciousness of their own essence, that's when GIÖBIA's acid psychedelic rock was born, in an overwhelming and incessant soundtrack with an unmistakable Italian taste. In a vortex that leaves no way out, the unique melodies of this quartet take the listener into a world where the boundaries of reality are no longer defined and anything can ever happen. After their debut in 2009 with 'Hard Stories', Giöbia firmly established themselves in 2013 by 'Introducing Night Sounds', which suddenly brought them to the most important stages of Europe, until their 2016 milestone 'The Magnifier' assigned them a place among the most influential bands of the scene. Giöbia went on astonishing their audience by forging 'Plasmatic Idol', which saw the light in 2020 via Heavy Psych Sounds and reconfirmed them as the modern forefathers of a genre that fascinates and amazes anyone who dares to leave themselves behind without the fear of never returning.
In 2021, GIÖBIA released their split album with The Cosmic Dead « The Intergalactic Connection – Exploring The Sideral Remote Hyperspace », a must-have for every space traveler. Unable to stop in front of any challenge, the quartet is finally ready to release its brand new album 'Acid Disorder' on April 28th, 2023 on Heavy Psych Sounds, which expertly refines the band's psychedelic rock attitude alongside a wide spectrum of intriguing sounds and textures. "Acid Disorder" was recorded at Elfo Studio in Piacenza, Italy, between March and October 2022, engineered and mixed by Daniele Mandelli and Bazu and mastered by Giovanni Versari at La Maestà Studio. The artwork was designed by Trevor Tipton.
GIÖBIA links
Facebook – Bandcamp – Website – Instagram – Spotify
HEAVY PSYCH SOUNDS links
Website – Facebook – Bandcamp – Instagram – Youtube