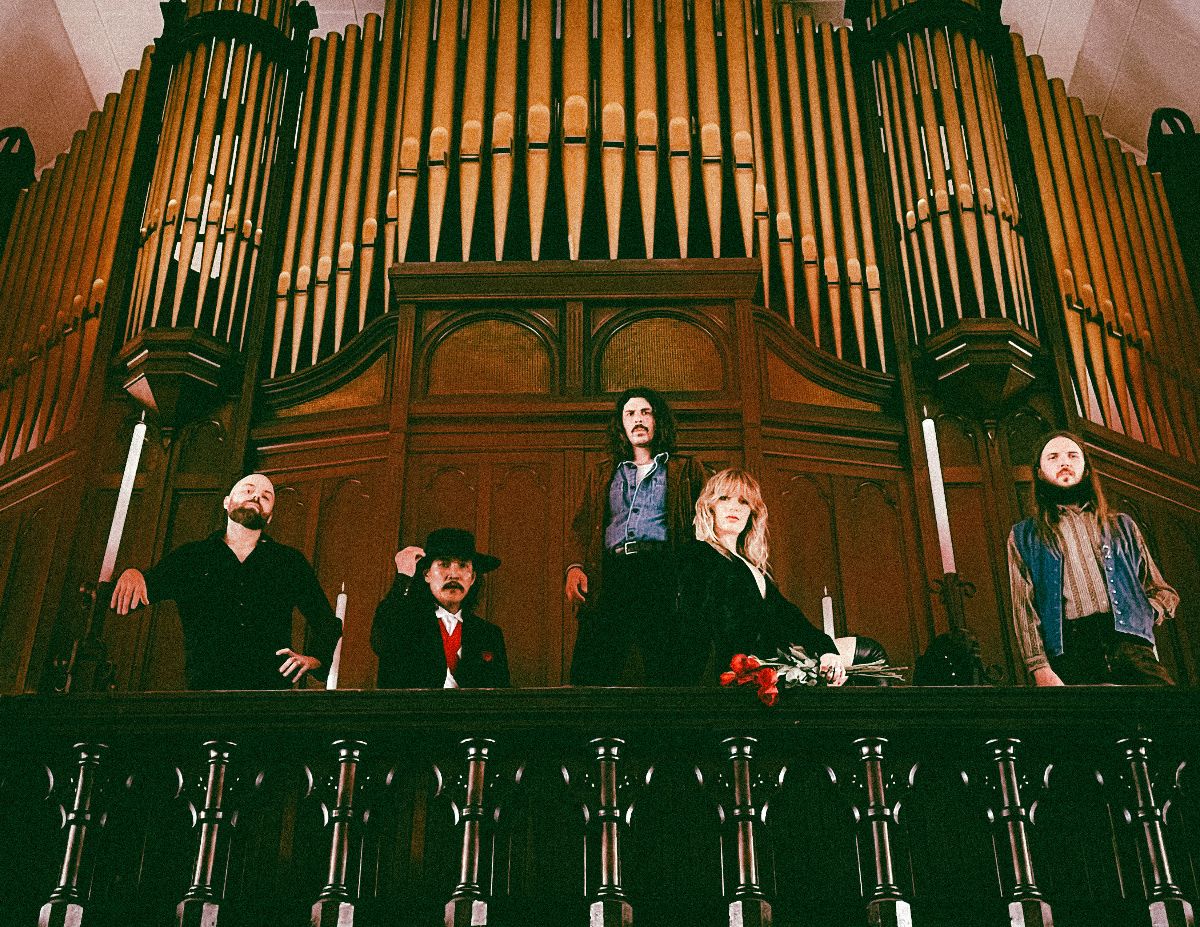 70s hard rock specialists RUBY THE HATCHET release and fully stream new album « Fear is a Cruel Master » on Magnetic Eye Records.
Psychedelic hard rockers RUBY THE HATCHET release their highly anticipated new full-length « Fear Is a Cruel Master » today Friday, October 21st on Magnetic Eye Records. Stream their sizzling hot new album below!
Listen to new album « Fear Is A Cruel Master » on Youtube
With « Fear Is a Cruel Master », RUBY THE HATCHET deliver exactly the brain-frying, catchy yet full of raw energy thriller of an album that the American trailblazers' acclaimed predecessor « Planetary Space Child » (2017) promised it could be. « The reflection in the mirror is nice and clear now« , guitarist Johnny Scarps nods. « This is the record we've been working towards. » Five long years have passed since the heavy rock quintet dropped their last album, but the wait is finally over. « We have reached a new peak of writing music as a collective », vocalist Jillian Taylor adds. « We all sacrifice for this, like any band or artist. We would not continue doing so if we weren't reaching new levels. »
 « Fear Is a Cruel Master » is available on sun yellow vinyl, on pink & black marble vinyl, and as Digisleeve CD on October 21st on Magnetic Eye Records. Also watch their latest video for « Thruster« !
RUBY THE HATCHET « Fear Is a Cruel Master »
Out now on Magnetic Eye Records
 The infectious opening track 'The Change' emphatically clarifies that Jillian is not just blowing smoke. For Taylor, this song captures the feeling of a transitional period – maybe somewhere between BOWIE's ch-ch-ch-'Changes' and BLACK SABBATH's going-through-'Changes' – yet groovier and heavier in pure RUBY THE HATCHET fashion. « It captures those feelings of shifting from this young, carefree, rock n' roll lifestyle to getting older and trying to stay true to yourself and what you love from the wild side… while realizing not everything still serves you.  The things that happen on tour, for better or worse, traveling to other countries and people are singing your songs back, that growth and camaraderie you get on the road – there is nothing else like it. »

Another lyrical angle of « Fear Is a Cruel Master » is explored through the organ-drenched rocket ride that is 'Thruster'. With music by drummer Owen Stewart, Taylor's lyrics recognise that today's worldly problems are nothing new in the grand scheme of things. « The chorus, 'Oh no, I hear them coming, tearing our lives to the ground. Oh lord, they've got you running, but I don't have time for that now' », Taylor says. « That's trouble coming for us, but at this point, nearly everything has echoed through the ages. This is human nature. There is always something dogging us, and moral truth to consider, and we decide what we are going to do about it. »

The album title, « Fear Is a Cruel Master », epitomizes the mood of the lockdown period in which it was written. Accustomed to working together as a group, Taylor, Scarps, Stewart, bassist Lake Muir and organist Sean Khan Hur were forced to spend more time apart than they normally would. « I was reading a lot during the pandemic and in a Branch Davidians' testimonial I came across the phrase 'fear is a cruel master' », Taylor explains. « The climate at the time was full of fear, it was bleeding into everything. To us, the title resonates with being part of the music community too. It was shaky for everyone – from bands to booking agents to venues and fans. You had to really nurse that flame to keep pouring hope in the cup. Fear is a cruel master. »

Recorded at New Future in Jersey with Paul Ritchie from THE PARLOR MOB, « Fear Is a Cruel Master » wasn't as meticulously mapped out as RUBY's previous albums. The band purposely left space for spontaneity and magic moments. « This time we left a lot of wiggle room », Scarps explains. « Most of the songs were fully fleshed out, but on a few we made changes in the studio at Paul's request – he had some really fun ideas – and we tried to do things we normally would not. » As previously announced, « Fear Is a Cruel Master » includes proper studio versions of 'Primitive Man' and '1000 Years' from the « Live at Earthquaker » EP that RUBY dropped back in April 2022. The snaky groove of 'Primitive Man' comes with a message to mansplainers everywhere. « It's about the try-hards who think they know everything and want to tell you how to do it », Taylor says with a laugh. « It's meant to disregard gender, but I of course wrote it from a female perspective. Everyone encounters that attitude, especially women in music."

The indelible 'Last Saga' delights with Taylor and Stewart delivering a haunting duet over some of Scarps' finest guitar work. Lyrically, the song recapitulates the theme of 'Thruster' under the romantic patina of a fantasy epic. « I love when we can lean into something in a timeless or medieval way, when you can travel lyrically to a thousand years ago », Taylor says. « But it's also about the world right now; the cyclical nature of everything, even in moments that seem final. After singing 'Last Saga' with Owen, I felt like our voices were two ships in the night that could find each other despite any fog or storm. »

Ultimately, the main theme of « Fear Is a Cruel Master » is self-reflection. Although these songs were forged in the crucible of world-stopping pestilence, they come with a timeless quality that transcends the moment of their creation. Everything that makes RUBY THE HATCHET such an outstanding and wildly loved act even among their peers is there – ranging from those sultry, honey-smoked vocals via lush yet crisp guitars to spirit of rock 'n roll organ heroics. « It's definitely an album you write after a decade's worth of being in a band and looking back at all the things you did or didn't do – everything that you threw into the fire, basically », Taylor concludes. « It's a testimony on that journey. »  Embark to follow in the band's sonic wake.
RUBY THE HATCHET are
Jillian Taylor – vocals
Johnny Scarps – guitar
Lake Muir – bass
Owen Stewart – drums, vocals
Sean Kahn Hur – keyboards, organ
RUBY THE HATCHET links
Facebook⎜Bandcamp⎜Instagram⎜Spotify
MAGNETIC EYE RECORDS links
Website⎜Facebook⎜Bandcamp⎜Instagram⎜Youtube