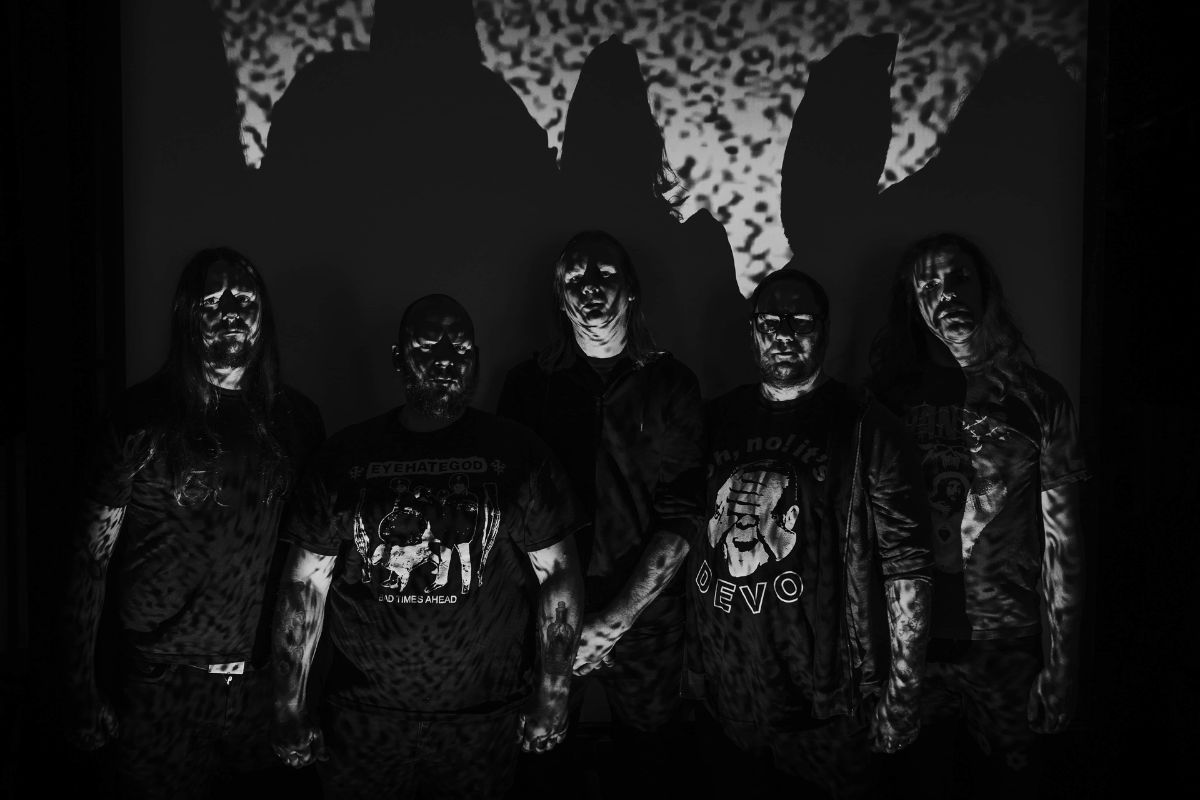 Heavy Psych Sounds announce 'Doom Sessions Vol. 7' split EP with ENDTIME and COSMIC REAPER; stream debut single « Tunnel Of Life » now!
Heavy Psych Sounds Records announce the release of 'Doom Sessions Vol.7', the seventh chapter of their revered split series featuring Swedish nihilist doom unit ENDTIME and US stoner doom merchants COSMIC REAPER, to be released on January 13th. Listen to the first single with Endtime's gloomy cover of DEVO's « Tunnel Of Life » now!
💀 Listen to Endtime doomy rendition of DEVO's « Tunnel Of Life » 💀
Says ENDTIME about the song: « This is the stuff that dreams are made of! The collective hard work of exposing nihilism and negativity to the masses has paid off. The fruits of our musical and televisionary labor will finally be available on Doom Sessions Vol. VII. We're here to set the record straight by bringing you a cover of the legendary band DEVO and their track 'Tunnel of life'. On this, we brought in Gottfrid Åhman from In Solitude, No Future, Invidious and Pågå on the Mellotron. Devo was right! Devo knew! All those crazy prophecies came true!« 

Since their ignition in 2020, the 'Doom Sessions' series have been delivering steamroller after steamroller, packing together earth-shattering collaborations between the loudest stoner and doom acts of this world. From Conan to Bongzilla, Acid Mammoth, -(16)- and Grime, each 'Doom Sessions' EP presents previously unreleased tracks from both bands involved while being wrapped in a devilish artwork design by Branca Studio. 'Doom Sessions Vol.7' makes no exception, and the grim and unearthly synth-laden songs of Endtime match perfectly with the evil, slow and low spacey doom of Cosmic Reaper. 
Endtime / Cosmic Reaper 'Doom Sessions Vol. 7' split EP
Out January 13th on Heavy Psych Sounds
TRACKLIST:
1. Endtime – Tunnel of Life
2. Endtime – Beyond The Black Void
3. Cosmic Reaper – Sundowner
4. Cosmic Reaper – Dead and Loving It
5. Cosmic Reaper – King of Kings
ENDTIME started out in 2015 under the name Saturniids with the pure intention of creating apocalyptic and earth-shattering musical compositions. That name didn't suit their needs or personality, so in 2019 they decided to change it to the more fitting name Endtime. They are the ambassadors for no tomorrow, fostering exploitation movies and aesthetics from the 1980s. Think Giallo, Carpenter and Cronenberg. They don't believe in groove or swing. They turn amps up to 11, they cause ruptured eardrums and serious dysentery with their subatomic frequencies. ENDTIME are the music equivalent to a nuclear blast. Featuring former members of Obnoxius Youth, Undergång, Taiwaz and Noctum, their twisted and devastating brand of nihilistic doom tinged with a pervasive 80s horror aesthetic was described as « the music equivalent of a nuclear blast ». Their debut album 'Impending Doom' was released in 2021 on Heavy Psych Sounds.
Facebook⎪Instagram⎪Spotify
Hailing from Charlotte, North Carolina, psych-doom outfit COSMIC REAPER delivers classic doom and stoner metal elements dipped in psychedelia. In its infancy, bass player Garrett Garlington and guitar player Dillon Prentice, together in Garrett's kitchen, mixed heavy and fuzzy harmonies with crushing riffs. Not long after, the duo added Thad Collis, which ethereal vocals and impassioned guitar harmonies are what built the band's foundation. Colorado Springs metal veteran Jeremy Grobsmith (The Great Redneck Hope, Matterhorn, Worry) then joined the band. His hard-hitting and eclectic drum style rounded out the Cosmic Reaper sound and the band was born. In September 2019, they recorded the 'Demon Dance' EP at Greensboro's recording studio The Parliament House, alongside owner and maverick Jacob Beeson. Noteworthy exposure from doom metal-focused podcasts and webzines helped in the success of this first offering. The band returned to Beeson's studio in the summer of 2020 to start recording. Laden with droning riffs and down-tempo walls of monolithic sound, completed their crushing self-titled debut album, which was released in early 2021 on Heavy Psych Sounds.
Facebook⎜Bandcamp⎜Instagram⎪Spotify

HEAVY PSYCH SOUNDS LINKS
Website⎜Facebook⎜Bandcamp⎜Instagram⎜Youtube