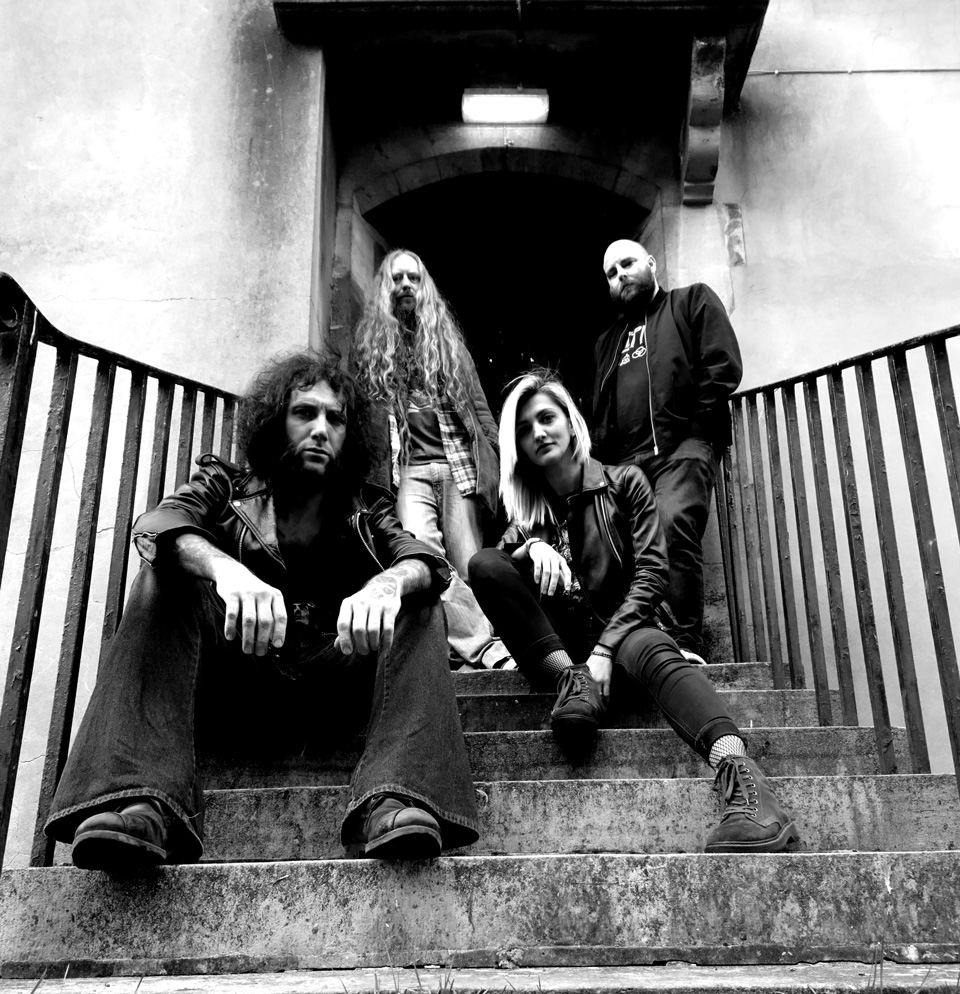 UK's occult doom champions DEAD WITCHES premiere first track off 'Doom Sessions Vol. 666' EP with WITCHTHROAT SERPENT on Heavy Psych Sounds!
Heavy Psych Sounds teamed up with Decibel Magazine to unveil the very first track from 'Doom Sessions Vol.666' — the split EP with UK occult doom metallers DEAD WITCHES and French stoners WITCHTHROAT SERPENT to be released on June 18th and available to preorder now. 

This new song « D.I.E. (Dragged Into Emptiness) » is a strong intent statement for DEAD WITCHES, who recently welcomed their new vocalist Spring Thompson in their ranks. The Dorset-based foursome are back in the saddle after releasing two well-acclaimed full-lengths on Heavy Psych Sounds, and hell knows what they will be up to after this darkness-filled 'Doom Sessions' collaboration with France's up and coming doomsters WITCHTHROAT SERPENT.  
Hear Dead Witches « D.I.E. (Dragged Into Emptiness) » on Decibel Magazine
Since their ignition last summer, Heavy Psych Sounds 'Doom Sessions' series have been delivering steamroller after steamroller, packing together earth-shattering collaborations between the loudest stoner and doom of this world. From Conan to Acid Mammoth, -(16)- and Grime, each 'Doom Sessions' EP presented previously unreleased tracks with strong thematics. This sixth installment is probably the most occult of them all, and will come alongside a creepy artwork by Spanish designer Branca Studio. 'Doom Sessions Vol.666' will be available on June 18th, 2021 and available to preorder now on:

– Test press vinyl
– Ultra LTD Cornetto Transparent/Red vinyl
– LTD Half Red/Half Black vinyl
– Black vinyl
– CD and digital
'Doom Sessions Vol. 666' split EP
w/ Dead Witches and Witchthroat Serpent
Out June 18th on Heavy Psych Sounds
World preorder / US preorder
TRACK LISTING:
1. Dead Witches — D.I.E
2. Witchthroat Serpent — The Fall of Whitewood
3. Witchthroat Serpent — Cyanide-Laced Flavor
DEAD WITCHES is the brainchild of drummer Mark Greening (founding member of Electric Wizard, Ramesses and With the Dead). 2017 for Dead Witches began with the release of their first album "Ouija". Featuring original guitarist Greg Elk (R.l.P), vocalist Virginia Monti (Psychedelic Witchcraft) and bass player Carl Geary, "Ouija" was phenomenally received by press and fans alike. 2019 saw the release of its followup 'The Final Exorcism', featuring new members Oliver Irongiant on guitar and Soozi Chameleone on vocals. With the sudden departure of Soozi just before Christmas 2019 due to personal reasons, Oliver was soon to follow leaving founding member Mark and Bassist Carl. Carl had doubts over his commitment to the band while offering support until a replacement was found. Although the future seemed uncertain at that point, Mark decided to soldier on and get a new lineup together.

At the beginning of 2020, Rab Mcilrath (Dead Lettuce) joined as the new guitar player, together with bass player Sam Cutbush, who spent almost a decade as bassist for Portsmouth's loudest grunge band, Foxer. Once his tenure came to an end in 2019, he moved between projects until the opportunity to get even louder came along with Dead Witches. The band needed a new singer, which fortunately they found just a few weeks before their European tour. The new singer is Spring Thompson which brings fierce female vocals with a little punk element to it to the signature Doomy Sludge sound of the band.

DEAD WITCHES is
Mark Greening — Drums and concussion
Rab McIlrath — Guitars
Sam Cutbush — Bass
Spring Thompson — Vocams
WITCHTHROAT SERPENT was created in November 2011 in Toulouse, France, by Fredrik (guitar/vox), Niko (drums) and Lo Klav (bass), with the aim to spread occult and powerful doom stoner across the living world's borders. The band toured extensively in Europe, playing both underground shows and big festivals. In 2018, after the recording of the third full-length, Lo Klav decided to leave the band and was shortly replaced by Ügo. In 2020, Djé joined the band as second guitarist. In January 2021, their first recording as four piece gave birth to two new unreleased tracks, recorded exclusively for their split EP with Dead Witches on Heavy Psych Sounds.
WITCHTHROAT SERPENT is
Redrik — Vocals & Guitars
Niko — Drums
Ügo — Bass
Djé — Guitars

DEAD WITCHES LINKS
Facebook⎜Bandcamp⎜Instagram

WITCHTHROAT SERPENT LINKS
Facebook⎜Bandcamp⎜Instagram

HEAVY PSYCH SOUNDS LINKS
Website⎜Facebook⎜Bandcamp⎜Instagram⎜Youtube