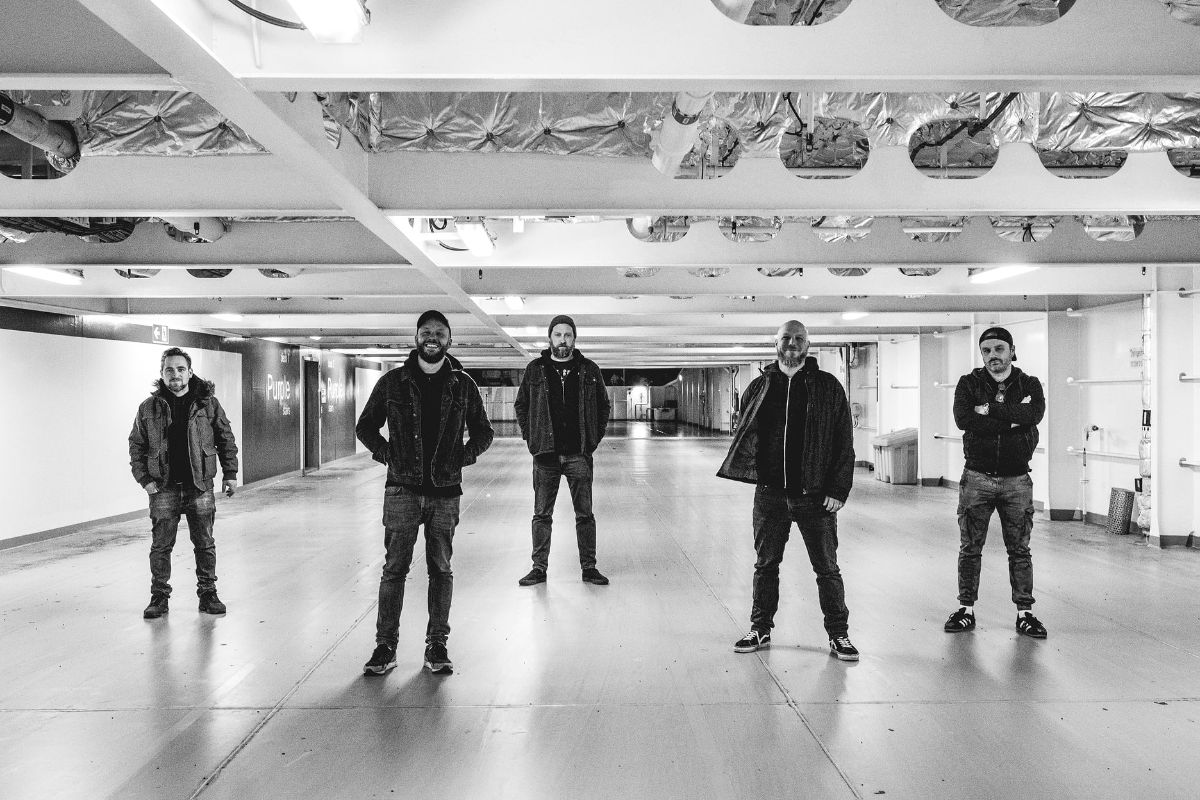 Belgian sludge rockers YOUR HIGHNESS premiere new EP 'The RagBag Vol.1' in full; out tomorrow on streaming platforms.
Antwerp-based sludge rock pillars YOUR HIGHNESS present their brand new 3-track EP 'The RagBag Vol.1' in its entirety, ahead of its official digital release this June 30th. Go hard and heavy with Your Highness!
« The Belgian sludge metal crew are out to end your life and crush you into the floor. » – Invisible Oranges

As shown by their recent video for « To Dust« , 'The RagBag Vol.1' truly encapsulates the quintet's madness and gift for delivering pure stoner and sludge metal bangers. Despite its dark and personal themes, this new EP delivers three uptempo anthems with tar-thick gritty vocals and gnarly bluesy riffing. This first EP of an upcoming diptych is the best way to dive into the crazy Belgian's discography and should enthrall fans of bands such as High On Fire, Red Fang and Torche.
Stream new EP 'The RagBag Vol.1' in full via:
🌍 Invisible Oranges // Never Mind The Hype 🇧🇪
Self-described as purveyors of « colossal riffage and shivering blues », YOUR HIGHNESS have always been about raw energy and stomp-inducing grooves while keeping a strong melodic approach just like the bands they shared stages with (High On Fire, Big Business, Torche). Their 2019 self-titled album was a testament to the band progressing into a more mature and solid stoner metal sound. 2021 saw the release of their epic 'Deathsman' video, taken from the soundtrack of the Belgian-found horror movie 'Duyster'.
In 2022, YOUR HIGHNESS return with the two-volume EP release of 'The Ragbag'. While 'Vol.1' displays a more melodic and up-tempo sound, 'Vol.2' will show a darker and more droning side. This is the band's ninth studio delivery, which they once again recorded in their rehearsal dungeon in the south of Antwerp with the help of engineer Wim Meuwis. It was mixed and mastered by Martin Furia at Trix Antwerp, with artwork and layout by Joachim Cols and Ben Baert. 'The RagBag Vol.1' will be issued digitally on June 30th, with 'Vol.2' coming in the fall of 2022.  
YOUR HIGHNESS 'The RagBag Vol.1' EP
Out June 30th on Hoogheid Records
Available on Bandcamp and all streaming platforms

TRACKLIST:
1. To Dust
2. Done
3. Tie It Up
Armed with a huge DIY spirit, YOUR HIGHNESS started bulldozing the Belgian underground scene and abroad back in 2009. Since their inception, these sludge berserkers have released three full-lengths, three EPs, a horror movie-themed track and video, and their own beer! Touring Belgium and western Europe several times, they supported the likes of Corrosion of Conformity, High on Fire, Crowbar, The Sword, Weedeater, Torche and played festivals like Pukkelpop, Graspop, Desertfest, Roadburn, Ieperfest, Into The Void, Alcatraz, Groezrock and more. Known for their intense live shows and their strong DIY ethos, YOUR HIGHNESS are ready to take the future by the horns.
YOUR HIGHNESS links
Facebook⎪Bandcamp | Instagram | Twitter | Spotify