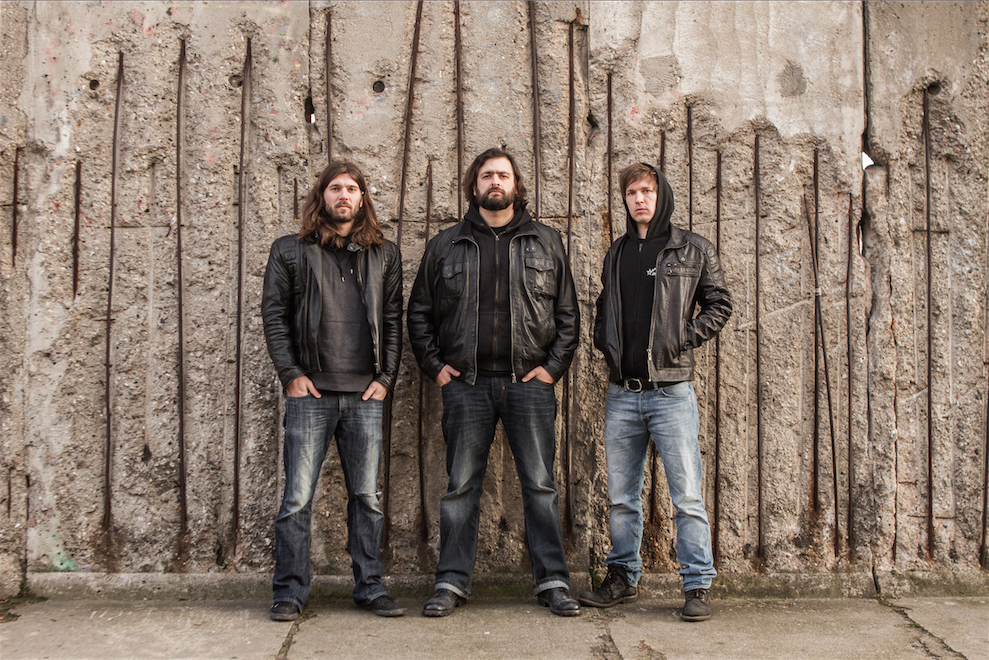 Berlin heavy rockers SAMAVAYO debut new song « Cross The Line » exclusively via The Obelisk.
With their fifth album « Dakota » being released in three weeks on Setalight Records, German heavy rock trio SAMAVAYO have just unveiled a new undaunted track entitled « Cross The Line », streaming exclusively via The Obelisk today.
As always with their music, SAMAVAYO aim to raise awareness about topics that count. The band comments: « Cross The Line is about the current state of our societies, crossing the lines of humanity to a point of no return while milions of people are needing our help.« 
Check out Samavayo's new song « Cross The Line » HERE
Described as « a distillation of hard and heavy rock, heavy psychedelia and Middle Eastern influences that results in a vibe not quite like anything else going«  by The Obelisk, « Dakota » is the band's fifth album and their first record as a three-piece.
SAMAVAYO – New album « Dakota »
Out May 6th on Setalight Records // Pre-order
Formed in 2010, German heavy rock band SAMAVAYO have been a trio for only three years now. All three band members grew up in East Berlin's neighbourhoods of Lichtenberg and Friedrichshain. As a 10-year old kid, singer Behrang Alavi fled to Berlin as a political refugee from his home country of Iran, whereas brothers Andreas and Stephan Voland grew up in the GDR in East Berlin.
After the fall of the Berlin Wall, the city opened its doors, letting in all cultural influences from abroad. The capital became a melting pot where a singer from Teheran and two brothers from Berlin could start making music. More than 500 live shows in Europe and overseas followed, including Brazil, Albania, Greece, Croatia, France. Ranking among the most touring stoner bands in Germany, SAMAVAYO performed at Stoned from the Underground and will make an appearance at Desertfest Berlin this spring.
This new album entitled Dakota blends the sound of 70's and 90's rock, combining progressive instrumental jams and heavier mosh-inducing parts with oriental elements and unusual rhythms. The best example is "Arezuye Bahare", which is SAMAVAYO's second song in Persian language. Iranian singer Behrang Alavi sings about freedom: as a former political refugee, Behrang reacts to a current European topic that affects him deeply because of his own experience.
Recorded at Big Snuff Studio by Richard Berhens (Heat, former Samsara Blues Experiment) in Berlin, no digital correction tool was used in order to preserve the band's live energy, which they are well-known for. The album was named after the Native American tribe: "dakota" means a friend, an ally. A perfect translation of SAMAVAYO's creative synergy and unity as a band throughout the years.
SAMAVAYO ON TOUR:
30.04 – Berlin (De) Desertfest Berlin
10.05 – Potsdam (DE) KuZe
11.05 – Hamburg (DE) Bar 227
12.05 – Erfurt (DE) Museumskeller
13.05 – Ulm (DE) Hexenhaus
14.05 – Würzburg (DE) Immerhin
16.05 – Salzburg (AT) Rockhaus
17.05 – Wien (AT) Viper Room
18.05 – Brno (CZ) Bajkazyl
19.05 – Nürnberg – Zentralcafe**
20.05 – Leipzig -Moritzbastei**
21.05 – Berlin (DE) BiNuu
23.05 – Karlsruhe (DE) AKK**
24.05 – Basel (CH) Kaschemme**
25.05 – Luzern (CH) Bruch Brothers**
26.05 – Winterthur (CH) Helveti**
27.05 – Mannheim (CH) Mohawk
** w/ Mother Engine
SAMAVAYO LINKS
Official website⎪Facebook⎪Twitter⎪Youtube⎪Bandcamp