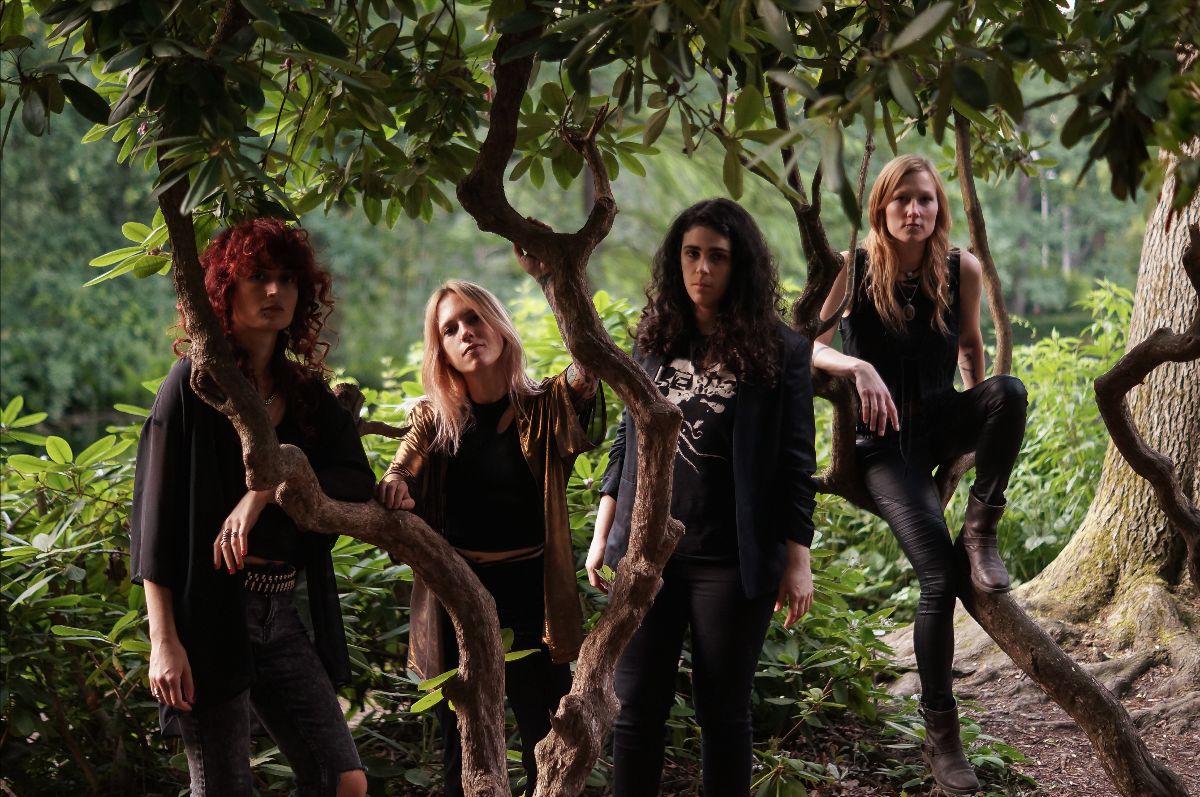 Berlin heavy metallers APTERA share new track « Mercury »; debut album 'You Can't Bury What Still Burns' out June 17th on Ripple Music.
Berlin's heavy metal newcomers APTERA share the second single taken from their forthcoming debut album 'You Can't Bury What Still Burns' on Ripple Music. Listen to their grim and menacing new track « Mercury » now!

« You Can't Bury What Still Burns is righteous metallurgy for modern heads. It demonstrates a complexity that goes beyond sore-neck fodder and cohesion that speaks both to their high level of craft and their potential to progress from here. » – The Obelisk
With members hailing from Brazil, Italy, Belgium and the US, APTERA joined forces in Berlin in 2018 todeliver their merciless and fist-raising blend of classic heavy, thrash, doom and punk metal chock-full of epic multi-layered guitars, shapeshifting tempos and fierce vocals. Their upcoming debut "You Can't Bury What Still Burns » reframes timeless feminist struggles through mythology while deconstructing established ideals of women's roles in modern society. 
Listen to Aptera's new single « Mercury« 
Available now on all streaming platforms
Influenced by 70s rock, 80s metal, and contemporary acts like L7, Neurosis, Mastodon or Electric Wizard, their sound is both deafening and melodic, with unexpected tempo changes and transitions fiercely bringing the listener from stoner to punk realms in no time. Their debut album 'You Can't Bury What Still Burns' was recorded, mixed and mastered by Jan Oberg at Hidden Planet Studio, with artwork by Brokesia Studio. It will be issued on June 17th through Ripple Music. Listen to debut single Voice of Thunder.
'You Can't Bury What Still Burns'
Out June 17th on Ripple Music
US preorder // World preorder
In Greek mythology, APTERA was the site of the battle between the Sirens and the Muses, where the Sirens lost their wings and were cast into the sea — the Greek word "aptera" literally means « wingless ». The incarnation of Aptera is not one of defeat, but rather a cry of rebellion and of challenging establishments, taking flight and pushing forward despite opposing forces. But this Berlin-based foursome (with members hailing from Italy, Belgium, the US, and Brazil) is less of a contest and more of a raucous party. APTERA sonically revamps this clash with a tasty tornado of doom, sludge, psych, thrash, and classic metal blended with punk. Joining the sirens and muses at the table are a coven of reanimated witch spirits and a gang of man-eating mermaids with a healthy appetite for destruction. 
With Michela Albizzati on guitars and vocals, Celia Paul (Arde) on bass and vocals, Sara Neidorf (ex-Brian Jonestown Massacre, Mellowdeath) on drums, and Renata Helm on guitar, APTERA's lashing riffs and propulsive rhythms evoke elements of Mastodon, Windhand, Neurosis or Black Sabbath. Weaving together contemporary and mythological tales of rebellion, revenge, and rising from the ashes, Aptera is a guttural cry, a battle call, a resurrection with wings of fire. After their self-titled EP (2019), they will release their debut LP "You Can't Bury What Still Burns" via Ripple Music in June 2022.
About the album, APTERA comments: "You Can't Bury What Still Burns pays homage to those who do not accept subjugation and gives life to the seeds of rebellion germinating within them, and to the daily actions, however small, which lead to disruptive changes in the dominant narrative. You can't bury a fighting soul, a living dream, a burning heart.« 
APTERA is
Michela Albizzati – guitar, vocals
Celia Paul – bass, vocals
Renata Helm – guitar
Sara Neidorf – drums
APTERA links
Facebook | Bandcamp | Instagram | Spotify
RIPPLE MUSIC links
Website | Facebook | Bandcamp | Youtube | Instagram